Rishi Sunak has announced two more barges to house asylum seekers off the coast of Britain as he insisted his plan to stop small boat crossings is "starting to work".
The Prime Minister said the numbers making the journey across the Channel were down by around a fifth since last year but acknowledged the Government has "a long way still to go".
Giving a speech in Kent, he played down suggestions that fewer crossings were a result of poor weather conditions at this time of year rather than policy decisions.
On a visit to Dover, the Prime Minister said the returns deal with Albania had led to 1,800 people being sent back and was having a deterrent effect.
He also claimed the Government is "on track" to clear the backlog for initial asylum decisions by the end of the year – a pledge first made in December.
Some 172,758 people were waiting for an initial decision on asylum applications at the end of March, up 57% from a year earlier and the highest figure since comparable records began in 2010, according to Home Office figures.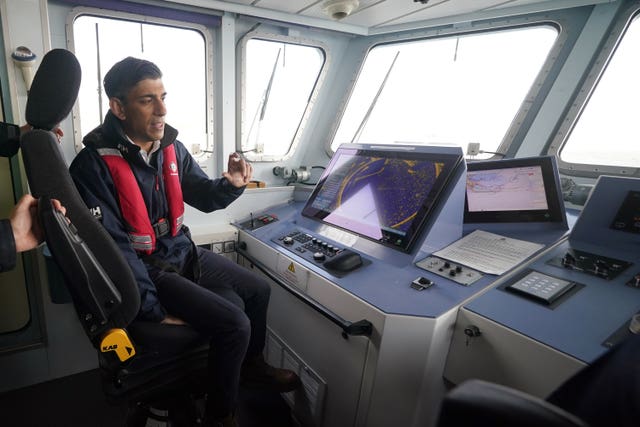 He also defended measures to house asylum seekers on barges – with the first one set to be moored in Portland, Dorset, within a fortnight, and the announcement of two more to house another 1,000 people.
"Before I launched my plan in December, the number entering the UK illegally in small boats had more than quadrupled in two years. Some said this problem was insoluble, or just a fact of 21st century life," he said.
"They'd lost faith in politicians to put in the hard yards to do something about it. And of course, we still have a long way to go. But in the five months since I launched the plan, crossings are now down 20% compared to last year."
Asked whether windy conditions in the Channel – and subsequently fewer crossings – was the reason behind the timing of his visit, Mr Sunak replied: "There's many things I can control, the weather is not one of them. I wish it was so."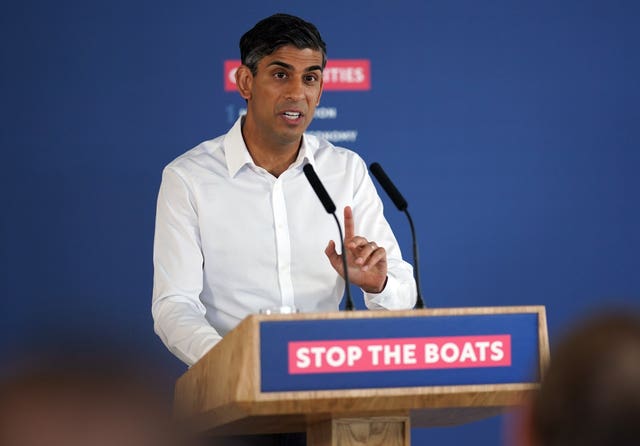 He also defended the requirement for asylum seekers to share hotel rooms, following protests outside accommodation in Pimlico, London last week – though Labour later stressed this measure is "not new" and has always been part of the system.
The Prime Minister described his approach as "more than fair", saying his message to migrants would be: "If you're coming here illegally, claiming sanctuary from death, torture or persecution, then you should be willing to share a taxpayer-funded hotel room in central London."
Analysis of provisional Home Office data by the PA news agency suggests that as of June 3 some 7,610 people had been detected crossing the channel, compared with 9,954 at the same point in 2022 – a 23.5% decrease.
But crossings are heavily influenced by the weather and the summer months typically see higher numbers making the journey.
The UK has gone from accepting about one in five Albanian asylum cases to just one in 50, Mr Sunak claimed.
The Prime Minister also defended the inclusion of children in new detention rules, claiming that to exempt them would create an "incentive" for smugglers to put more young people on boats.
He insisted that "appropriate facilities" were in place for families to be kept together "properly and fairly".
"Some rooms will have three or four inhabitants. It's a quasi-prison," he told LBC.
Sir Keir Starmer said the promise of further measures to tackle the crisis was "like Groundhog Day" as crossings continue this year despite the Prime Minister's pledge to "stop the boats".
The Labour leader told reporters during a visit to Somerset: "All we've really had from the Government though is the announcement of a policy that doesn't work and then the reannouncement of the same policy, essentially."
Meanwhile the Liberal Democrats dismissed Mr Sunak's speech as "cynical spin" and called on the Government to give more detail on the two new barges.
"The public need clarity and transparency from the government on where these barges will be and how long they will stay there," Lib Dem home affairs spokesman Alistair Carmichael said.
The Refugee Council branded Mr Sunak's rhetoric on migrant crossings "misleading, wrong and harmful" and said his policies fail to treat people fleeing their home country with dignity and humanity.
"We shouldn't be picking and choosing who we treat with decency, but that's the Government's approach: it rightly welcomed Ukrainian refugees and ensured they had appropriate accommodation, but it treats others in fear of their lives with contempt and does not view them as human beings," the organisation's chief executive Enver Solomon said.
"That's not what most people in this country want. We are better than this."
Amnesty International UK said the barges plan was "potentially unlawful" and a "terrible idea" designed to distract the public from the Government's failure to tackle the asylum claims backlog.