One of Britain's oldest chimpanzees has celebrated her 50th birthday.
Koko, who resides at Whipsnade Zoo in Dunstable, Bedfordshire, reached the milestone on Sunday, outliving a chimpanzee's average life expectancy by more than 10 years.
Koko was born at Dudley Zoo in the West Midlands in 1973 and moved to London Zoo when she was nine before being transferred to Whipsnade in 2006.
She made headlines in 2007 when she and a fellow chimpanzee briefly escaped from their enclosure.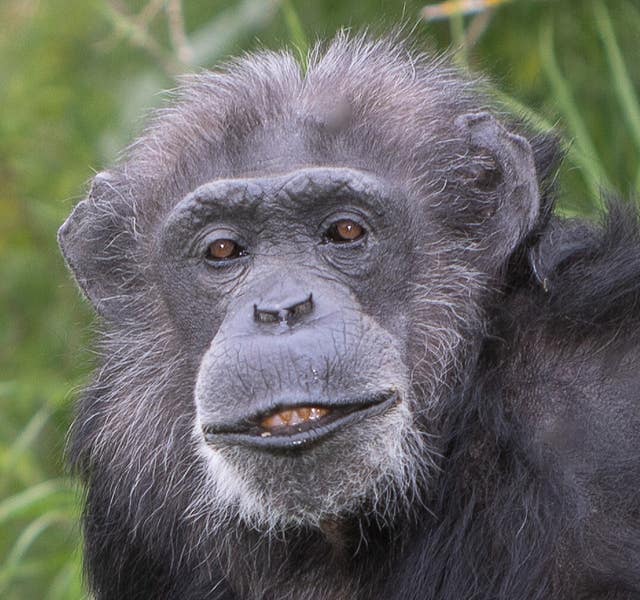 Whipsnade Zoo primate keeper Grant Timberlake said: "Koko might have just turned 50 but she's still in brilliant health, thanks to the dedicated care of our zookeepers and veterinary team.
"Particularly when she sees her favourite food, it's like she's 20 years young again – climbing and swinging as fast as she can through the trees to reach it."
Although Koko suffers from mild arthritis in her hands, this is soothed by low level laser treatments which keep her "pain-free and fully mobile".
Mr Timberlake added: "Koko herself has voluntarily contributed to several important conservation projects for her species, helping to improve and protect the health of chimpanzees around the world."
Vets have carried out ultrasound examinations on her heart, in order to understand more fully the issue of cardiovascular disease in great apes.
The current living record holder for Europe, called Coco, celebrated her 58th birthday at Twycross Zoo in Leicestershire in April.
The oldest chimpanzee on record was Little Mama, who was thought to be in her late 70s when she died at a safari park in Florida in 2017.