Ministers could face criminal sanctions for deleting their WhatsApp messages, the Information Commissioner has warned.
John Edwards told MPs on Tuesday that ministers should not have auto-deleting messages turned on if they were using WhatsApp to conduct government business and could face prosecution if they did.
The Government published new rules on using WhatsApp and similar messaging services at the end of March following a row over the leaking of Matt Hancock's messages to the Daily Telegraph.
The rules say "disappearing messages" have "a role in limiting the build up of messages" but their use must not affect "recordkeeping or transparency responsibilities", including a requirement to forward messages about government business to an official system.
Asked whether ministers should be using disappearing messages, Mr Edwards told the Public Administration and Constitutional Affairs Committee (PACAC): "I think the Cabinet Office is pretty clear that if it is government business being conducted on a non-corporate communications channel, it must be retained as part of the official record.
"So no, they shouldn't be using disappearing messages in the conduct of government business."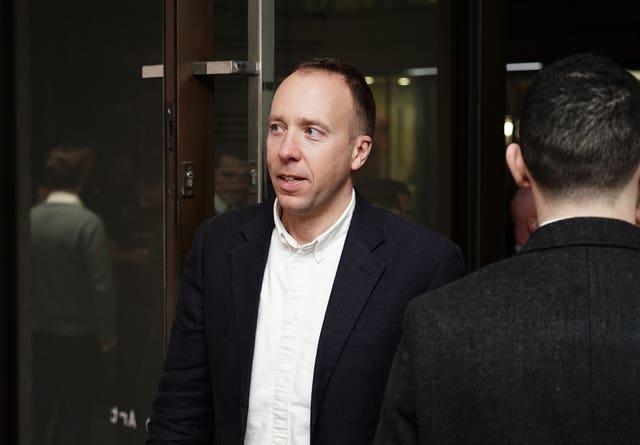 The leaking of Mr Hancock's messages led to concern among opposition parties that ministers and senior officials had begun to use WhatsApp's disappearing messages function.
Christine Jardine, the Liberal Democrat spokesperson for the Cabinet Office, said at the time: "Ministers should be setting an example for our country and governing with honesty and integrity, not hiding behind disappearing messages.
"We should live in an open democracy and society, and that means ministers shouldn't be evading transparency like this."
Ministers' use of WhatsApp has also been at the heart of a row between the Cabinet Office and the Covid Inquiry, with the Government taking the unprecedented step of suing its own inquiry after chairwoman Baroness Hallett demanded unredacted versions of Boris Johnson's messages.
On Tuesday, Mr Edwards told the PACAC that his office had made good progress on addressing the backlog of freedom of information complaints and said he had seen no evidence of "backsliding" by government departments on transparency.
But he called for departments to be more proactive in publishing information that "illuminates the workings of Government".
He said: "While I am eager to present a positive picture to the committee, I am not Pollyanna and there is work still to do.
"I am disappointed that we don't have greater clarity and consistency around the application of exemptions around, for example, in relation to policy advice.