Education Secretary Gillian Keegan is said to be "considering urgent actions" to change the way school inspections operate after a headteacher took her own life.
Ruth Perry, headteacher at Caversham Primary School in Reading, Berkshire, died while waiting for an Ofsted report which downgraded her school from the highest rating to the lowest possible.
Ms Perry's sister, Professor Julia Waters, met with the Education Secretary on Wednesday, the second meeting in recent weeks, where reforming school inspections to "prioritise the well-being of teachers and school leaders" was discussed.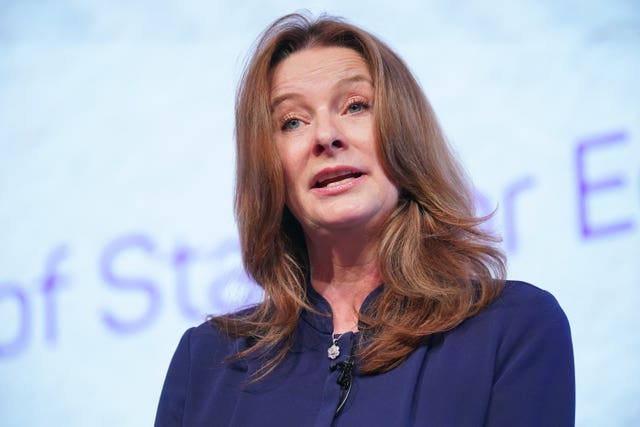 "I am pleased that the Education Secretary has shown willingness to listen to the clear concerns of many people about the well-being of school leaders, and to consider urgent actions to reform school inspection to prioritise the well-being of teachers and school leaders, as well as of pupils and parents.
"We ask that everyone who talks or writes about this issue be mindful of the serious impact that their words may have on others who may be vulnerable. We urge anyone who is affected by these issues to talk about it and seek help.
"The Samaritans offer a superb listening service 24 hours a day for individuals, and lifesaving advice to schools and members of the media who have to respond to cases of suicide."
An inspection report, published on Ofsted's website in March, found Ms Perry's school to be "good" in every category apart from leadership and management, where it was judged to be "inadequate".
The Education Secretary said following Wednesday's meeting: "Ruth Perry's tragic death reminds us of the vital role of headteachers and teachers as the cornerstones of so many people's lives.
"Ruth sat at the heart of both her community and school and it has been deeply moving and poignant to work with Ruth's family and friends.
"It is important that we have meaningful conversations about the well-being of school leaders, and we will take action to offer further support.
"School accountability, including inspection, has a vital role to play in our education system. For the sake of children, teachers, school leaders and parents, it's essential we get these changes right."
An Ofsted spokesman said: "We're currently in ongoing, constructive discussions with union leaders, other sector representatives and the DfE about a package of measures to improve some areas of our work with schools. We will be able to say more about this very soon."
Paul Whiteman, general secretary at school leaders' union NAHT, said: "We are pleased that the Secretary of State has been engaging with Ruth Perry's sister, who spoke so powerfully at our recent annual conference. The suggestion that changes to inspection are now being considered is also to be welcomed.
"However, it is regrettable that it is has taken a tragedy of this nature for the Government to finally realise that reform of school inspection is required.
"While we have been talking with Ofsted and the Government in recent weeks, we remain deeply frustrated with the lack of urgency that has been shown.
"Up until now there has been a failure to grasp the scale of change that is required, as well as the need to bring some immediate relief of the pressure school leaders remain under.
"This announcement must open the door to immediate and meaningful change agreed with the profession."