The Princess of Wales has revealed her sporting skills as she visited a rugby club to talk about childhood and the importance of community settings in early years.
Kate visited Maidenhead Rugby Club on Wednesday where she played rugby with England stars Courtney Lawes and Danny Care before sitting down for an open chat as part of her Shaping Us campaign.
Sporting a light blue England rugby top, navy trousers and white trainers, Kate showed her skills in a game of walking rugby, running, passing the ball and lobbing her opposite number as she got to grips with the game.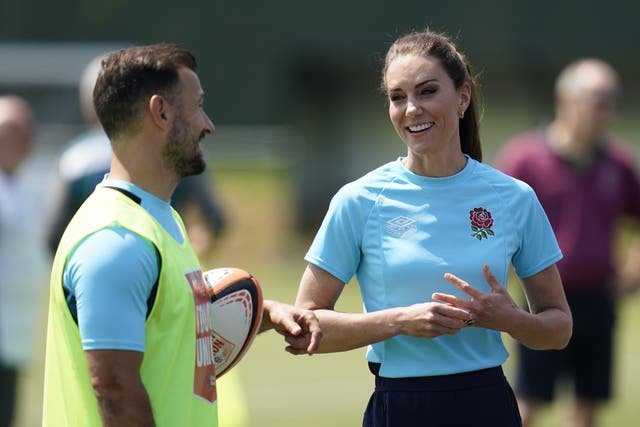 Former England player Ugo Monye and Si Trower, founder of the mental health charity Brave Mind, also joined the discussions.
The princess spoke about how she first became interested in early childhood care and asked the rugby players how they have changed as people since becoming fathers.
Kate asked the players who spent time with them in their first few years, and if parenthood made them think differently or made them self-aware.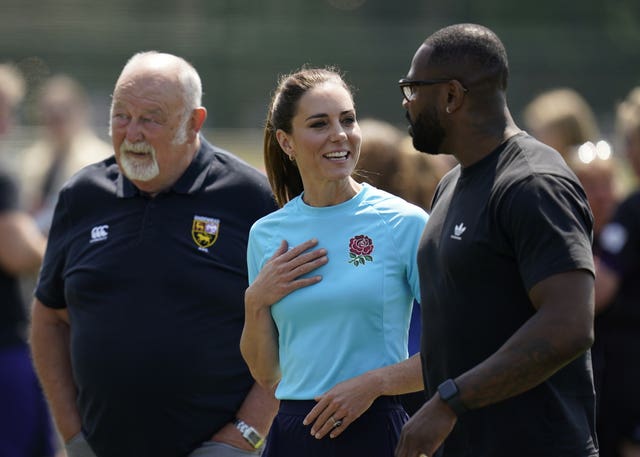 She added: "Actually, lots of them were saying lots of work needed to be done before (children) even step in our doors, and actually, lots of them aren't reaching the necessary milestones before coming through the school doors.
"Our kids learn from us modelling to them our responses to our emotions and our behaviours and the things we love, and how we play and interpret other people and how we form relationships.
"It's that quality time, it's actually physically being with them so they actually know that you are present, rather than being there watching them but actually you are on your phone or you are distracted with other thoughts."
Towards the end of the discussion the princess looked at baby photos of the rugby players and laughed on hearing their different stories.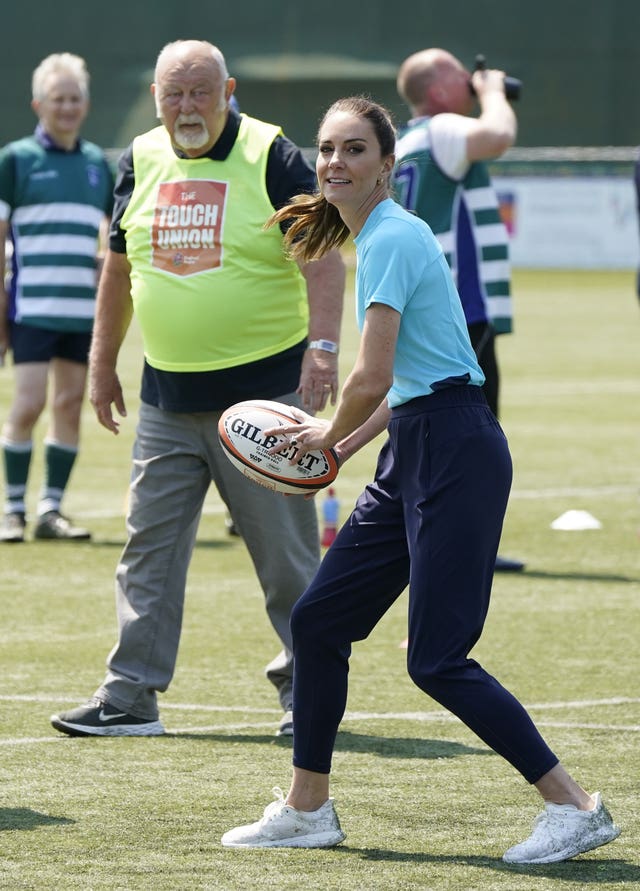 Issy had been playing touch rugby for England and was doing an elite rugby programme.
Ms Renton, 53, gave the princess a special pair of earrings named after Issy which her cousin had made and she was comforted by Kate.
The mother, from Cookham in Berkshire, told the PA news agency: "(Issy) was wonderful and a real breath of fresh air.
"She had wonderful friends and surrounded herself with the best people. She was nailing life.
"(Kate) is just a real gentle soul, isn't she. She just gave me a hug. She said she was devastated."
The visit ended with Kate taking photos with the rugby club and posing with a rugby ball before kicking it across the field.