All Uber Eats couriers will use zero emission vehicles by 2040, the company has announced.
Deliveries are currently made by people using cars, motorbikes and bicycles.
Uber Eats also plans for all restaurants providing food for the service to use sustainable packaging by 2030.
At an event in central London, Uber chief executive Dara Khosrowshahi said: "Driving emissions to zero, I believe, is the defining challenge of our generation."
Uber previously announced it wants all its minicab drivers in London to use electric cars by the end of 2025.
The company said on Thursday that Heathrow will be among several global airports which will provide drop-off points in preferential locations for Uber electric vehicles (EVs).
Mr Khosrowshahi said: "Our London riders experience the greenest ways to use Uber in the world, by electric car, by bike, by scooter, hybrid boat, coach and now even the Eurostar.
"That's no accident. World-leading policies in London and the UK to lower emissions and clean up transportation have had a significant impact, and are having a significant impact as we speak today."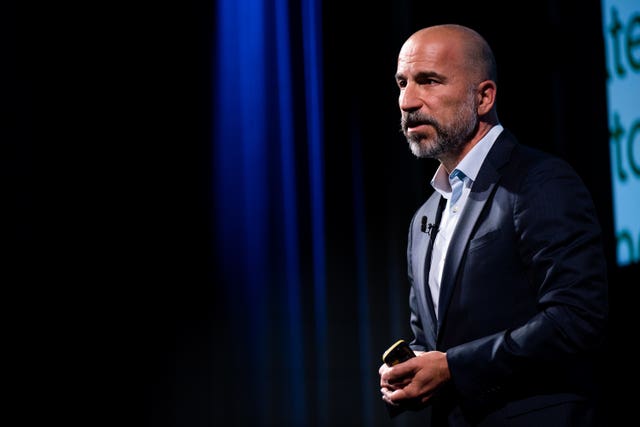 Mr Khosrowshahi said Uber has taken a series of steps to reach the "awesome" figure of 10,000 drivers using EVs in London.
He went on: "Our experience in London has set the stage for us now to begin to scale electrification on a global basis."
Uber has made a series of modifications to its app to make it easier for drivers to use EVs.
These include showing options for switching from conventionally-fuelled cars, and offering journeys based on when an EV will need to recharge.
Uber has also started showing passengers the carbon emissions savings from riding in EVs, and gives them the ability to choose those vehicles at no extra cost.