A British child was among four very young children who were critically injured after being stabbed in a lakeside park in the French Alps.
Two adults were also wounded when the suspect, identified by police as 31-year-old Syrian, attacked people with a knife in the town of Annecy on Thursday.
He stabbed a child in a pushchair repeatedly as bystanders screamed for help.
The children, aged between 22 months and three years, are in a "very severe state" and are in intensive care, according to a local prosecutor.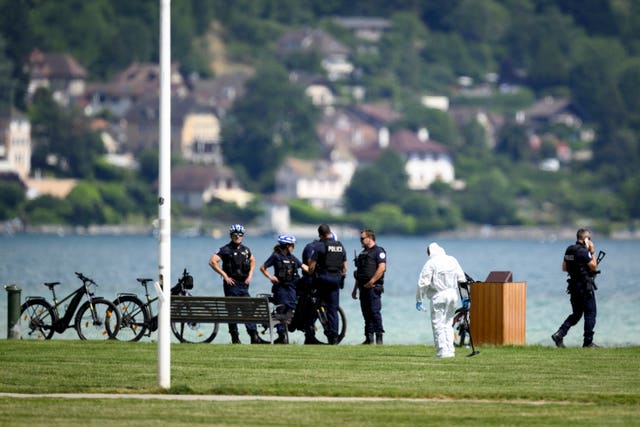 Foreign Secretary James Cleverly confirmed that one of the children injured was a British national.
One eye witness, former Liverpool FC striker Anthony Le Tallec, described how he told police to shoot the attacker as he ran towards him at the park.
Translated to English, Mr Le Tallec, who coaches football in Annecy, said in a series of Instagram stories: "I could see police officers, five or 10 metres behind him, who couldn't catch him. He came towards me, so I moved aside and I saw him heading towards elderly people.
"And he attacked the elderly man, stabbed him once and the police were behind him and couldn't catch him.
"I told the police shoot him, kill him, he's stabbing everyone.
"So he attacked once, twice, and they started shooting."
He explained how he saw the attacker get shot in front of him in the park.
He said: "They shot him in front of me and he fell to the ground but the elderly man had already been hit.
"I continued along the lake and saw the kids on the floor. They had been hit. It's very sad."
France is in shock but is "standing firm" after the horrific attack, French Prime Minister Elisabeth Borne said.
The attacker was a Syrian national who was granted refugee status in Sweden 10 years ago, she said.
He has no criminal or psychiatric record and appeared to have acted alone, according to Ms Borne.
"We are talking here about infants, very young infants who have been very seriously injured," she told the press conference, according to a translation.
"We are absolutely shaken by all this and we are standing firm by the people of Annecy."
Following the attack, Deputy Mayor of Annecy, Chantale Farmer, told BBC News how schools were put in "lockdown" to protect children in the area.
She said: "We try to protect the children because we had schools around so we locked them down for a while and so we (could) also give information to the parents and also to the people working in those schools.
"All the people in Annecy are very shocked right now."
Ms Farmer explained that psychological help has been put in place to support those who witnessed the attack, including a class of schoolchildren who were in the park at the time.
She said: "We've put in place psychological help, a free phone number that people can phone.
"We also took into account the witnesses and the victims with the hospitals (and) with some doctors so they could speak out.
"We've done it also in a school because there was a class that was doing sport on the field during the attack and so we've put the psychological help also in that school to help people to express and to try to find a way to help them, as we can.
"The phone number is on our website for people."
Mr Cleverly, speaking at an OECD ministerial council press conference in France hours after the attack, said: "We have already deployed British consular officials who are travelling to the area to make themselves available to support the family.
"And of course we stand in strong solidarity with the people of France at this terrible time."
Police overpowered and arrested the assailant, who is detained in the Annecy police station.
Video on social media appeared to show the attack in a children's play park.
Footage showed a man in dark glasses and with a blue scarf covering his head brandishing a blade as people screamed for help.
He first circled the playground, slashing at a bystander, and then climbed over its barriers to attack people inside.
A screaming woman was seen trying to push the attacker away from her pram, but he got past her and stabbed into the pushchair repeatedly.
One woman, Eleanor Vincent, who has been in the town for the last five days on holiday, was at the scene as police began to cordon off the park.
She told Sky News: "The police were there very quickly, the area was cordoned off.
"I did not see the crime scene thank heavens, but I did see the aftermath because I stayed in the area for about 45 minutes just trying to take in what had happened and to take some photos to be able to document what was going on."
French President Emmanuel Macron described the attack as one of "absolute cowardice".
Of the victims, he said "children and an adult are between life and death".
"The nation is in shock," he tweeted.
Prime Minister Rishi Sunak tweeted: "My thoughts are with all of those affected by the shocking attack in Annecy this morning.
Calling it a "truly cowardly act", he said: "The UK and France have always stood together against acts of violence, and we do so again today."