Demonstrators smeared oil over a fake, human-sized gannet to protest against plans to develop the Rosebank oil and gas field.
Ocean Rebellion climate protesters staged the stunt near Dundee harbour on Thursday, pouring containers filled with fake oil over the mock bird until it became unrecognisable.
Norwegian oil and gas company Equinor has applied to the UK Government for approval to work on Rosebank, the largest undeveloped oil field in the UK, with a decision expected soon.
It lies west of Shetland and is capable of producing up to 500 million barrels of oil.
Demonstrators said the protest highlighted the impact the oil industry can have on wildlife, with seabirds often found covered in oil due to spillages.
Fellow protesters stood behind the performers with a banner that read "Stop Rosebank".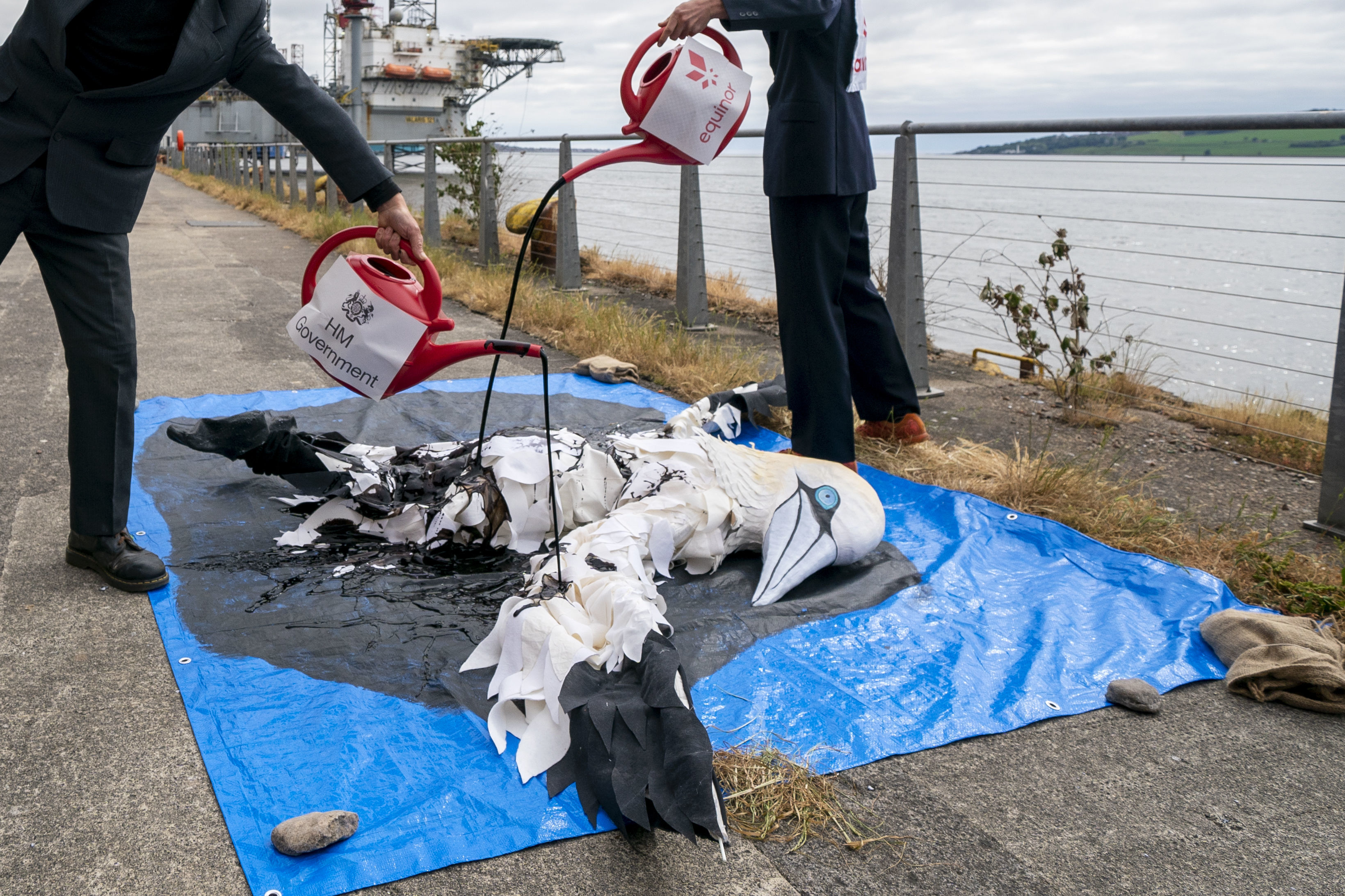 Mandy Cairns, from Ocean Rebellion, added: "Equinor state on their website that their environmental work is guided by their commitments to prevent harm to the environment, and yet they intend to develop an oil field which would involve a pipeline cutting through the Faroe-Shetland sponge belt, which is home to sensitive deep sea sponges and 400-year-old clams.
"A major oil spill from Rosebank could risk serious impact to at least 16 Marine Protected Areas."
Kate Treharne, Ocean Rebellion zoologist, added: "With a million seabirds calling Shetland home, an oil spill from this field would be catastrophic to the animals and birds who live and feed in this area."
A spokesperson for Equinor refuted the protesters' claims, stating: "Rosebank is a project that can counteract the decline in domestic production and improve energy security, with oil and gas produced with significant lower carbon footprint than the current average on the UK Continental Shelf.
"The numbers that the protesters refer to are not correct.
"The environmental footprint of the project has been thoroughly assessed in an environmental statement, published in August last year, and worst case impact assessments have been carried out to ensure that the field can be developed in an environmentally responsible way.
"New oil and gas fields in the North Sea can absolutely be in keeping with the UK's commitment to net-zero.
"For example, the North Sea Transition Authority (NSTA) uses an 'effective net-zero test' which looks at a range of factors including greenhouse gas emissions, lifetime production against UK future demand, and production emissions impacts when assessing applications for a new field.
"We have full confidence in our data, which show that the UK oil and gas industry is currently on track to meet interim emissions reduction targets agreed in the North Sea Transition Deal.
"Our 2022 Emissions Monitoring Report shows that achieving the 2030 goal of a 50% reduction in production emissions is the absolute minimum the NSTA expects from industry, which should aim to surpass it."
A UK Government spokesperson said no decision has been made regarding Rosebank yet, adding it is the NSTA which will ultimately make a decision.
The NSTA said it does not comment on individual cases, but said in every case it "takes a life cycle approach to net zero regulation, including through our strategy, and our range of regulatory levers".