Nearly one in four pupils at state schools in England is now eligible for free school meals, while a record one in five has a first language other than English, new figures show.
Eligibility for free school meals stood at 23.8% of all pupils in January this year, the equivalent of two million children – up from 22.5%, or 1.9 million, in January 2022.
A school leaders' union said the numbers should "serve as a wake-up call about the appallingly high levels of childhood poverty in England".
The figure has increased every year since January 2018, when it stood at 13.6% or 1.1 million, according to data published by the Department for Education (DfE).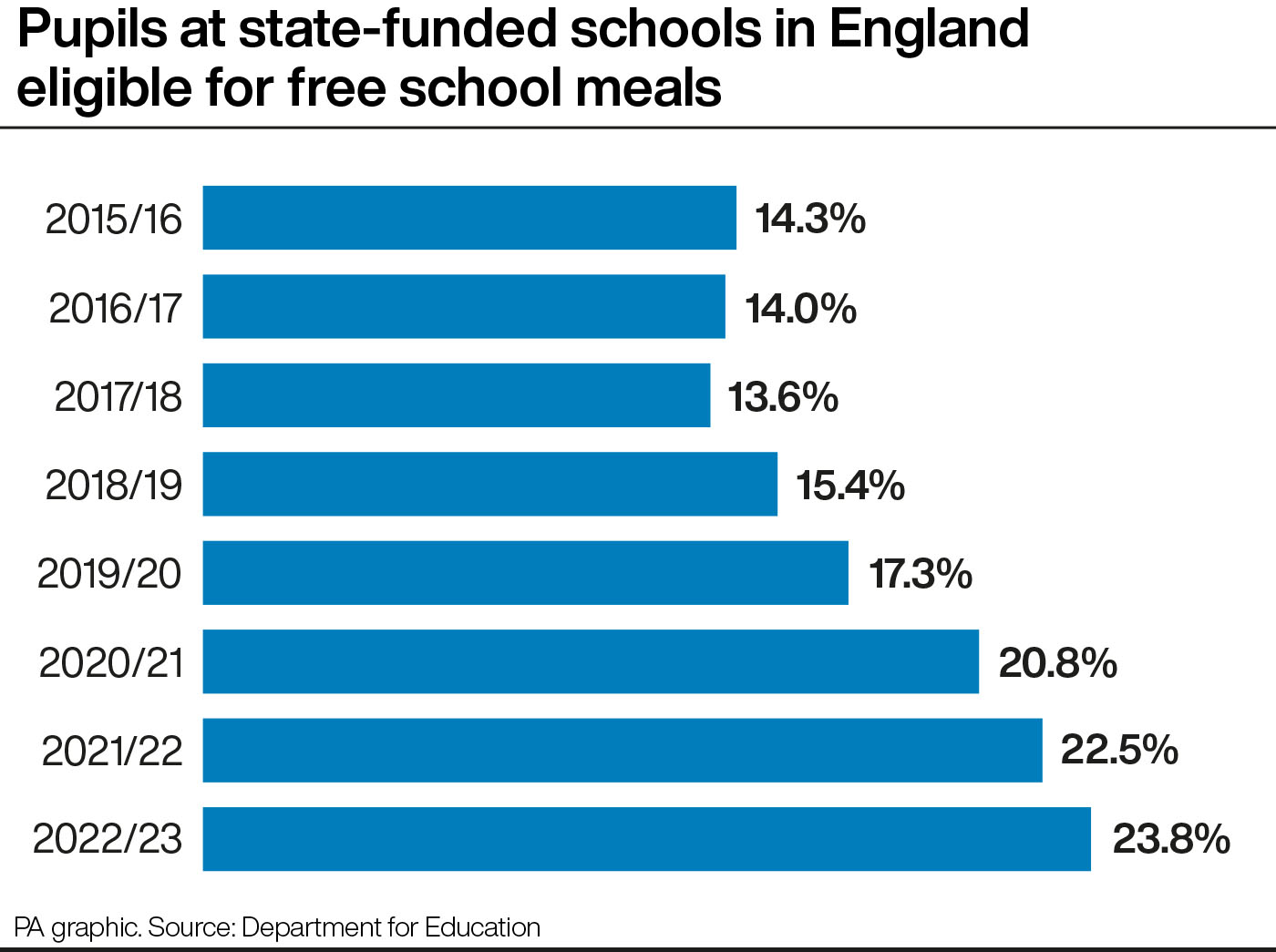 Free meals can also be available to households unable to claim benefits but which meet certain criteria, such as children of work visa holders or families holding a British National Overseas passport who have moved to the UK from Hong Kong.
All pupils who have become eligible for free school meals since April 1 2018 will remain eligible until March 2025 as part of protections introduced during the roll-out of Universal Credit – a factor that is likely to have contributed to the ongoing increase.
But Geoff Barton, general secretary of the Association of School and College Leaders (ASCL) said the figures do not reveal the full scale of the problem due to limits on eligibility.
He said: "The very high level of free school meal eligibility should serve as a wake-up call about the appallingly high levels of childhood poverty in England.
"Yet these shocking figures in themselves do not reveal the full extent of the problem because there are many more families who are struggling but who do not qualify for free school meal provision as eligibility is limited to those whose household income is less than £7,400 a year.
"The government must, as a matter of urgency, extend free school meals provision to all families in receipt of Universal Credit and it must put its tired rhetoric about 'levelling up' into practice by committing to end the scourge of child poverty."
Social mobility organisation the Sutton Trust echoed this sentiment, saying the data is "a worrying indicator of increasing poverty and lower incomes".
"Without radical intervention and increased provision for those who need it most, the attainment gap between the most and least disadvantaged children will widen."
Action for Children said the figures "significantly understate the scale of the problem of children being too hungry to learn because many children in working poor households are not eligible for free school meals" and that "hundreds of thousands of children in poverty are missing out".
A DfE spokesperson said it had extended eligibility "several times to more groups of children than any other government over the past half a century".
The proportion of pupils eligible for free meals is typically higher in state-funded primary schools than secondary schools and the latest figures confirm this trend, at 24.0% and 22.7% respectively.
There are also sharp differences in eligibility across regions of England and ethnic groups.
The highest rate is for north-east England, where 30.4% of all state-funded pupils are eligible for free school meals, while the lowest is south-east England at 18.8%.
When comparing the figures by ethnicity, rates are highest among pupils identifying as white Traveller of Irish heritage (64.7%), white Gypsy/Roma (54.8%), mixed white and black Caribbean (43.4%) and black Caribbean (42.8%).
Rates are lowest among pupils of Indian (7.4%) and Chinese (7.8%) ethnicity.
Meanwhile one in five (20.2%) pupils at state-funded schools in England in January 2023 were recorded as having a first language known or believed to be other than English.
The proportion is up from 19.5% in January 2022 and is the highest since the current data began in January 2016, when it stood at 18.0%.
The figures for 2023 vary between primary (22.0%) and secondary schools (18.1%), with even sharper differences across the regions, from a high of 44.0% of pupils in London to 8.3% in north-east England.
A pupil is recorded to have English as an additional language if they are exposed to a language at home that is known or believed to be other than English.
"This is not a measure of English language proficiency or a good proxy for recent immigration," the DfE added.
Separate statistics released on Thursday showed almost half of children and young people in need of special educational support waited beyond the 20-week time limit for a new education, health and care (EHC) plan.
The DfE said that of those plans where a decision to issue a new plan was within the 2022 calendar year, 50.7% were issued within the time limit – down from 59.9% in 2021.
This is the lowest level for any year since 2015.
National disability charity Sense warned that disabled schoolchildren are missing out on vital support.
Head of policy Sarah White said: "EHC plans are vital for disabled children to access support which enables them to thrive. Without them, education, health and care services are limited in what support they can provide and children won't get the best start in life.
"It is hugely disappointing that nearly half of families are not receiving this plan within the legal time limit.
"This leaves thousands of disabled children at risk of falling through the cracks, with potentially catastrophic knock-on effects on their education and health, which could have lifelong consequences."