A 15-year-old boy died when his e-bike collided with an ambulance after he was followed by police.
Flowers and candles with tributes to the teenager, named locally as Saul Cookson, have been laid at the scene in Salford, Greater Manchester.
They continued into Lower Seedley Road before the police vehicle was blocked off by bollards, Greater Manchester Police said.
The collision between the e-bike and the ambulance took place in Langworthy Road "a short time later", the force added.
He was treated by the ambulance crew inside before being rushed to hospital, where he died later that day.
The incident has been referred to the Independent Office for Police Conduct (IOPC) "in line with normal proceedings" and the watchdog is now leading the investigation.
Messages at the scene say "rest in peace my bro", "fly high", "shining bright up there" and "forever 15".
Saul's sister said on Facebook: "Words cannot describe my feelings at the moment. Rest in peace Saul, I love you."
Saul's friend Mitchell Murden, 21, who said he had been due to meet him on the day he died, said "the majority" of young people in the area had e-bikes.
He described Saul as "a good lad" who "kept himself to himself".
A relative of Saul, who attended the scene to lay flowers, said the family was "a mess" following the news.
Family friend Jacob Bailey, 19, said: "I've known Saul since he was born. He was just one of those proper nice kids. No-one had a bad word to say about Saul.
"I just don't believe it. He had so much to live for and in the blink of an eye it's just all … 15 is no age, is it."
Mr Bailey said he went to the hospital after finding out the identity of the boy, saying: "It was bad times to see his parents there in bits."
Neighbour Karen Cosgrove said she had passed the scene at around 2.30pm on Thursday and saw the boy lying on the ground.
She added: "I walked away, I could barely look at it. His mum was there, she was screaming. Everyone's in shock."
A GoFundMe page has been set up in a bid to raise £2,000 for his funeral, which had raised more than £1,100 by Friday morning.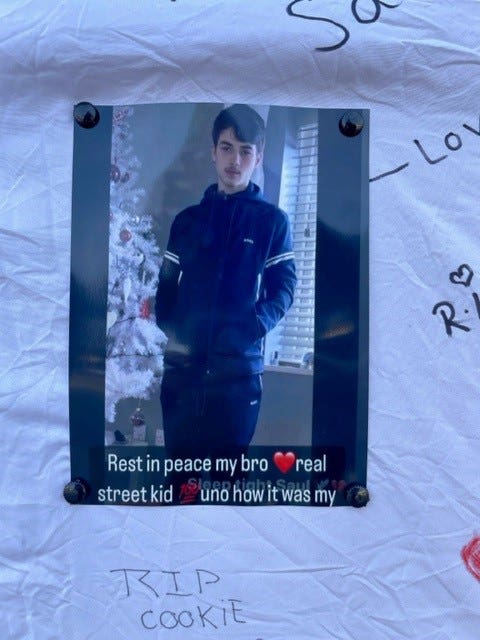 "Our thoughts are with the family and friends of the boy who tragically died."
It comes after 15-year-old Harvey Evans and 16-year-old Kyrees Sullivan were killed in an e-bike collision after being followed by a police van in Cardiff last month, sparking a riot in the aftermath.
A North West Ambulance Service spokesperson said on Thursday: "An ambulance was involved in a collision with a young person, who was riding an electric bike, on Langworthy Road in Salford at around 2pm this afternoon.
"The patient received medical treatment immediately by the ambulance crew and was transported to hospital, where he sadly later died.
"We are participating fully in the police investigation.
"We would like to extend our deepest condolences to the young person's family."