A British girl who was one of four children stabbed in a knife attack in the French Alps was on holiday in the area.
The knifeman attacked the group of children – aged between 22 months and three years – and two adults at a lakeside park in Annecy on Thursday.
French interior minister Gerald Darmanin said the suspect, a 31-year-old Syrian man, had tried to claim asylum in France but it was refused on Sunday because he had previously been granted asylum in Sweden 10 years ago.
French President Emmanuel Macron travelled to the Alps on Friday to meet families and witnesses who have been left traumatised by the attack, his office said.
Mr Macron and his wife Brigitte flew to Grenoble where they met three of the children injured in the attack before heading to Annecy.
French prime minister Elisabeth Borne confirmed all four children underwent surgery and "are under constant medical surveillance".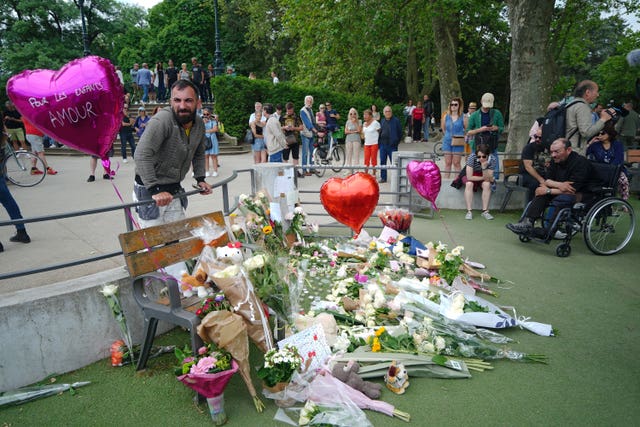 The public prosecutor of Annecy confirmed the suspect's custody had been extended on Friday morning.
Translated to English, a tweet said: "Stab attack in Annecy. The defendant's custody is extended. No other communication planned for this day in the state."
Tearful well-wishers have visited the playground where the children were stabbed.
Flowers and messages were laid at the scene, with messages including "Love Annecy", and "Children I don't know you but in this hour you are fighting".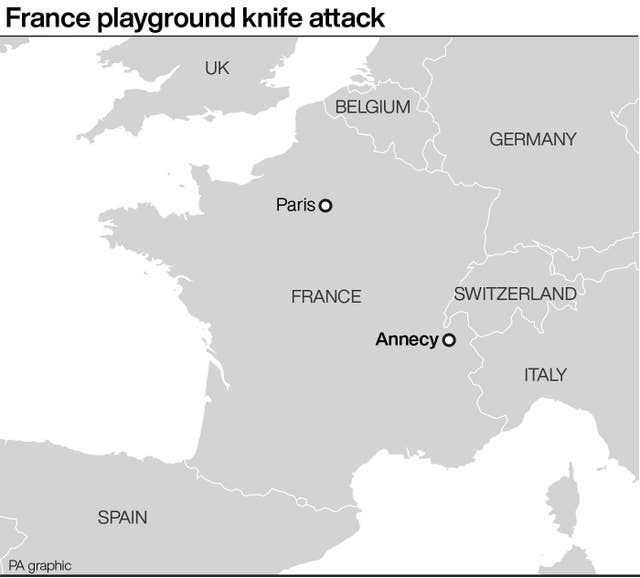 Ms Jackson moved to the town three years ago with her husband. She has two sons, Rudy, five, and Vinnie, nine months.
She said: "Locally we call this the pirate playground, because it has a pirate ship in it, it's a place that our kids know and love.
"It was my son's fifth birthday yesterday and he had mentioned he would be interested in going to the pirate place, but he was at school.
"It's a local treasure, that's why it's so shocking. I don't know anyone who hasn't visited the pirate playground."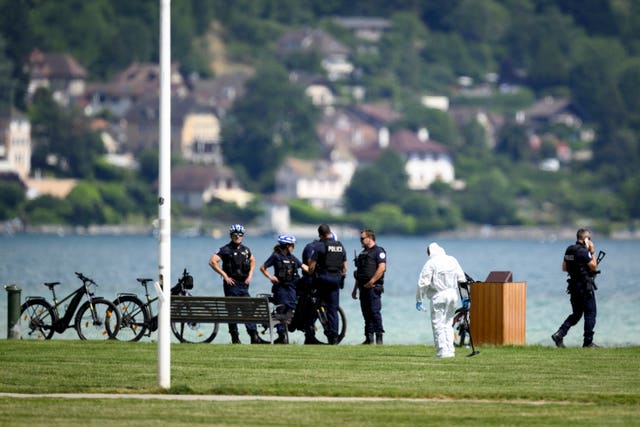 Mr Darmanin said the suspect entered France legally, adding: "For some reasons we don't really understand, he applied for asylum in Switzerland, in Italy and in France, which he didn't need to do as he already had asylum in Sweden for the past 10 years."
Local prosecutor Line Bonnet-Mathis said one of the adults was seriously injured by both a knife wound from the attacker and a bullet wound from police as officers shot at the knifeman while trying to detain him.
The Telegraph reported the gunshot victim is a 78-year-old man who is now in a life-threatening condition in hospital after also being stabbed six times.
Witnesses said the knifeman shouted "in the name of Jesus Christ" as he launched the attack, including stabbing a child in a pushchair repeatedly as bystanders screamed for help.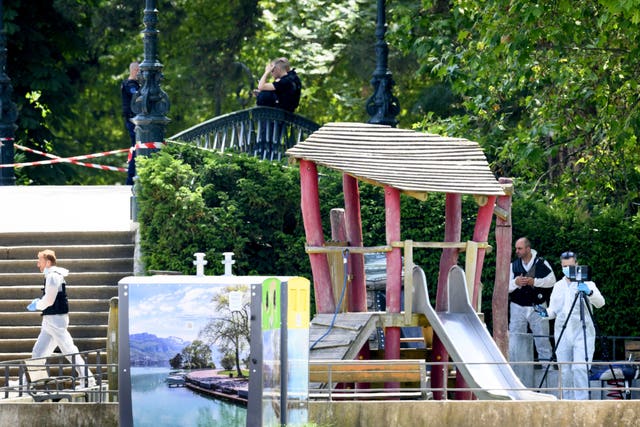 Footage of the attack shared on the internet shows a man in dark glasses and with a blue scarf covering his head brandishing a blade as people screamed for help.
In another video, the man appears to shout "in the name of Jesus Christ" while waving the knife in the air, with people nearby screaming for police.
He then slashed at a man carrying a rucksack who attempted to approach him.
The video then shows a woman frantically pushing a stroller inside the play area of the park as the attacker approached her while she screamed for help.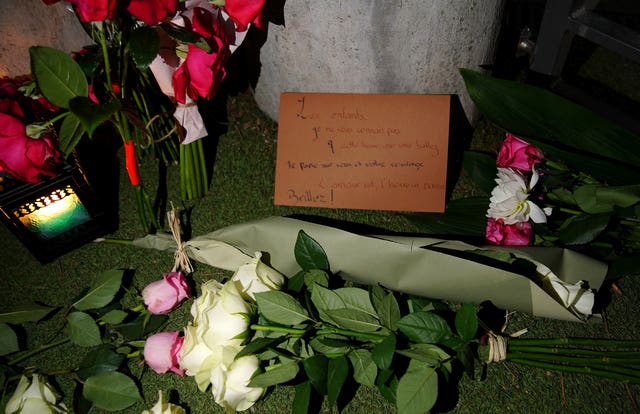 PM Ms Borne said the suspect had no criminal or psychiatric record and appeared to have acted alone.
"We are talking here about infants, very young infants who have been very seriously injured," she told a press conference, according to a translation.
"We are absolutely shaken by all this and we are standing firm by the people of Annecy."
Speaking at a press conference at the White House on Thursday evening alongside US President Joe Biden, Prime Minister Rishi Sunak described the attack as "unfathomable".
He said: "All our thoughts are with those who were affected in this unfathomable attack, including a British child, and their families.
"I have been in touch with President Macron. We stand ready to offer any assistance that we can."