A British girl who was one of four children stabbed in a knife attack in the French Alps while on holiday has been visited by French President Emmanuel Macron.
The knifeman attacked the group of children – aged between 22 months and three years – and two adults at a lakeside park in Annecy on Thursday.
The British girl, named locally as Ettie, is three years old and was taken to hospital in Grenoble, a city around an hour-and-a-half away from Annecy by car.
Mr Macron and his wife, Brigitte, visited her and other victims in hospital on Friday before travelling to the lakeside town where the attack took place.
Speaking at a police headquarters close to where the incident took place, he said: "I had the opportunity with my wife to meet with several of these families in Grenoble and then Annecy."
Mr Macron continued: "But we are of course, in our thoughts, in our emotions, and in solidarity, behind the children and adults who were targeted and one of the victims is here with us."
Mayor of Annecy Francois Astorg also told reporters: "The children are stable right now, the adults are much better.
"President Macron this morning went to see the children in Grenoble and the adults later.
"The kids have been operated on, they are stable and we are confident, I don't want to say more than that at the moment."
French prime minister Elisabeth Borne confirmed all four children underwent surgery and "are under constant medical surveillance".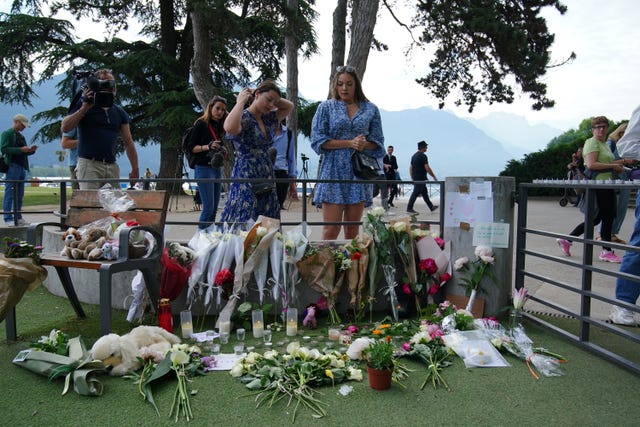 The public prosecutor of Annecy confirmed the suspect's custody had been extended on Friday morning.
Mr Macron also shook hands with a man who appeared to chase the knifeman around the park, at a police headquarters close to the incident.
Henri, 24, who is travelling across the country visiting various cathedrals and was visiting the lakeside town at the time of the attack, was labelled a hero in France after the video was shared on social media.
Mr Macron said: "Attacking children is the most barbarous of acts and I think that is what has shocked us."
He told Henri: "You experienced very hard moments, traumatising. I am very proud of you."
Tearful well-wishers visited the playground where the children were stabbed.
Flowers and messages were laid at the scene, with messages including "Love Annecy", and "Children I don't know you but in this hour you are fighting".
A British mother of two, Katie Jackson, 39, was in tears as she said her son had asked to visit the park on the day of the attack.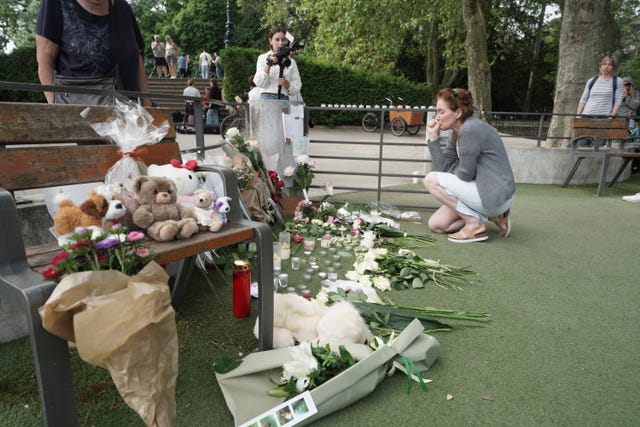 She said: "Locally we call this the pirate playground, because it has a pirate ship in it, it's a place that our kids know and love.
"It was my son's fifth birthday yesterday and he had mentioned he would be interested in going to the pirate place, but he was at school.
"It's a local treasure, that's why it's so shocking. I don't know anyone who hasn't visited the pirate playground."
The Swedish Migration Agency has confirmed the suspect was granted permanent residency in 2013 and although the agency did not identify him, it said he subsequently sought Swedish citizenship in 2017 and 2018, both denied, and applied again in August last year.
Mr Darmanin said the suspect entered France legally, adding: "For some reasons we don't really understand, he applied for asylum in Switzerland, in Italy and in France, which he didn't need to do as he already had asylum in Sweden for the past 10 years."
Local prosecutor Line Bonnet-Mathis said one of the adults was seriously injured by both a knife wound from the attacker and a bullet wound from police as officers shot at the knifeman while trying to detain him.
Witnesses said the knifeman shouted "in the name of Jesus Christ" as he launched the attack, including stabbing a child in a pushchair repeatedly as bystanders screamed for help.