A City boss compared to the The Wolf Of Wall Street has been sentenced to 14 years' imprisonment in his absence over a £70 million Ponzi-style investment scam.
Anthony Constantinou, 41, went on the run during his seven-week Southwark Crown Court trial and is thought to be in Turkey or Dubai after being stopped in Bulgaria with a fake Spanish passport.
Hundreds of investors were duped out of a total of £70 million between 2013 and 2015 while he ran Capital World Markets (CWM).
Prosecutor David Durose KC said £5.8 million was spent "to boost the image and profile" of the firm "in an attempt to hoodwink investors".
CWM had high-profile sponsorship deals with the Honda Moto GP, Chelsea Football Club, Wigan Warriors rugby league club, Cyclone Boxing Promotions and the London Boat Show.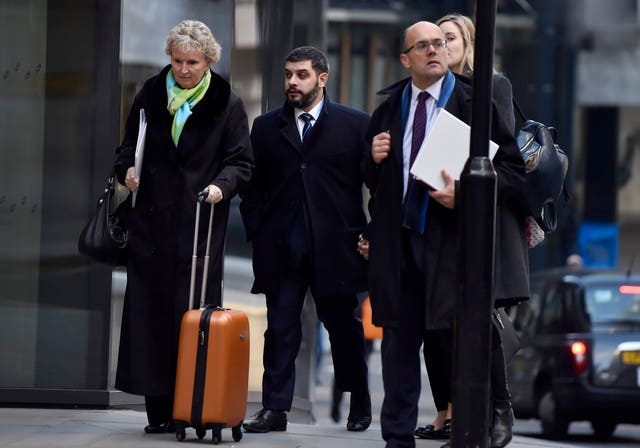 More than £470,000 was paid for private jet hire to fly him and his associates to Moto GP races across Europe as well as a return flight to Nice for a 150,000 Euro five-day yacht cruise around the Mediterranean to Monaco.
The firm paid £200,000-a-quarter to rent "plush" offices in the City's Heron Tower, while nearly £600,000 was spent on just six months' rent of his large home in Hampstead, north-west London, where his luxury cars were parked in the drive.
Almost £1 million was transferred to Constantinou and his wife's bank accounts.
Promised returns of 60% per year on risk-free foreign exchange (FX) markets, a total of 312 investors trusted their money to CWM.
Some were professionals but most were individuals who handed over their life savings or pension pots, with a large number of Gurkhas paying into the scheme, said Mr Durose.
Constantinou denied wrongdoing but was found guilty of one count of fraud, two counts of fraudulent trading and four counts of money laundering last month and sentenced to 14 years imprisonment on Friday.
"These offences have quite clearly caused untold misery to many people, each of whom will continue to feel its effects for years to come. This is the very human cost of fraud," Judge Gregory Perrins said.
Describing a "catalogue of misery", he said: "There are numerous accounts of life savings lost, family homes having to be sold, devastation, desperation and heartbreak.
"Plans for the future have had to be abandoned and many families have suffered immensely.
"Some victims talk of struggling to make ends meet with no realistic prospect of the situation ever improving.
"Others blame themselves and feel shame and guilt for having fallen victim to a fraud."
The judge said some £25 million went back to investors while other funds were spent running the business but most was used at "the whim" of Constantinou, who "thought only of himself".
"He regularly behaved in a boorish, arrogant and intimidating manner depending upon his mood.
"He was often drunk at work and thought little of belittling others or even sexually assaulting them.
"He was a man impressed with the trappings of extreme wealth and assumed that others should be too.
"He is, my judgment, a morally corrupt individual who has shown no insight into the harm he has caused to others and has shown absolutely no remorse."
Constantinou was jailed for a year at the Old Bailey in 2016 after being found guilty of sexually assaulting two women during after-work drinks.
One of the victims described how the parties were just like the raucous scenes depicted in Martin Scorsese's The Wolf Of Wall Street, starring Leonardo DiCaprio as rogue New York trader Jordan Belfort.
Constantinou is the youngest son of fashion tycoon Aristos Constantinou, who was gunned down in his Bishop's Avenue mansion in 1985 when Anthony was aged just three in the unsolved case dubbed the "Silver Bullet Murder".
His barrister David Walbank KC said the crime "bore all the hallmarks of a contract killing".
"His mother was at least a, if not the, prime suspect in the killing and they have been estranged for many years," he said.
Constantinou forfeited a £100,000 surety and a £50,000 security after skipping bail and an international arrest warrant has been issued.
City of London Police Detective Inspector Nichola Meghji said: "Constantinou was arrested in Bulgaria last month while trying to enter Turkey while in possession of false documents.
"He was later released and officers believe he is now either in Turkey or Dubai, but he also has family connections to Greece and Cyprus.
"As a career criminal, he has access to documents and money under other names.
"It is not known what name he is currently travelling on or being known as, but we do know he also uses the aliases of Antonis Hadjicostis and Georgios Arnaoutakis."
Emma Beazley, specialist prosecutor for the Crown Prosecution Service, said: "This was a callous scam targeting members of the public.
"Many people lost their hard-earned money because of Constantinou's greed and false promises in this fake investment scheme."