Manchester City fans have expressed concerns about getting to the stadium for the Champions League final in Istanbul after Liverpool supporters were left stuck outside last year's final in Paris.
Last year, Liverpool fans found themselves penned against the Stade de France stadium's perimeter fences ahead of the match against Real Madrid and were then tear-gassed by French police.
An independent review concluded in February found that Uefa bore "primary responsibility" for what almost led to a "mass fatality catastrophe".
This year, fans have been advised by Uefa to arrive at the stadium with "plenty of time" to spare.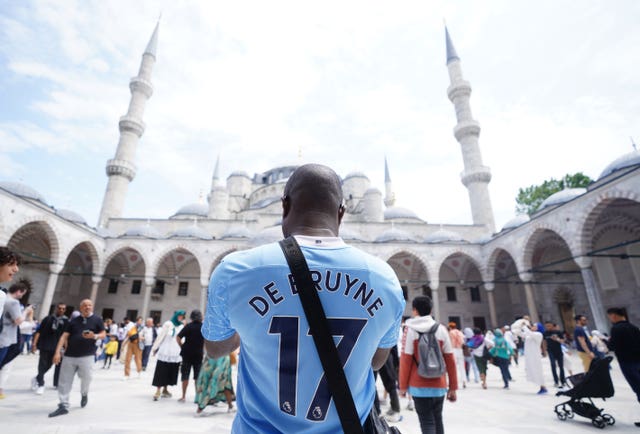 The stadium is around an hour from the square by car, although the time it takes to travel can vary depending on traffic.
Free shuttle buses have been organised to take fans there from Taksim Square from 1pm – nine hours before kick-off.
Will Hustler, 28, from Denton, Tameside, said he was "a little bit" worried about the journey.
"Because I've seen things about getting there nine hours early," he said.
"I don't know if it's lies or if they're trying to get everyone there, I don't know.
"I'm a bit nervous."
Mr Hustler said he was not too bothered about the stadium not selling alcohol.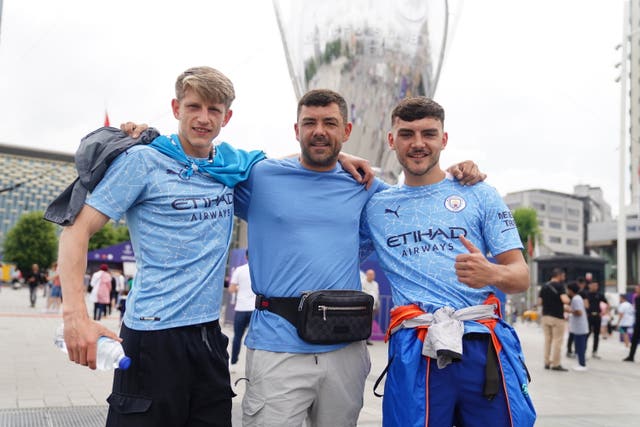 His friend, Stephen Cavanagh, 39, also from Denton, said that Istanbul was "a bit rough".
"It's a bit rough over here," he said.
"But we're rough anyway."
Mr Cavanagh said he was not "too big on the drinking".
"We come here, we stay here, we have some food, I'm not too big on the drinking," he said.
"It's all football, football, football."
Brian Tilley, 50, was born in Manchester but now lives in Crawley, south London.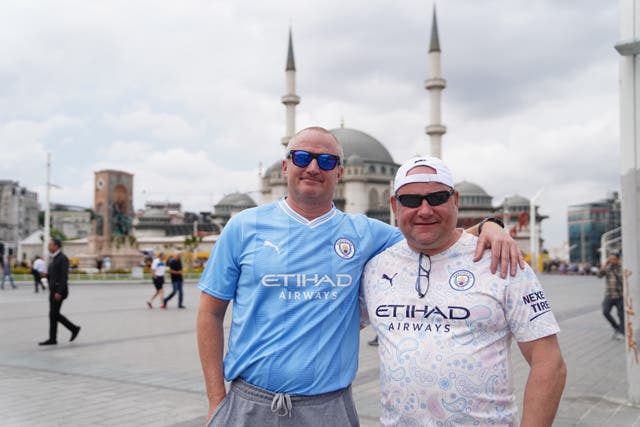 "I'm going to go over there with plenty of time after last year's experience," Mr Tilley said.
"I'm going to get there early, there's a fan park nearby so I'll go in the afternoon."
He added: "I know that a lot of fans that were in (Paris) struggled to get near the grounds".
Jack Garmory, from Walkden in Greater Manchester, praised the "brilliant atmosphere" in Istanbul after arriving on Thursday with "no issues".
"We flew direct… absolutely no issues, got here yesterday evening and the place is brilliant, locals really welcoming, food and beer great," said the 27-year-old, who works in recruitment.
"The atmosphere last night was brilliant and late into the night, City will be packing out the area again today with everyone that came today.
"There hasn't been any clashes yet, everyone seems in good spirits from both sides and hopefully will continue that way tonight and tomorrow.
Of the upcoming final, Mr Garmory added: "I'm feeling relatively confident, never know with these games so some nerves but we're the best team in England and after beating Bayern and Real Madrid we will hopefully get the job done.
"There will always be some concerns (about security)… last year was horrible and I know Liverpool fans (who were) stuck in it but hopefully with the ground being a bit more out of the way and having to get there early because of traffic we should be okay."