A Manchester City fan wiped away tears as he celebrated his team winning the Champions League final in Istanbul.
Thousands of ticketless fans piled into bars around Taksim Square to watch the final.
As the final whistle blew, they exploded into cheers of ecstasy.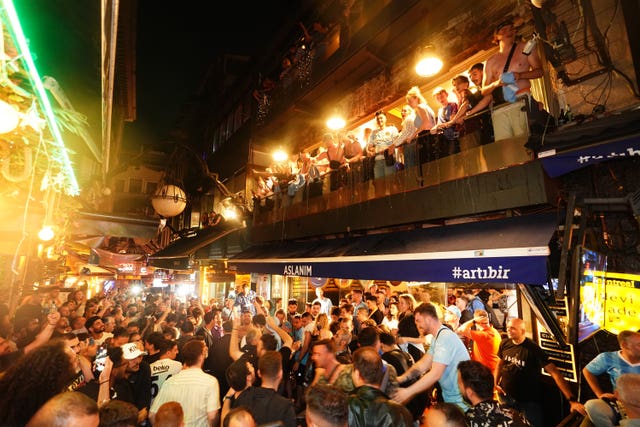 Eddie Lilley, 18, from Scotland, sat crying beside his father Jimmy on Nevizade Street as he watched City lift the Champions League trophy for the first time.
Wiping tears from his face, he told the PA news agency he was worried that they would not win.
"Always doubts when Manchester City are playing," he said.
"But it's done now, that's it over."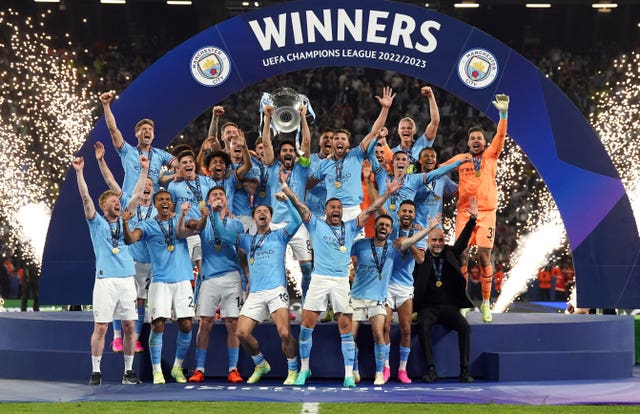 "I'm chuffed for him," he said.
"He's supported them since he was a wee boy."
Around the pair, fans sang popular football anthem Freed From Desire.
There was barely an inch between the club's swarming supporters as they danced and celebrated on the street.
Strangers hugged and kissed each other in the minutes after the final whistle, as the street adopted a festival atmosphere.
One fan said that he would not have believed 25 years ago that his team could be capable of winning the Champions League final.
Speaking to the PA news agency, Lee Webster, 51, from Blackley, Manchester, said: "It's like a dream come true, it's unbelievable.
"I used to go when we were in the third division.
"If you said 25 years ago, when we were relegated against Stoke, that within 25 years we would have won the league seven times, three FA cups, and now Champions League, the treble, it's a dream come true."
Manchester City's players joined in the celebrations on social media, England midfielder Jack Grealish tweeting a picture of himself in the changing rooms holding the Champions League trophy and describing the club's success as "the stuff I couldn't even dream of".
Full-back Kyle Walker apologised to England manager Gareth Southgate ahead of a boozy night of celebrations while Kevin de Bruyne posted a picture of himself wearing the Champions League trophy on his head.