Rishi Sunak has been urged to call a snap general election after three quick-fire MP resignations left the Prime Minister facing by-election battles on multiple fronts.
Labour leader Sir Keir Starmer said Mr Sunak "must finally find a backbone" and send the country to the polls after the Prime Minister found himself three MPs down in the space of 24 hours.
The call was echoed by Liberal Democrat leader Sir Ed Davey as rival parties hope to inflict more damaging by-election defeats on the Tories.
Nigel Adams on Saturday became the latest to announce he would be quitting as an MP with "immediate effect".
An ally of Boris Johnson, he followed the former prime minister and former culture secretary Nadine Dorries in departing the green benches.
Mr Adams and Ms Dorries had been tipped for peerages in Mr Johnson's resignation honours but neither featured in the published list.
Mr Johnson announced his exit on Friday as he directed a scathing attack on the Commons Privileges Committee probe into whether he misled MPs with his assurances over parties held in Downing Street during coronavirus lockdowns.
He compared the process, chaired by veteran Labour MP Harriet Harman but which has a Conservative majority, to a "kangaroo court" and accused the seven-person panel of being on a "witch hunt".
In his lengthy statement, Mr Johnson appeared to keep the door open for a return to Parliament, saying he was leaving "for now".
Sir Jacob Rees-Mogg, a Johnson acolyte who was knighted in his resignation honours, said the former Tory leader could "easily get back into Parliament at the next election", a suggestion which could mean Mr Johnson may be back in Westminster next year.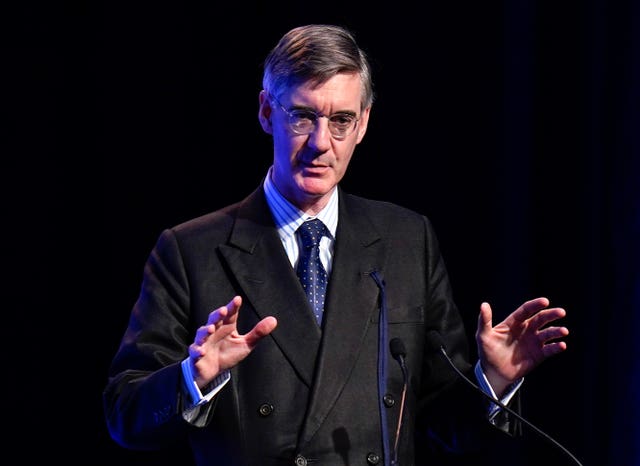 "I would most strongly warn Conservative Party managers against any attempt to block Boris if he seeks the party nomination in another seat," he said.
"Any attempt to do so would shatter our fragile party unity and plunge the Conservatives into civil war."
Mr Johnson's decision to step down came ahead of the publication of the Privileges Committee report into whether he lied to the Commons when he said No 10 had followed social distancing rules during the pandemic.
The committee's findings have yet to be released but Mr Johnson's response appears to confirm that the MPs have concluded he was not truthful about the boozy parties.
According to The Sunday Times, Mr Johnson was told by Ms Harman that his punishment would be a suspension from the Commons for a time that would "significantly exceed" 10 days, thereby reaching the threshold for a by-election to possibly be triggered.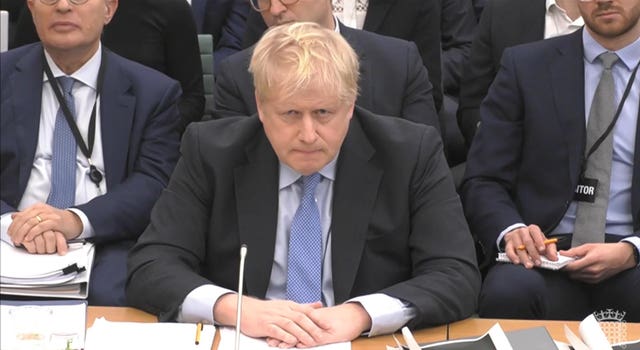 The Liberal Democrats have briefed that they could potentially pull off an upset in Ms Dorries' former Mid Bedfordshire constituency despite a Tory majority of 24,000.
The Tories enjoy a comfortable 20,000 vote cushion against Labour in Mr Adams' former Selby and Ainsty constituency in North Yorkshire.
But the governing party's record has been poor in recent years, with the Tories losing four seats in by-elections since June 2021, three of them to the Lib Dems and a fourth to Labour.
The timing of the fresh contests in the three vacant constituencies has not yet been announced.
PA news agency understands that chief whip Simon Hart could feasibly move a motion know as a "writ" next week in at least one of the seats, giving between 21 and 27 working days for a vote to be held.
Meanwhile, Labour's Sir Keir, in an article for the Sunday Mirror, accused the Prime Minister of accepting a resignation honours list from Mr Johnson that he said had seen Mr Sunak "agree to hand gongs to a cast list of cronies".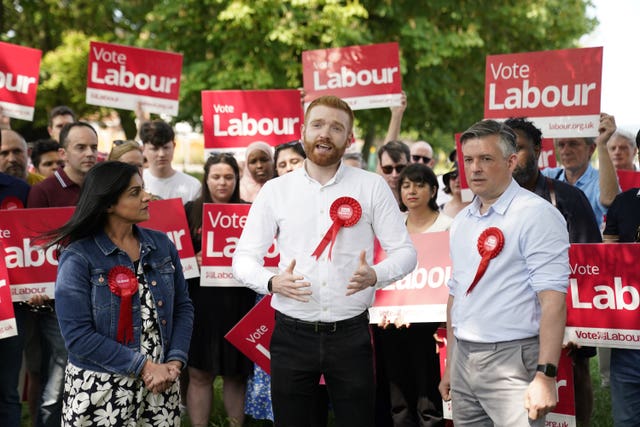 Several reports have suggested that Mr Johnson's allies blame Downing Street for Tory MPs, including Ms Dorries, Mr Adams and Cop26 president Sir Alok Sharma, not appearing on the published peerages list on Friday despite them being nominated for the upper chamber.
Downing Street has denied any involvement by Mr Sunak in the process, other than to accept the House of Lords Appointments Committee's (Holac) approved list.
Holac has, according to the Institute for Government think tank, confirmed that it rejected eight peerage nominees put forward by Mr Johnson on the grounds of propriety.
A source close to Mr Sunak said: "When the Prime Minister met with the former prime minister recently, the former prime minister raised the matter of peerages with him, to which the current Prime Minister made clear he would follow precedent and not interfere with the process.
"Any suggestions of promises made or guarantees given are categorically untrue."
A source familiar with the conversation said that, when Mr Johnson noted that his nominations could trigger by-election contests, Mr Sunak replied with words to the effect of "so be it".