The King and Queen have been cheered and applauded by crowds after arriving in south-west France.
Camilla was handed a bouquet of flowers after she and Charles greeted hundreds of well-wishers outside Bordeaux's town hall on Friday afternoon.
Locals waved French and Union flags, and shouted "God Save The King".
They were shown photographs of the King's visit to the city in 1977, as well as the late Queen Elizabeth II's stop there in 1992.
Bordeaux, famous for its wine, is home to about 39,000 Britons and is twinned with Bristol.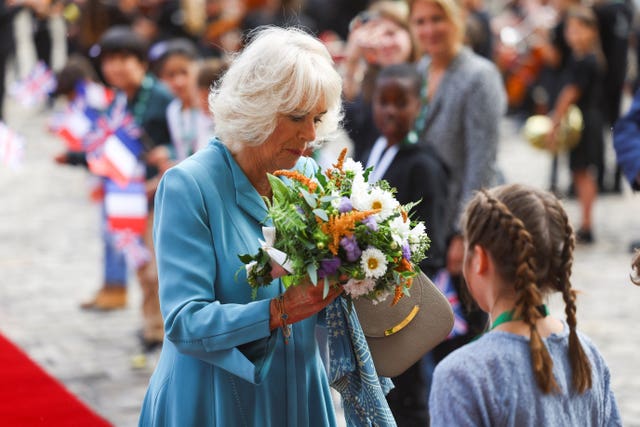 They signed the town hall's guest book before going out to the garden to plant a loquat leaf oak tree.
Charles giggled as Camilla poured water on the plant, saying "very good".
Camilla wore a turquoise Anna Valentine coat dress, earrings and the late Queen Elizabeth II's diamond brooch.
It came after the couple spent two days in Paris, where Charles became the first British monarch to speak in the French senate chamber.
They also spent time with Emmanuel and Brigitte Macron, including a game of table tennis between Camilla and the French president's wife, and a star-studded state banquet.