The UK economy grew faster than had first been thought between January and March this year, new revised official figures have suggested.
The Office for National Statistics (ONS) said that it now thinks that gross domestic product (GDP) rose by 0.3% in the first three months of the year, up from the 0.1% previously estimated.
The ONS left its estimate for the second quarter of the year unchanged, it said on Friday.
"Meanwhile, healthcare grew less because of new near real-time information showing the cost of delivering services."
It means the UK economy is now thought to have grown by 1.8% between the final quarter of 2019, before the pandemic hit, and the second quarter of this year.
That puts the country's economy ahead of both Germany (0.2%) and France (1.7%) during the same period. But it is still behind Italy (2.1%), Canada (3.5%), Japan (3%) and the US (6.1%).
A previous estimate had shown that the UK's economy shrunk by 0.5% during that period, the joint-worst performance with Germany out of the countries above.
It comes following a series of revisions to GDP estimates, which were made much more difficult during the pandemic and energy crisis.
Earlier this month, the ONS said that it now thinks that GDP returned to its pre-pandemic level by the last three months of 2021, much earlier than first thought.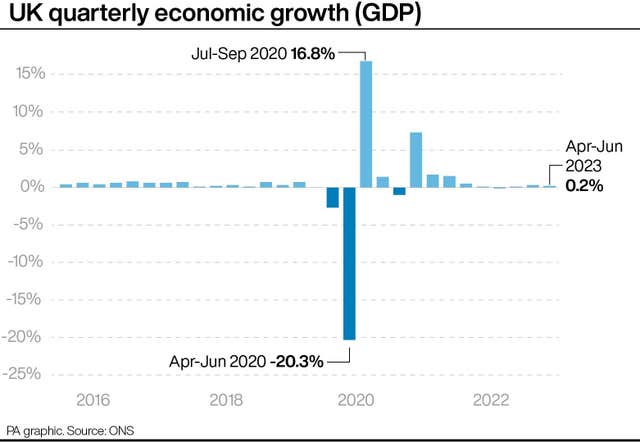 Jake Finney, an economist at consultancy giant PwC, said: "Unfortunately this snapshot of economic data is not significant enough to change the overall picture of a flatlining economy.
"Output is only 0.4% higher than where it was at the same time a year ago. If anything, the GDP data revisions may marginally dampen the UK's growth prospects for 2023 and 2024 as they reduce the potential for bounce-back growth."
Chancellor of the Exchequer Jeremy Hunt said: "We know that the British economy recovered faster from the pandemic than anyone previously thought and data out today once again proves the doubters wrong.
"Since 2020 we have grown faster than France and Germany.
"The best way to continue this growth is to stick to our plan to halve inflation this year, with the IMF forecasting that we will grow more than Germany, France, and Italy in the longer term."