Police investigating the "senseless destruction" of a world-famous tree next to Hadrian's Wall have made a second arrest.
The Sycamore Gap tree in Northumberland was cut down overnight between Wednesday and Thursday in what detectives have called a "deliberate act of vandalism".
The tree, which is believed to have been around 300 years old, was made famous in a key scene in Kevin Costner's 1991 film Robin Hood: Prince Of Thieves and was among the UK's most photographed trees.
A 16-year-old boy was arrested on suspicion of criminal damage on Thursday in connection with the incident.
He has since been bailed pending further enquiries.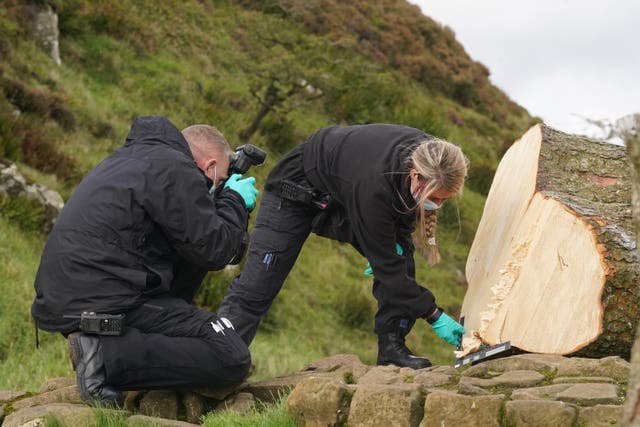 Detective Chief Inspector Rebecca Fenney-Menzies said: "The senseless destruction of what is undoubtedly a world-renowned landmark – and a local treasure – has quite rightly resulted in an outpouring of shock, horror and anger throughout the North East and further afield.
"I hope this second arrest demonstrates just how seriously we're taking this situation, and our ongoing commitment to find those responsible and bring them to justice.
"Although another arrest has been made, this investigation is still in the early stages, and we would continue to encourage any members of the public with information which may assist to get in touch.
"If you've seen or heard anything suspicious that may be of interest to us – I'd implore you to contact us.
"I'd also like to remind the public that this remains a live investigation so, for that reason, please avoid any speculation both in the community and on social media.
"Any information – no matter how small or insignificant you think it may be – could prove absolutely crucial to our enquiries."
The incident has been met with dismay and outrage among walkers' groups on social media, and the National Trust said it was "shocked and saddened" to confirm the tree had been felled.
A police presence remained at the site on Friday, with forensics officers taking measurements and samples from the remains and photographing the area.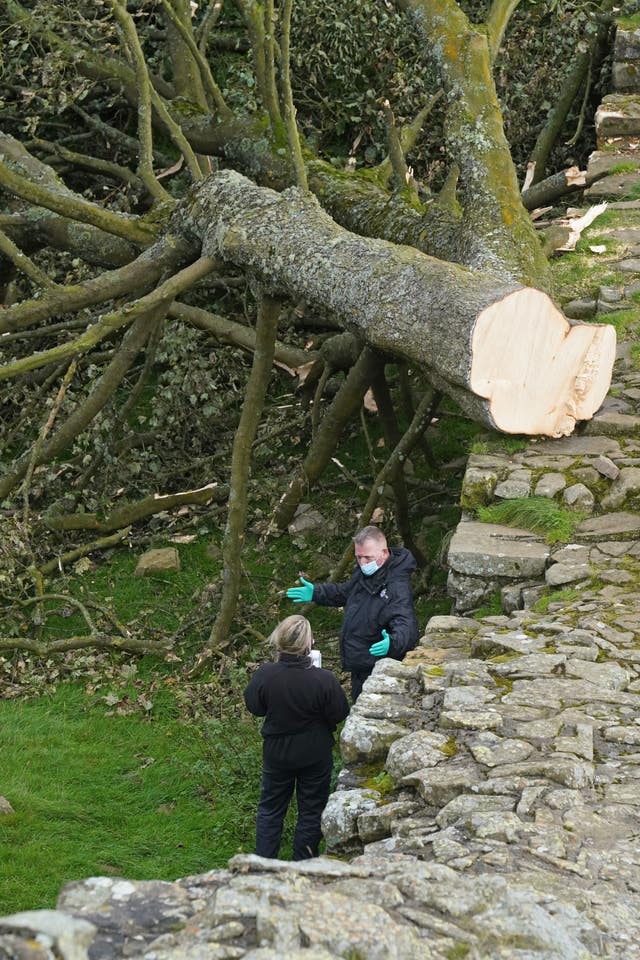 Walker Alison Hawkins, who was one of the first people to see the tree had been felled on Thursday morning, told the PA news agency: "It was a proper shock. It's basically the iconic picture that everyone wants to see."
Experts have said new shoots are expected to grow from the tree but it will never be the same again.
National Trust general manager Andrew Poad told BBC Breakfast the stump was "healthy" and staff might be able to coppice the tree, a technique allowing new shoots to grow from the base of a trunk.
Rob Ternent, head gardener at The Alnwick Garden in Northumberland, said the tree will start growing again but "won't ever be the same shape or as good of a tree as it was".
He told the PA news agency: "It's worth a try but I think livestock and wildlife will potentially damage it as well. It'll be very difficult to get it back to the original tree.
"The growing season's coming to an end now but by spring next year it will have some life in it. It'll probably be about eight foot tall, but it'll be lots of singular branches, more bushy.
A National Trust spokesperson said: "We're very grateful for all the offers of support we've received – from people in the North East and much further afield. It is clear this tree was special to many, many people.
"Currently, we are focused on making the site safe, and helping staff and the community come to terms with the news.
"We will be working with Northumberland National Park, other partners and the local community to consider plans for the site and the tree in the future, and we will inform people as soon as we know."
People can contact the force via the Tell Us Something page of its website or by calling 101 quoting log NP-20230928-0295