Nine boats have been intercepted carrying a total of 537 migrants crossing the English Channel, according to the latest Home Office figures.
The crossings on Saturday bring the total for the year to 24,830, which is down on last year's figures which by this time in 2022 had reached 33,001.
But the numbers are still up on 2021, when 17,085 had made the dangerous crossing by September 30, and it was 7,000 by the same point in 2020.
Her body was found on a beach near Calais, France, on Tuesday and is being investigated by French police.
The National Crime Agency (NCA) has charged Sudanese national Howmalow Mawumd-Duop, 21, with facilitating illegal immigration following the death.
A spokesman said: "The NCA continues to support the French authorities in their investigation into the circumstances surrounding the death."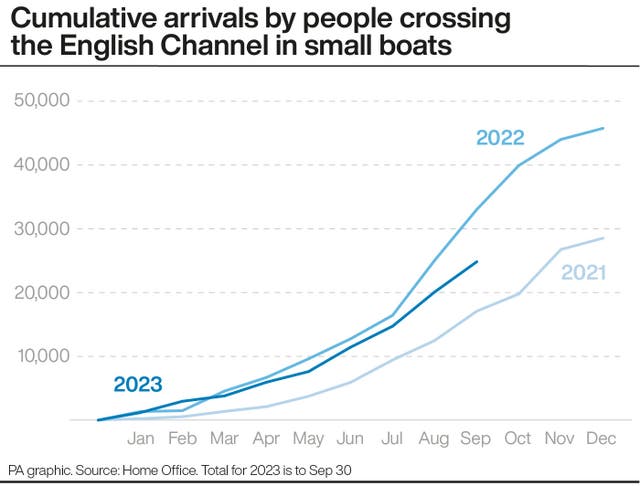 The people smugglers also claim Brexit has made it easier for them as they state there are "no fingerprint" checks any more, the podcast said.
The team of undercover reporters posed as family members looking to bring a cousin to the UK illegally, and they covertly recorded their conversations with the people smugglers.
On the safety of crossing the Channel, one of the gang said: "If the boat has a problem the [UK] police will come help the boat. When the boat goes into the English Channel the police are waiting and will help… They will take him to a four-star hotel."
On how to claim asylum, they added: "After eight months you'll have your interview… you have to make a good case, a political case… Political is good because they cannot bring you back to your country."
Discussing how to claim asylum from India, they added: "Say he has a problem with the Bombay mafia… Say I have a problem with this mafia, they want to kill me and my family."
Home Secretary Suella Braverman stepped up her rhetoric this week on the issue by predicting there will be a "disintegration in our society" if action is not taken to curb the number of migrants arriving in Britain by small boats.
The senior Conservative's comments indicate she does not plan to back down on her calls for the international reform of refugee rules – such as the United Nations' Refugee Convention – despite facing a backlash, including from her own party.
In a speech to a centre-right think tank in Washington DC, Mrs Braverman warned the West faces an "existential" threat if countries are not able to control their borders from unauthorised arrivals.
Senior Tory MPs have criticised Tuesday's speech, singling out her comments arguing that being discriminated against for being gay or a woman should not grant a person refugee status in the UK.