Dame Priti Patel appeared to take aim at Home Secretary Suella Braverman's migration speech as she suggested it may have been made to "get attention".
The senior Conservative, who led the Home Office for three years during Boris Johnson's premiership, said the public want to see results on the pledge of stopping small boats of migrants from crossing the Channel.
She said interventions such as speeches are "no substitute for action".
The former home secretary also appeared to criticise Mrs Braverman's comments on multiculturalism, saying integration in Britain by ethnic minorities is something to be "proud of".
She argued their definitions of what an asylum seeker is needs to be tightened, saying discrimination for being gay or a woman should not be enough to qualify for international refugee protection.
Asked on Sunday Morning With Trevor Phillips on Sky News what she made of the speech, Dame Priti said: "I don't know what the intention was around that – it might just be get attention, to have the dividing lines that previous commentators were mentioning as we go into the run-up to a general election."
Prime Minister Rishi Sunak has pledged to stop the Channel boats – one of his five commitments to the electorate ahead of a likely general election next year.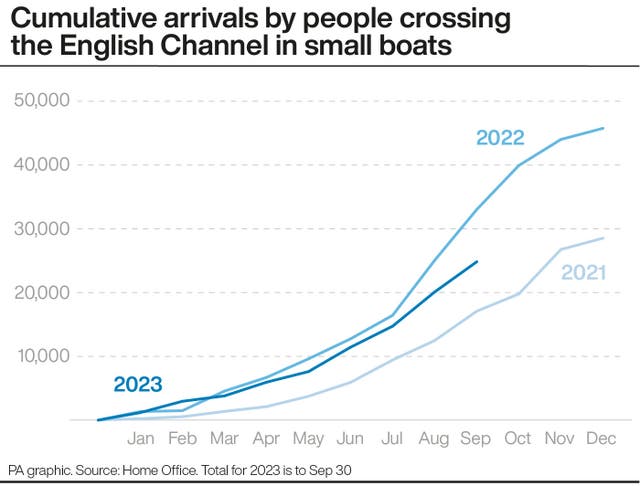 Dame Priti said: "This side of a general election, if I might politely suggest it is about delivery and the Government will be judged on delivery.
"When you make pledges, statements and promises, you have to deliver.
"But of course pledges are no substitute for action. I think the public, they are sick of hearing about some of these issues and the failure to deliver.
"I think it is right that everyone puts a shoulder to the wheel and cracks on and does the work."
The ally of Mr Johnson also appeared to rally against Mrs Braverman saying that multiculturalism had "failed", with communities living separately.
She told Sir Trevor: "You and I are sitting here today, we are the products of actual integration, multiculturalism, dynamic communities, people who love our country, want to contribute to our country, along with a hell of a lot of other people that have done exactly the same.
"I think that is something we should be proud of in our country."
Ahead of the start of the Conservative Party conference in Manchester on Sunday, Mrs Braverman used a newspaper interview to criticise celebrities who spoke out against her speech.
Sir Elton said her comments about those fleeing discrimination for being gay risked "further legitimising hate and violence" against LGBT people.
"These people don't have to wait in a queue to see a GP, they can just go private. They don't have to worry about trying to afford a car or buy a house," she said.
"The vast majority of British people are directly affected by the unprecedented scale of illegal migration. My job is to think of them first ahead of a virtue-signalling, elitist view from Hollywood Central."
However, the Home Secretary looks to have found an ally for her hardline approach to changing international refugee treaties, having kept the door open to the UK leaving the ECHR if it cannot enact its Rwanda policy.
The Illegal Migration Act legislated to allow ministers to send migrants crossing the Channel without permission to reside in the UK back to their country of origin or to Rwanda in east Africa, but the policy is currently held up in the courts.
Business Secretary Kemi Badenoch backed the remarks in comments made to The Sunday Times, adding that leaving the ECHR is "definitely something that needs to be on the table" – a stance that is likely to play well with the right of the party.
No 10 has regularly stated it remains confident in its legal case for sending asylum seekers to Rwanda, having signed a £140 million partnership agreement with Kigali.