An animal shelter in Canada is going viral after creating "Tinder" profiles for its feline residents.
Overpopulation of cats in Saskatchewan is a "huge problem", says Jasmine Hanson of the Saskatoon SPCA.
"Usually we see our volume of cats at its peak around springtime with stray cats having litters of babies, but this hasn't let up, and we are right full to capacity with cats available for adoption."
To help find these cats a new home, the Saskatoon SPCA has set up "Kittinder", showing off their best headshots and pithy quotes about their likes and dislikes.
Hanson's colleague Tricia McAuley came up with the idea to release the Kittinder profiles on Valentine's Day.
"We know that Valentine's Day can be lonely for some, and we wanted to do something fun that reminded people about the benefits of animal companionship," said Hanson.
"We spend a lot of time with these cats, as some of them spend upwards of a month on our adoption floor before finding their forever homes, and we wanted to create something that would help illustrate the big personalities we see in our feline friends."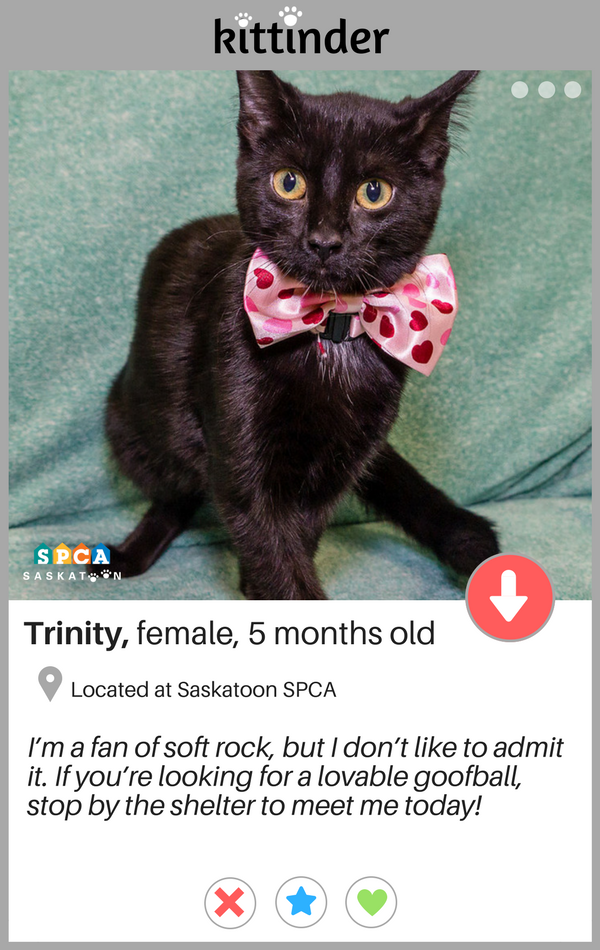 The best thing about the profiles is that they appear to be working already – less that 24 hours after the charity posted them on social media.
"We've had a ton of interest in these cats on Facebook, and we're getting lots of attention on Instagram, Twitter, and Imgur as well," said Hanson.
"We are seeing adoption applications coming in for some of the cats, and we're confident that we will be able to find wonderful homes for them all, eventually.
"None of our adoptable animals ever have a time limit, so we will continue to do everything we can to find them happy forever homes, no matter how long that may take."
Fingers crossed this lovely lot find new homes fast!