On the first ever Earth Day in 1970, millions of Americans took to the streets in their towns and cities to demand government action on pollution.
Twenty years on and the day is celebrated worldwide, encompassing a variety of environmental causes.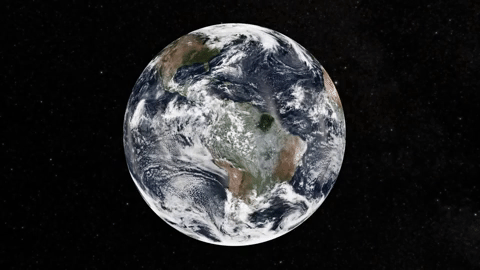 Nasa tipped its hat to technology
From drones analysing coral reefs to mosquito mapping, technological advancement play a big role in helping the agency keep a tab on what's happening to our planet.
Unicef shared a video of 12-year-old Timochi speaking at the UN Climate Change Conference in Bonn in 2017.
Timochi described the destruction of his home and school on a Fijian Island following a cyclone in 2016 and the impact of the cyclone on the local environment.
"Speeches and talks will not solve the problem, but walking the talk is move effective," he said.
The UN organisation also launched a climate change comic to celebrate the day.
The creators of Snoopy shared a cartoon featuring the pooch
Instead of showing Snoopy asleep on his dog house, he's napping on the earth.

The World Wildlife Fund had advice on how to choose paper products responsibly
The charity also wants people to pledge to make small lifestyle changes to make a bigger difference.
Charity Feeding America focused on preventing food waste for its Earth Day message
A US TV show used a tongue-in-cheek gif to remind you to save water
Renowned wildlife photographer Joel Sartore shared some of his stunning snaps
He encouraged his followers to say no to one-use plastic items.
Footballer Pele echoed this sentiment, asking the same of his followers.
You can find out more about Earth Day here.