A giant bee sculpture which aims to promote local scientific achievements is going on display in Manchester as part of a public art trail.
The STEM (Science, Technology, Engineering, and Mathematics) Bee is part of a "colony" of 100 super-sized installations that will form the Bee In The City trail in various locations for nine weeks between July 23 and September 23.
It was brought to life by Kelly Stanford, a 22-year-old artist and science communicator living in Manchester, who took four weeks to complete the project.
Ms Stanford said: "I started the STEM Bee project because I thought that making a science communication sculpture would be a great outreach opportunity due to the publicity the art trail would receive.
"The city of Manchester has such a rich scientific history which is still continuing today so it made sense to try and highlight this with a highly visible public sculpture that a large number of people can interact with on a daily basis."
The bee sculpture, which is around six feet tall, features images from scientific papers published by Manchester researchers, along with little snippets of information about local scientific achievements.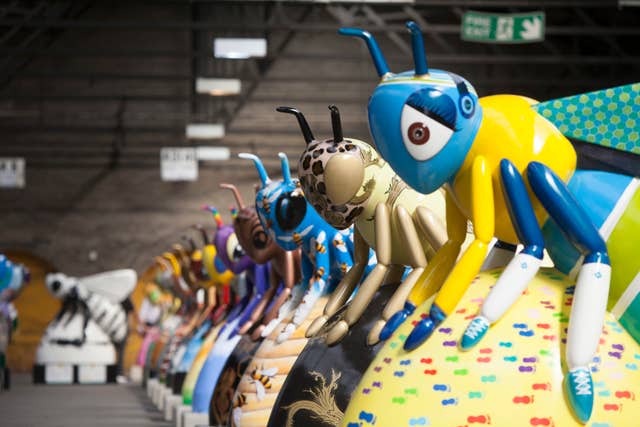 "I got them to help shape the bee's design by letting them suggest the imagery to be included on the bee, as well as allowing STEM researchers and scientists to add their signatures to the bee's legs.
"I felt that this would be a great way to represent how large and diverse Manchester's STEM community is."
The sculpture features 80 signatures from scientists, researchers, engineers and teachers working in STEM from around the Greater Manchester area – including Kostya Novoselov, who was awarded the Nobel Prize for Physics in 2010 for his achievements with graphene.
It also contains portraits of mathematician Alan Turing, physicist Ernest Rutherford and Marie Stopes, a pioneer in the field of family planning.
Ms Stanford, who recently graduated from the University of Manchester with a bachelor's degree in History of Art, said: "It's quite remarkable how many have taken the time to come down to sign it!
"The STEM Bee is primarily a science communication sculpture so I am hoping that it will draw people from non-science backgrounds to get involved in STEM activities."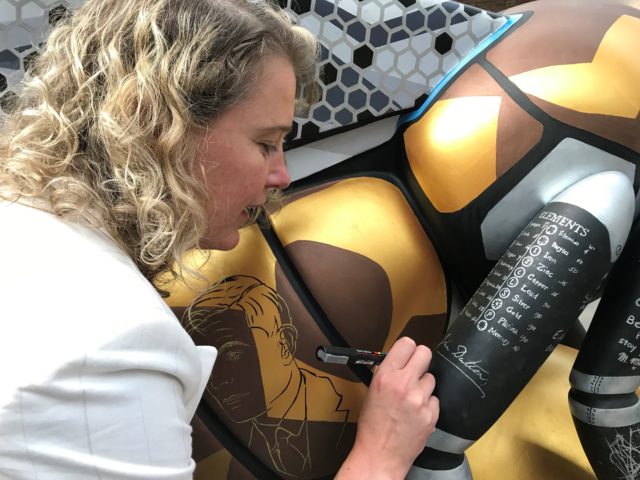 Sally-Ann Wilkinson, director of organisers Wild in Art, said: "Bee In The City is a celebration of Manchester's diversity, creativity and culture.
"Each individual Bee represents our fantastic city's many achievements, from its legendary music scene to scientific discoveries and industrial heritage."
Ms Stanford says bringing the sculpture to life has also changed the way she looks at bees.
She added: "I'm now concerned with trying to raise awareness of the importance of bees.
"One way I am doing this is with help of my sponsor, ARUP, who I am working with to produce a free downloadable guide on how to create simple DIY bee hotels for small gardens which will be distributed during the STEM Bee's launch.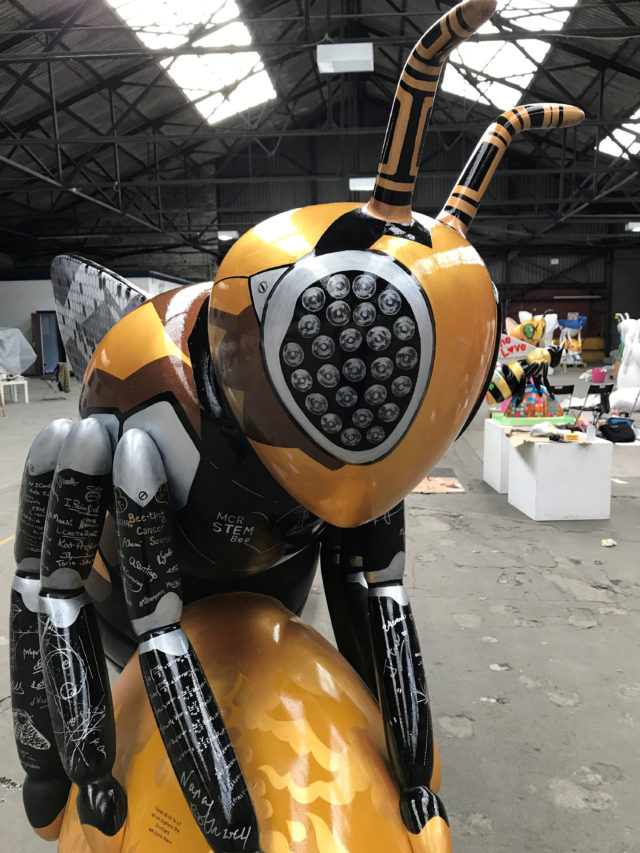 "It is designed for urban spaces such as apartment blocks that have small balconies or small city gardens with limited room.
"The idea is that it would enable more people to provide homes and food for bees living in challenging city environments."
STEM Bee will be displayed at Manchester Oxford Road station before being auctioned off to raise money for various local charities.