Former Ireland rugby captain Rory Best has raised more than 600,000 euros for child cancer services after completing a 330km 10-day walk across the country.
On Thursday evening, Best completed his journey by turning the sod at the site where the Cancer Fund For Children hopes to develop a new therapeutic short-break centre, Daisy Lodge in Cong, Co Mayo.
He said: "There have been many highlights throughout my professional career but the last 10 days have been incredibly special.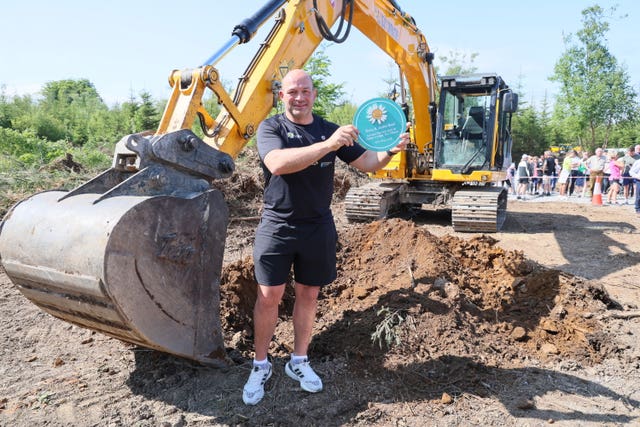 "Their experiences helped keep me motivated along some of the more challenging parts of my journey."
While the walk is over, the fundraising efforts continue and Best asked the public to give generously to "ensure no child or young person on the island of Ireland has to face cancer alone".
The former rugby player said he took on the walking challenge having been inspired by the "amazing work" the charity does to help children across the island diagnosed with cancer and their families.
He said: "A childhood cancer diagnosis can impact the whole family.
"Therapeutic short breaks at Daisy Lodge provide children with cancer a space to rest, time with their families and the opportunity to build connections with others their own age going through the same thing.
"They get to be treated like the stars they are and that's why I'm delighted to be doing my bit to help bring another therapeutic facility like this to Co Mayo."
The charity already operates a Daisy Lodge in Newcastle, Co Down, which provides a safe and supportive environment "far removed from the pressures of cancer treatment and hospital wards".
That support came in the form of local residents and schoolchildren cheering him on, as well as dozens of fellow travellers behind him – including members of the Defence Forces marching in step.
At the start of his challenge, he walked alongside 14-year-old Naomi Howlin, who was diagnosed with cancer last year.
Among the others who joined Best for part of his journey were former Irish rugby internationals Brian O'Driscoll and Rob Kearney.
"The impact he has is enormous," Kearney said.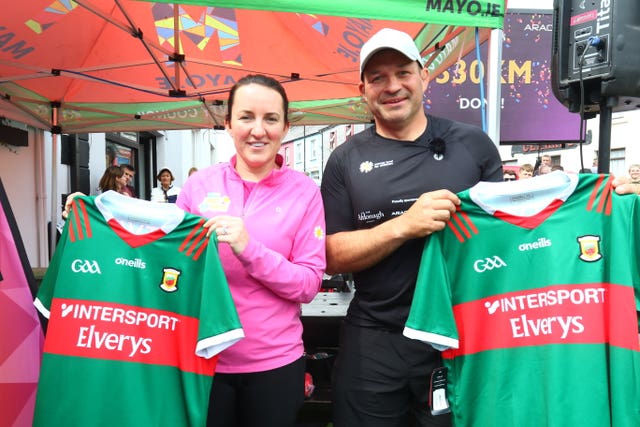 They were alongside Ireland coach Andy Farrell and a number of other big names who attended a hearty breakfast before the walk, including Mayo man and former taoiseach Enda Kenny and Sinn Fein leader Mary Lou McDonald.
The route took Best and his wife Jodie past Trinity College and Government Buildings in Dublin, as well as counties Kildare, Laois, Tipperary, Limerick, Clare, Galway and Mayo.
Along the route they were joined by some of the families supported by Cancer Fund for Children, as well as former teammates, public figures, other sporting heroes, sponsors and supporters of the charity.
The charity's chief executive Phil Alexander said: "Every week across Ireland, 10 children and young people (aged 0-24) are diagnosed with cancer.
"Our mission is simple: to help ensure that no child or young person has to face cancer alone."