From spectacular fireworks in Hong Kong and Australia to a huge LED light show at the world's tallest building in Dubai, here is a look at how revellers around the world have welcomed in 2018:
With a burst of confetti and fireworks, throngs of revellers ushered in 2018 in a frigid Times Square as the glittering crystal ball dropped.
It was the second-coldest on record, with the temperature only 10F (minus 12C) in New York at midnight.
Partygoers bundled up in extra layers, wearing warm hats and face masks, dancing and jogging on the spot to ward off the cold.
There was also tighter security than ever after two recent terrorist attacks and a rampaging SUV driver who ploughed into a crowd on the very spot where the party takes place. The event went off with no major problems.
Auld Lang Syne and New York, New York played as the crowds cheered.
The coldest ball drop celebration was in 1917, when it was only 1F (minus 17C).
Brazil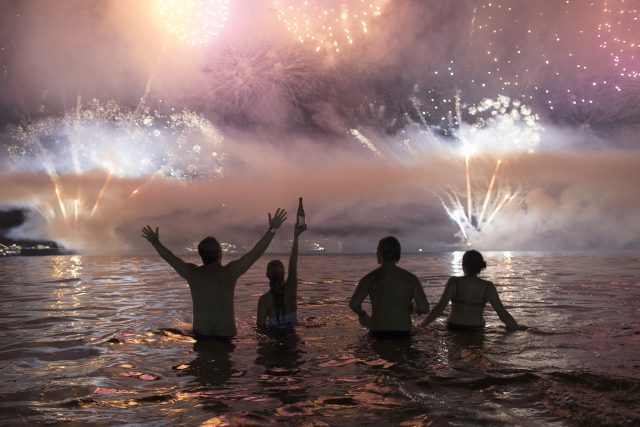 Rio de Janeiro's main party was celebrated with fireworks erupting on Copacabana beach after the clock struck midnight to usher in the new year.
After 17 minutes of a multicoloured show in the skies, singer Anitta led the party on stage with her single Vai Malandra, a song that scored 84 million views on YouTube in two weeks. Some of the city's most traditional Carnival samba schools performed later.
New mayor Marcelo Crivella said he believed the celebrations would bring three million people to the famous beach, which would mean nearly half of Rio's population. But locals said Brazil's economic crisis is still impacting one of the city's biggest parties. In 2017, two million people showed up at Copacabana beach, a number that has not changed much over the years.
Almost 2,000 policemen patrolled the Copacabana region after yet another violent year on the streets. Rio's hotel association said occupation is nearly total, but mostly by Brazilian tourists.
Germany
Germans rang in 2018 under tight security from police mindful of widespread sexual abuse of women in Cologne two years ago and of a terrorist attack on a Christmas market about a year ago.
Police in Berlin added 1,600 officers on duty and said that large bags and rucksacks would not be allowed on the Party Mile leading from Brandenburg Gate, where thousands of people celebrated at midnight. Police in Frankfurt imposed similar restrictions in the celebration area along the Main River in the country's financial capital.
Two years ago, new year's in Cologne was marred by groping and theft committed against hundreds of women, in most cases by migrants. On December 19 2016, Tunisian asylum seeker Anis Amri drove a stolen truck into a Christmas market in Berlin, killing 12 people.
United Arab Emirates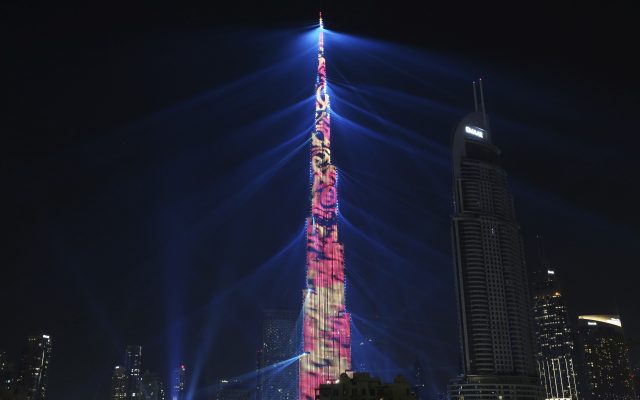 Dubai's Burj Khalifa, the world's tallest building, has again served as the focal point of New Year's Eve celebrations – though this year authorities decided against fireworks and chose a massive LED light show on it.
That was in part due to safety in the city-state in the United Arab Emirates, which saw a massive skyscraper fire on New Year's Eve in 2015.
The display, running down the east side of the 828-metre tall (2,716ft tall) tower, showed Arabic calligraphy, geometric designs and a portrait of the late Sheikh Zayed bin Sultan Al Nahyan, the UAE's first president.
But a display of neighbouring nations' flags did not show Qatar's flag. The UAE joined Bahrain, Egypt and Saudi Arabia in boycotting the tiny energy-rich nation in June over allegations Doha supports extremists and has too close ties to Iran. Qatar, which will host the 2022 Fifa World Cup, denies supporting extremists and shares a massive offshore natural gas field with Tehran.
Vatican
Bidding 2017 farewell, Pope Francis decried wars, injustices and environmental decay which he said had "ruined" the year.
Francis presided at a New Year's Eve prayer service in St Peter's Basilica, a traditional occasion to say thanks in each year's last hours.
He said God gave to us a 2017 "whole and sound", but that "we humans in many ways ruined and hurt it with works of death, lies and injustices".
But, he added, "gratitude prevails" thanks to those "co-operating silently for the common good".
Australia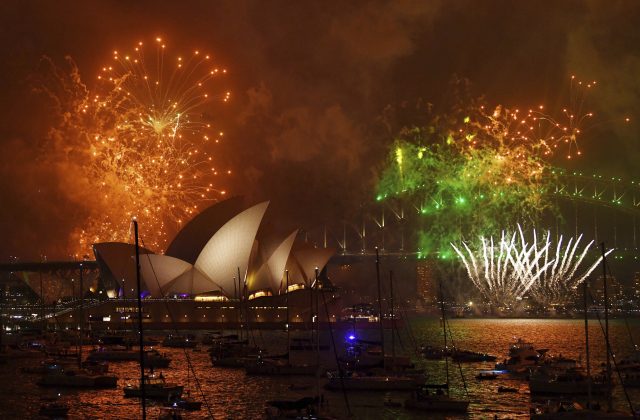 Fireworks lit up the sky above Sydney Harbour, highlighting the city's new year's celebrations.
The massive fireworks display included a rainbow waterfall cascade of lights and colour flowing off the harbour's bridge to celebrate recently passed legislation legalising gay marriage in Australia.
More than one million people were expected to gather to watch the festivities. Security was tight, but officials said there was no particular alert.
Sydney officials said the event would generate "priceless publicity" for the city. Nearly half the revellers were tourists.
New Zealand
Tens of thousands of New Zealanders took to streets and beaches, becoming among the first in the world to usher in 2018.
As the new year dawned in this southern hemisphere nation, fireworks boomed and crackled above city centres and harbours, and party-goers sang, hugged, danced and kissed.
In Auckland, New Zealand's biggest city, tens of thousands gathered around Sky Tower as five minutes of non-stop pyrotechnics exploded from the top of the structure.
But on nearby Waiheke Island, 30 kilometres (20 miles) away, authorities cancelled the planned fireworks display because of drought conditions and low water supplies for firefighters.
Russia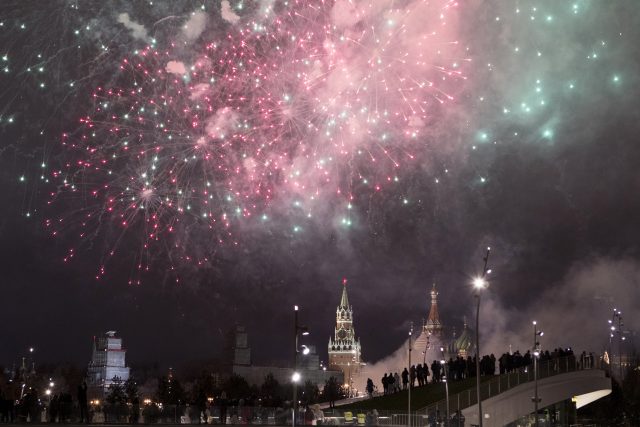 As Russians counted down the last moments before 2018 ticked over into each of the country's 11 time zones, President Vladimir Putin called on them to be considerate and conciliatory with each other in the new year.
"Say the most cherished words to each other, forgive mistakes and resentment, admit love, warm up with care and attention," Mr Putin said in a televised message broadcast just before midnight.
Moscow had fireworks and outdoor gatherings despite weather that was less than festive. Usually festooned with snow at New Year's Eve, the Russian capital slogged through a long spell of intermittent rain and constant grey skies.
Japan
Many Japanese celebrated the arrival of the Year of the Dog in the traditional way of praying for peace and good fortune at neighbourhood Shinto shrines and eating new year's food such as noodles, shrimp and sweet black beans.
Barbecued beef and octopus dumpling stalls were out at Tokyo's Zojoji Temple, where people took turns striking the giant bell 108 times at midnight, an annual practice repeated at other Buddhist temples throughout Japan.
North Korea's nuclear and missile programmes cast a shadow over Japan's hopes for peace, said taxi driver Masaru Eguchi, who was ready to be busy all night shuttling shrine visitors.
"The world situation has grown so complex," Mr Eguchi said, adding that he also worried about possible terrorism targeting Japan. "I feel this very abstracted sense of uncertainty, although I really have no idea what might happen."
India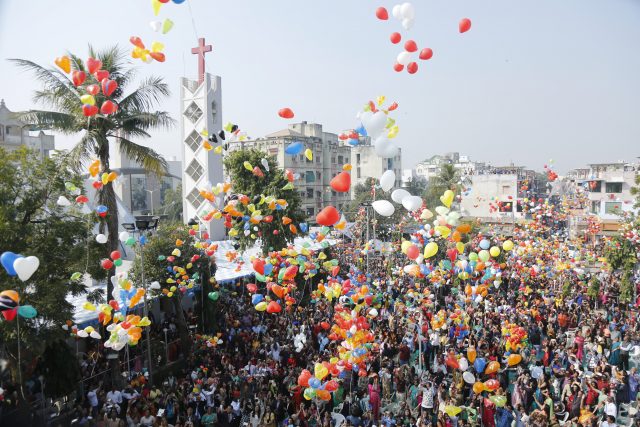 Security was tight in the southern Indian city of Bangalore to prevent a repeat of incidents of groping and molestation of several women during New Year's Eve celebrations a year ago.
Police commissioner Sunil Kumar said at least 15,000 police officers were on duty and were being aided by drones and closed-circuit television cameras.
A year ago, police first denied that any sexual harassment had taken place during the celebrations in Bangalore, India's information technology hub. But later, police detained at least six men after several video clips of women being attacked by groups of men spread on social media.
Philippines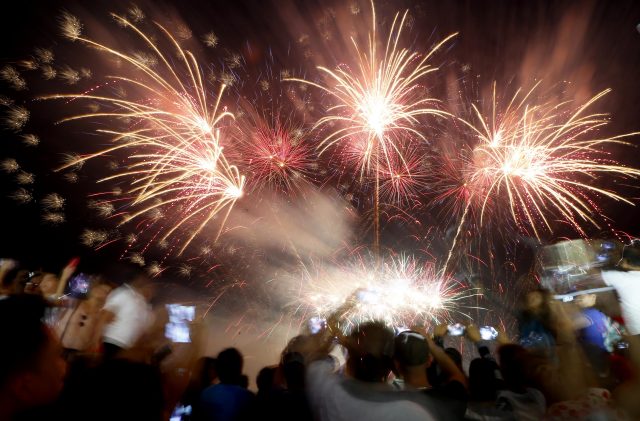 Scores of people were injured by celebratory firecrackers in the Philippines, which has some of the most raucous new year's celebrations in Asia.
Although the number of injuries has tapered off in recent years, largely due to hard economic times and government scare campaigns, the figures remain alarming. President Rodrigo Duterte signed an order confining the use of firecrackers to community-designated areas, such as near shopping centres and parks.
Many Filipinos, largely influenced by Chinese tradition, believe that noisy new year's celebrations drive away evil and misfortune. But they have carried that superstition to extremes, exploding dangerously large firecrackers and firing guns to welcome the new year despite threats of arrest.
Turkey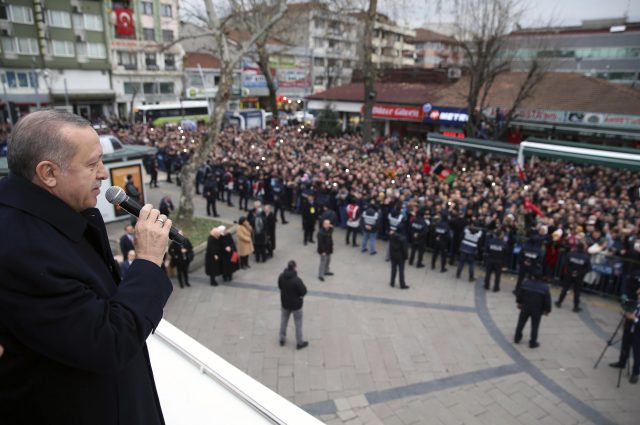 Security measures were ramped up across Turkey, which a year ago was hit by a new year's attack that killed dozens of people.
In Istanbul, 37,000 officers were on duty, with multiple streets closed to traffic and large vehicles barred from entering certain districts. Several New Year's Eve street parties were cancelled for security reasons.
Early on January 1 2017, an assailant shot his way into Istanbul's Reina nightclub, where hundreds of people were celebrating new year's. Thirty-nine people, mostly foreigners, were killed, and 79 were wounded. Islamic State claimed responsibility.
On Sunday, about 100 people gathered outside the nightclub to remember the victims of the attack.
Las Vegas
Las Vegas police officers surrounded hundreds of thousands of tourists gathered to welcome the new year on the Strip, where just three months earlier 58 people died in the deadliest mass shooting in modern US history.
Police cars, dumper trucks and other large vehicles blocked key intersections to try to prevent anyone from ploughing into crowds filled with people wearing glittery hats, tiaras and other 2018-themed paraphernalia.
The Nevada National Guard activated about 350 soldiers and airmen, while federal authorities also deployed additional personnel.
A roughly eight-minute fireworks display at the top of seven of the city's world-famous casino-hotels started 10 seconds before midnight. Sprays of gold, red and green lit up the sky on time for 2018.