South Korea has offered high-level talks with rival North Korea to find ways to co-operate on next month's Winter Olympics in the South.
Seoul's proposal following a rare overture from the North a day earlier offers the possibility of better ties after a year that saw a nuclear stand-off increase fears of war on the Korean peninsula.
In a closely watched new year address, North Korean leader Kim Jong Un said he was willing to send a delegation to the Olympics, although he also repeated fiery nuclear threats against the US.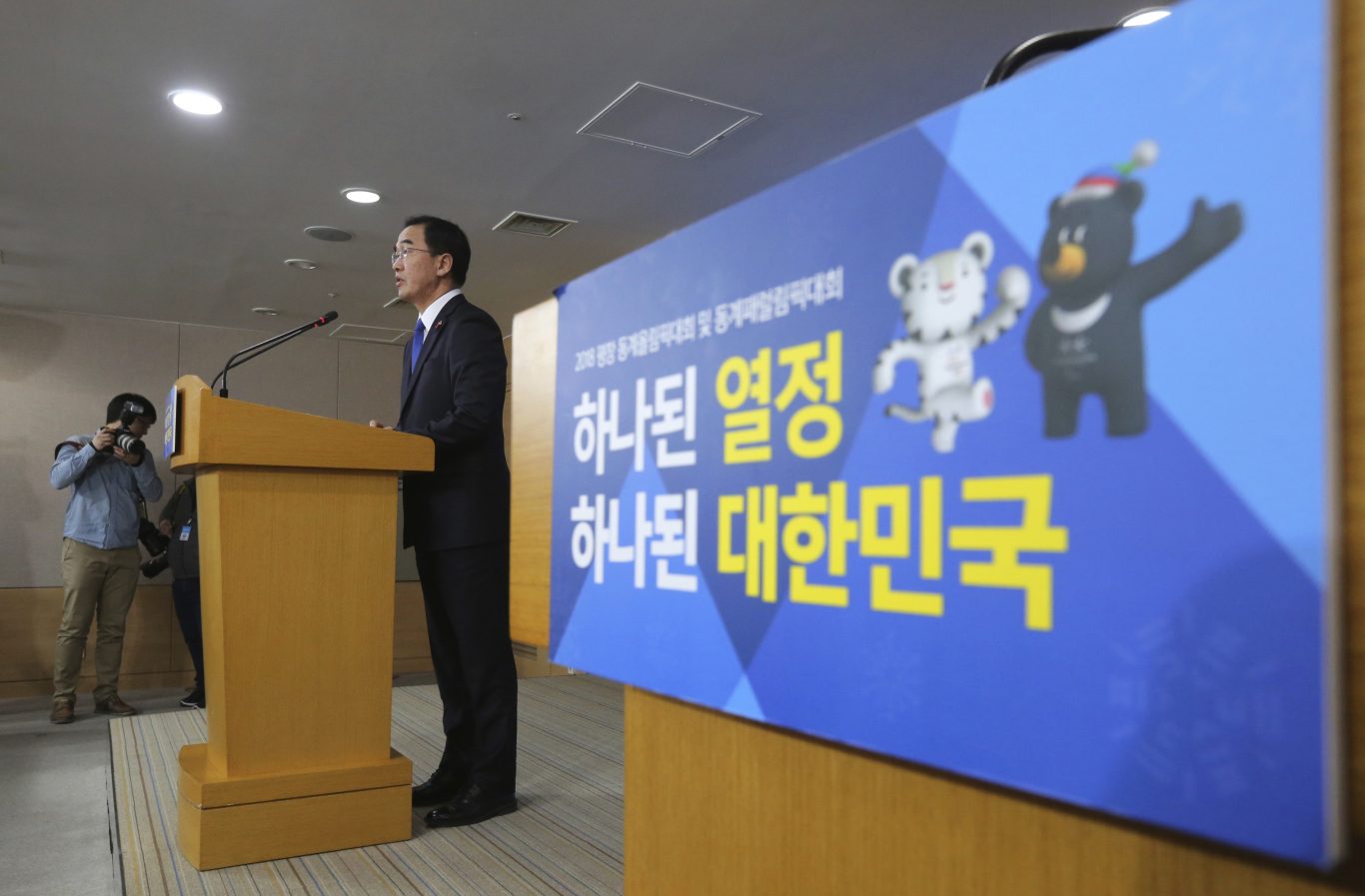 Analysts say he could be trying to drive a wedge between Seoul and its ally Washington in a bid to reduce international isolation and sanctions against Pyongyang.
Mr Kim's overture was welcome news for a South Korean government led by liberal President Moon Jae-in, who favours dialogue to ease the North's nuclear threats and wants to use the Pyeongchang Olympics as a chance to improve ties.
Mr Moon's unification minister, Cho Myoung-gyon, proposed in a nationally televised news conference that the two Koreas meet on January 9 at the shared border village of Panmunjom to discuss Olympic co-operation and how to improve overall ties.
Earlier on Tuesday, Mr Moon spoke of what he described as Mr Kim's positive response to his dialogue overtures and ordered officials to study how to restore talks with North Korea and get the North to participate in the Olympics.
The International Olympic Committee said: "The IOC welcomes the mutual intention of the governments of the Republic of Korea and the Democratic People's Republic of Korea to start direct talks about the participation of athletes from DPRK in the Olympic Winter Games PyeongChang 2018."
The IOC said in a statement it was continuing discussions with Pyongyang and its invitation to take part in the games would remain open.
North Korea did not immediately react, but if there are talks, they would be the first formal dialogue between the Koreas since December 2015.
Relations between the two have plunged as Pyongyang has expanded its weapons programmes amid a hardline stance by Mr Moon's conservative predecessors.
In a morning tweet, President Donald Trump said the US-led campaign of sanctions and other pressure were beginning to have a "big impact" on North Korea.
He referred to the recent, dramatic escape of at least two North Korean soldiers across the heavily militarised border into South Korea, but he also alluded to Mr Kim's comments that he was willing to send a delegation to the Winter Olympics.
"Soldiers are dangerously fleeing to South Korea. Rocket man now wants to talk to South Korea for first time. Perhaps that is good news, perhaps not – we will see!" Mr Trump said, using his derisive nickname for the young North Korean leader.
Last year, the North conducted its sixth and most powerful nuclear test and test-launched three intercontinental ballistic missiles as part of its push to possess a nuclear missile capable of reaching anywhere in the US.