Chancellor Angela Merkel has taken a significant step towards ending Germany's lengthy political impasse by securing a preliminary agreement to enter formal coalition talks with a centre-left party.
The deal was welcomed by Germany's European allies, but her prospective partner faces a tough task to sell it to sceptical supporters.
Exhausted negotiators from Mrs Merkel's conservative Union bloc and the centre-left Social Democrats presented their deal, which includes pledges to strengthen the European Union and keep a lid on the number of migrants entering Germany, after more than 24 hours of non-stop talks to cap a week of wrangling.
"We have achieved outstanding results," said the Social Democrats' leader, Martin Schulz.
But to make a new government a reality, he must persuade a party congress on January 21 to agree to formal coalition negotiations.
If those talks are successful, he must steer a coalition deal through a ballot of the full party membership.
If things go well, a new government could be formed by Easter, said Horst Seehofer, leader of the Christian Social Union — the Bavaria-only sister party to Mrs Merkel's Christian Democratic Union.
"If we succeed, these could be four very, very good years," Mr Seehofer said. "I am already speaking of these years because I believe we will succeed."
The prospective partners have governed Germany together for the past four years but Mr Schulz – Mrs Merkel's defeated challenger in Germany's September 24 election – initially said after the Social Democrats crashed to a disastrous result that they would go into opposition – a decision popular with members.
He reluctantly reconsidered after Mrs Merkel's coalition talks with two smaller parties collapsed in November.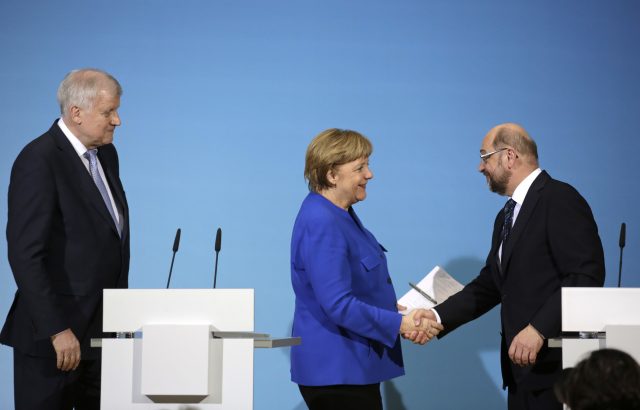 The conservatives also performed poorly in the election, and the three coalition parties' support dropped by a total of nearly 14 percentage points.
"This election result was a signal to politicians that business as usual wouldn't work and that we must show the people in this country we understand," Mr Seehofer said. "We made that the basis of our work."
His party, which has taken a hard line on migration, has sought to reinforce its law-and-order profile in the face of a challenge from the nationalist Alternative for Germany party, which entered parliament for the first time in September.
Friday's agreement says the number of new asylum-seekers should not exceed a range of 180,000-220,000 annually, and there will be a 1,000-per-month limit on the number of close relatives allowed to join migrants in Germany who have a status below full asylum.
That falls short of conservative demands for maintaining a block on such family reunification, but also is more limited than what the Social Democrats sought.
Mr Schulz obtained a minor reform to how public health insurance is financed — far from his party's original proposal — as well as a commitment to guarantee the current level of pensions until 2025, among other things.
He did not secure an increase in the top income tax rate that his party proposed.
Mrs Merkel highlighted promises to hire 15,000 more police officers and 2,000 people to strengthen the justice system.
She currently leads a caretaker government, limiting her ability to take major policy initiatives as French President Emmanuel Macron pushes an ambitious European reform agenda.
"We have, in what feels like a long time since the election, seen that the world will not wait for us," Mrs Merkel said.
""We are convinced that we need a new awakening for Europe. So I have no worries about us finding common solutions with France."
France and Bulgaria, which holds the rotating EU presidency, welcomed Friday's developments.
Jean-Claude Juncker, head of the European Commission, said the European part of the deal was "a significant, positive, constructive, future-looking contribution to the European policy".