US president Donald Trump has called upon politicians to "summon the unity" needed to make good on long-standing promises to fix the nation's crumbling infrastructure and fractured immigration systems in his State of the Union address.
"To every citizen watching at home tonight, no matter where you have been, or where you come from, this is your time," Mr Trump declared.
Despite his calls for bipartisanship, Mr Trump spoke with tensions running high on Capitol Hill.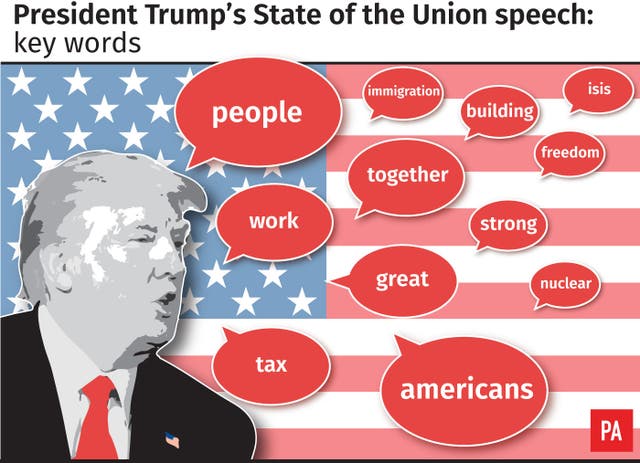 The parties have also clashed this week over the plans of Republicans on the House intelligence committee to release a classified memo on the Russia investigation involving Mr Trump's presidential campaign – a decision the White House backs but the Justice Department is fighting.
He spoke about potential agenda items for 2018 in broad terms, including a call for 1.5 trillion US dollars (£1.06 trillion) in new infrastructure spending and partnerships with states and the private sector. He touched only briefly on issues like health care that have been at the centre of the Republican Party's policy agenda for years.
Tackling the sensitive immigration debate that has roiled Washington, Mr Trump redoubled his recent pledge to offer a path to citizenship for 1.8 million young immigrants — as part of a package that would also require increased funding for border security, including a wall along the US-Mexico border, ending the nation's visa lottery method and revamping the current legal immigration system.
Some Republicans are wary of the hardline elements of Mr Trump's plan and it is unclear whether his blueprint could pass Congress.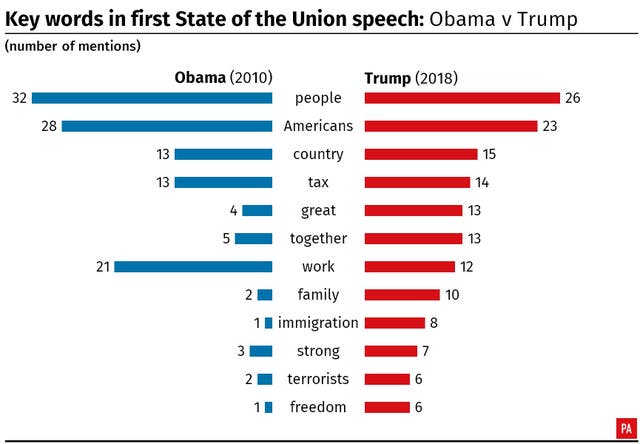 Republicans led multiple rounds of enthusiastic applause during the speech, but for the opposition party it was a more sombre affair.
First lady Melania Trump, who has largely stayed out of the spotlight following the latest allegations of Trump infidelity, arrived at the capitol ahead of her husband to attend a reception with guests of the White House.
Those sitting alongside the first lady included an Ohio welder who the White House says will benefit from the new tax law and the parents of two Long Island teenagers who were believed to have been killed by MS-13 gang members.