US stocks slumped on Friday, dragging down the Dow Jones industrial average by more than 650 points and handing the market its worst week in two years.
Technology, banks and energy stocks accounted for much of the broad slide. Several major companies, including Exxon Mobil and Google's parent company, Alphabet, sank after reporting weak earnings.
Fears of rising inflation sent bond yields higher and contributed to the stock market swoon after the government reported that wages grew last month at the fastest pace in eight years.
The sharp drop follows a long period of unprecedented calm in the market. Stocks have not had a pullback of 10% or more in two years, and hit their latest record highs just one week ago.
"We've enjoyed low interest rates for so long, we're having to deal with a little bit higher rates now, so the market is trying to figure out what that could mean for inflation," said Darrell Cronk, head of the Wells Fargo Investment Institute.
The increase in bond yields hurts stocks in two ways: it makes it more expensive for companies to borrow money, and it also makes bonds more appealing to investors than riskier assets such as stocks.
The Standard & Poor's 500 index fell 59.85 points, or 2.1%, to 2,762.13. That is the biggest loss for the benchmark index since September 2016. The S&P 500 has lost 3.9% since hitting a record high a week ago.
The Dow Jones industrial average lost 665.75 points, or 2.4%, to 25,520.96. The Nasdaq slid 144.92 points, or 2%, to 7,240.95. The Russell 2000 index of smaller-company stocks gave up 32.59 points, or 2.1%, to 1,547.27.
While interest rates are still low by historical standards, meaning borrowing is still relatively cheap for businesses and people, they've been rising more swiftly, and that is what has markets on edge.
"The pace of rate increases is more important than the level," said Nate Thooft, senior portfolio manager at Manulife Asset Management.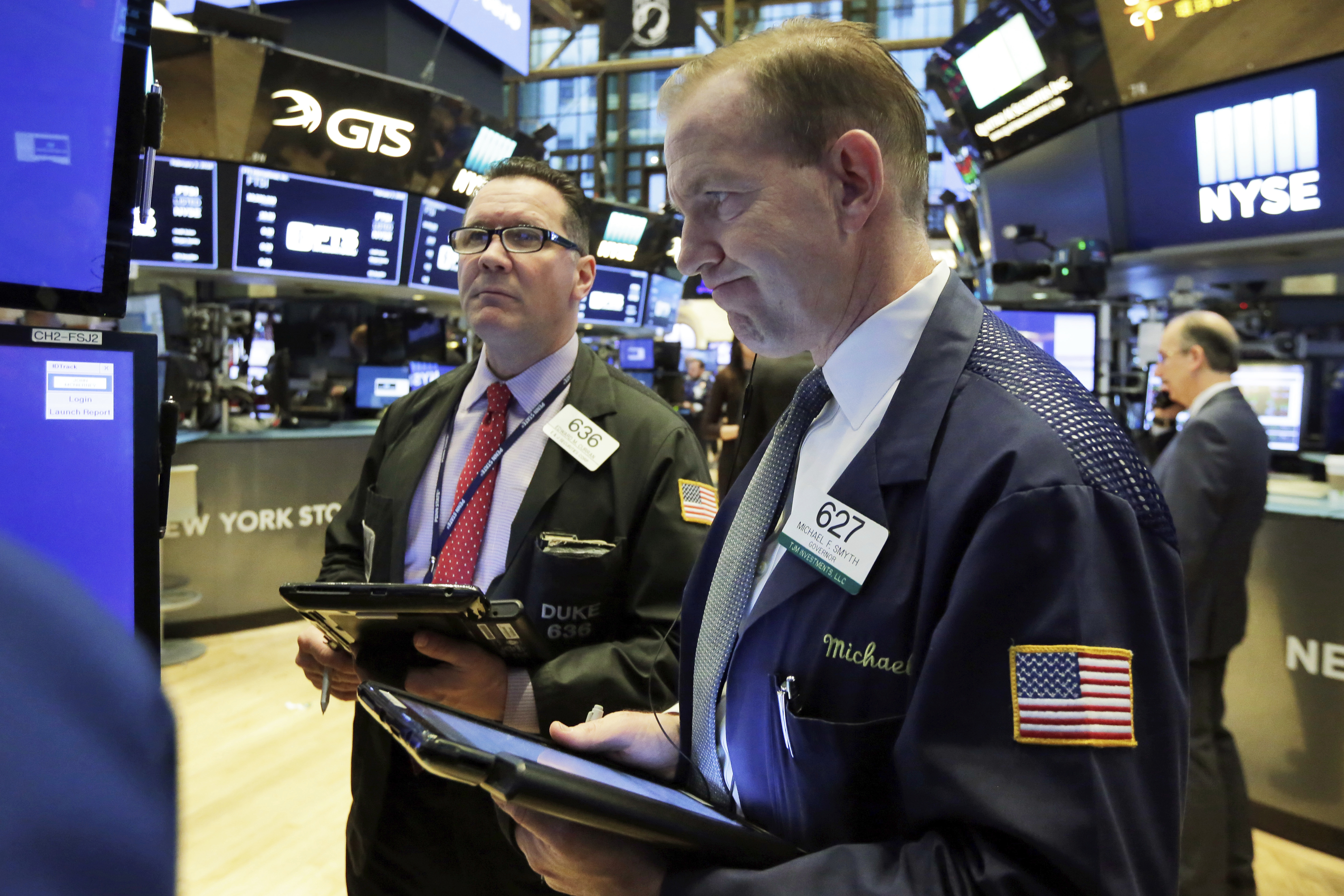 Bond prices declined again on Friday, pushing yields higher. The yield on the 10-year Treasury note, a benchmark for interest rates on many kinds of loans, including mortgages, climbed to 2.83%, the highest level in roughly four years. The rate was at 2.41% four weeks ago and 2.66% on Monday.
"Once we started going north of 2.5%, and you put that together with an overbought market, it had the ingredients of a sell-off, especially since January was so strong," said Jeff Zipper, regional investment strategist at US Bank Private Wealth Management.
The S&P 500, which many index funds track, soared 5.6% in January, its biggest monthly gain since March 2016.
The expectation among investors has long been for a gradual rise in interest rates, as the Federal Reserve slowly pulls back from the stimulus that it implemented for the economy amid the Great Recession. But if rates rise more quickly than expected, it could upset markets.
The key concern is that the Fed will respond to higher inflation by raising its key interest rate more quickly than expected. The government's latest job and wage data stoked those concerns Friday.
US employers added a robust 200,000 jobs in January, slightly above market expectations for an 185,000 increase. Meanwhile wages rose sharply, suggesting employers are competing more fiercely for workers. The figures point to an economy on strong footing even in its ninth year of expansion, fuelled by global economic growth and healthy consumer spending at home.