Donald Trump has been labelled a "shit" on Twitter by a user who is believed to be a student at the Florida school where 17 students were shot dead.
The reply by "Sarah" to the US president's public comment on the mass killing went viral after she urged him to introduce gun control measures instead of platitudes.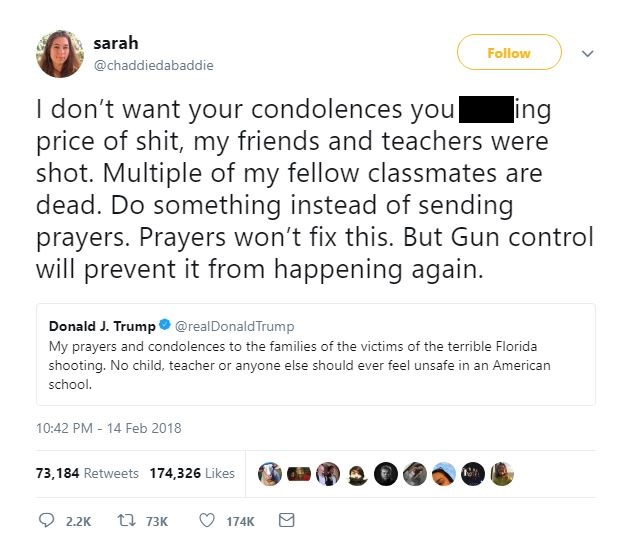 "Multiple of my fellow classmates are dead. Do something instead of sending prayers.
"Prayers won't fix this. But Gun control will prevent it from happening again.
By Thursday morning her message had been retweeted 65,000 times and liked by more than 154,000 people.
She had earlier tweeted: "Today has been the worst day of my life. I've been crying helplessly for hours. Thank you to everyone for your support. I'm going to try to sleep now."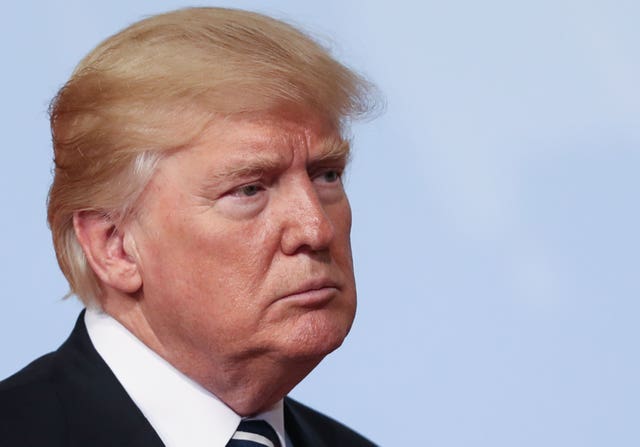 It was reported that Cruz was a former student who had been expelled.
Another student who was in class at the time of the shooting said she "cannot unsee" the terror that unfolded before her.
Morgan Williams described on Twitter how her friends were killed as the gunman roamed through the school corridors.
She said: "I cannot stop hearing the sound of the gun as he walked down my hallway. I cannot unsee my classmates who were shot get carried out by police. I cannot unsee the bodies on the floor. Please keep in mind the horror of what we've gone through today. #prayfordouglas"
She added: "Never in a million years did I think I would have EVER gone through this. There is NO reason why I should have had to run past deceased friends and classmates to get to safety because there isn't a control on how easy it is to get a gun."
Other students posted social media footage of the siege under way.
One user, Aidan Minoff, appeared to be taking shelter under tables alongside his school mates.
He wrote on Twitter: "My school is being shot up and I am locked inside. I'm f****** scared right now"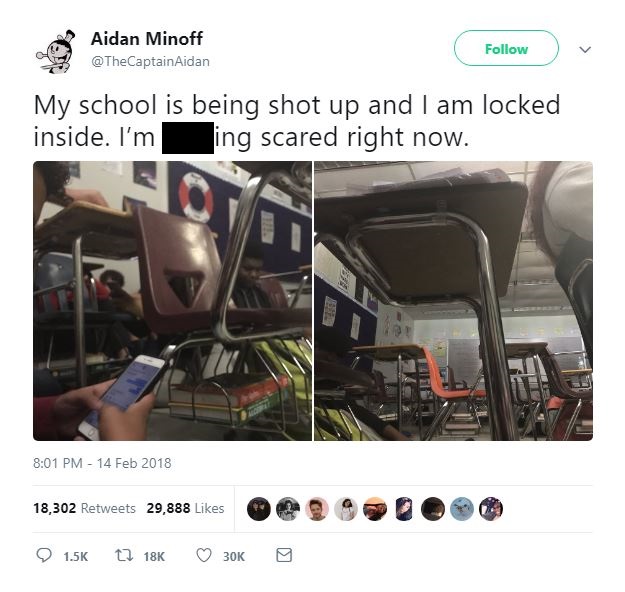 Ali A Rizvi, a Pakistani-Canadian author best known for The Atheist Muslim, said simply: "Message to Donald Trump from a Douglas High School student. #Parkland #Guncontrol"