The student-driven movement to rewrite US gun laws showed no sign of waning a week after a gunman killed 17 people at a Florida school, with politicians yielding to pressure to respond.
The Reverend Bernice King, daughter of Dr Martin Luther King Jr, said that as the 50th anniversary of her father's assassination approaches, she hopes we can "look toward solutions as these young people are forcing us to have the conversations, bipartisan conversations".
Speaking at The King Centre in Atlanta, Ms King said tragedy "gives us an opportunity to lay aside for a moment our differences and really look at how we can come together as humanity and move forward with these injustices and these evils that continue to beset us".
The survivors of the February 14 shooting at Majory Stoneman Douglas High School have vowed to continue their activism, including a "March for Our Lives" in Washington next month, which Ms King says she will attend.
At the funeral for football coach Aaron Feis, retired school groundsmen Dave Tagliavia said he thinks the students mean what they say and will not back down.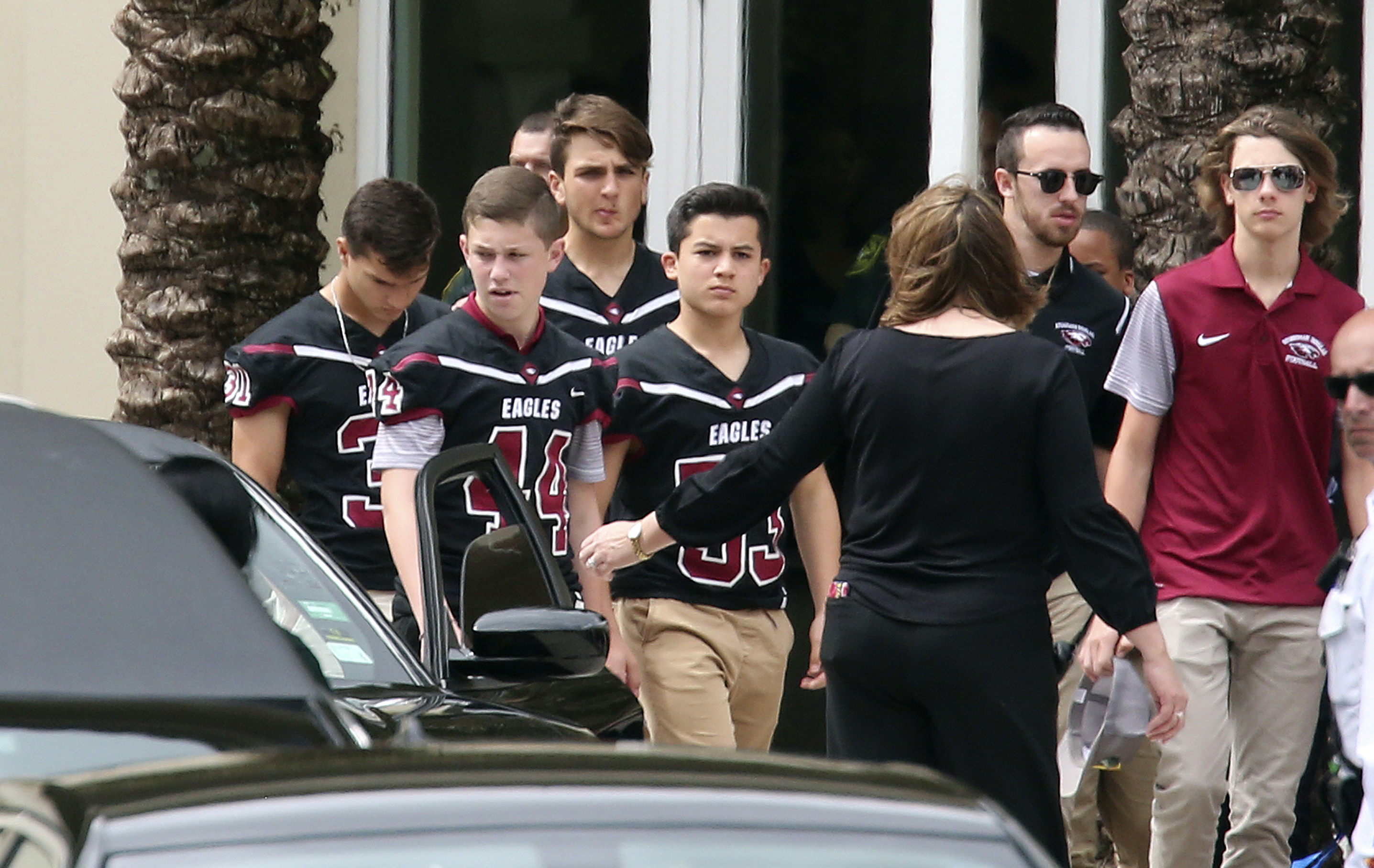 A day after an emotional meeting with survivors and their families, President Donald Trump tweeted his strongest stance yet on gun control.
He said he would endorse strengthening background checks, banning "bump stock" style devices and raising the minimum age to 21 for buying certain rifles.
Calling school shootings "evil in our time", Mr Pence exhorted those in positions of authority "to find a way to come together with American solutions".
It was a markedly different tone than that deployed on stage minutes earlier by NRA executive vice president and chief executive Wayne LaPierre, who delivered an unbowed defence of gun ownership and lashed out at Democrats — saying they are using the tragedy for "political gain".
In Parkland, hundreds gathered to remember Mr Feis, a 37-year-old assistant football coach and security guard gunned down while helping students to safety during the mass shooting.
Joe LaGuardia, who attended high school with Mr Feis at Stoneman Douglas, described him as "one of the greatest people I have ever known".
Students converged on Florida's Capitol to take their concerns to state legislators on Wednesday.
Outside the building, many protesters complained that legislators were not serious about reform, and they said that in future elections they would oppose any legislator who accepts campaign contributions from the National Rifle Association.
On Thursday, Democratic Senator Bill Nelson gave Senator Marco Rubio credit for being the only Republican to attend a televised town hall on Wednesday night held in the aftermath of the school shooting and criticised Republican Governor Rick Scott for not showing up.
"I commended (Rubio) for being there. He had the guts to be there when Governor Scott did not," Mr Nelson told a group of Democratic state senators.
Mr Scott is likely to challenge Mr Nelson as he seeks a fourth term in the Senate this November.
Mr Nelson questioned Mr Scott's commitment to make meaningful change after the shooting.
Republican legislative leaders in Florida say they will consider legislation that will likely call for raising the age limit to purchase a rifle from 18 to 21 and increasing funding for mental health programs and school resource officers, the police assigned to specific schools.
Legislators are also considering a programme promoted by one Florida sheriff that calls for deputising someone to carry a weapon on campus. They may also enact a waiting period for rifle purchases.
The suspect, 19-year-old Nikolas Cruz, is being held on 17 counts of murder and has admitted the attack.
Defence attorneys, state records and people who knew him indicate that he displayed behavioural troubles for years, including getting kicked out of the Parkland school. He owned a collection of weapons.
Mr Negron did not answer directly. "That's an issue that we're reviewing," he said.
Stoneman Douglas' school resource officer was carrying a handgun when the shooting happened last week, but did not discharge his firearm.
It is unclear what role he played in the shooting.
AP