Former president Jacob Zuma will be prosecuted on 16 charges of corruption, the director of South Africa's National Prosecuting Authority said.
Shaun Abrahams announced that Zuma will face charges including fraud, corruption, racketeering and money laundering.
Zuma, 75, resigned as president last month after he was ordered to do so by his party, the African National Congress.
The charges stem from a 2.5 billion dollar government arms purchase in the 1999, when Zuma was deputy president. He was elected president in 2009.
He said there were 16 counts against Zuma, and the former president had said he was a victim of misconduct by prosecutors as well as leaks to the media.
"Mr Zuma, in addition, disputes all the allegations against him and records that he lacked the requisite intention to commit any of the crimes listed in the indictment," said Mr Abrahams, who faced calls to resign for allegedly declining to move against Zuma when he was in office.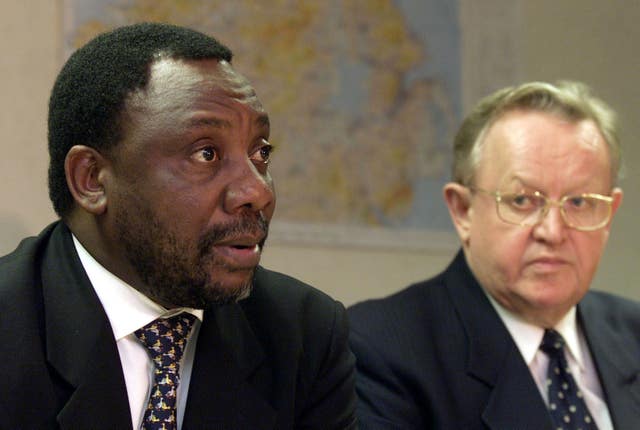 The ANC responded to the reinstated charges, saying it has confidence in the criminal justice system and is committed to the idea of "equality of all before the law".
The ruling party urged South Africans to allow prosecutors to do their work and cautioned that Zuma has the right to be "presumed innocent until and if proven guilty".
In a separate case, South African authorities are seeking to arrest members of the Gupta business family, which allegedly used its connections to Zuma to influence cabinet appointments and win state contracts.
Additionally, a judicial panel is preparing to view allegations of corruption at high levels of the South African government during Zuma's years in office.
In another scandal, South Africa's top court ruled in 2016 that Zuma violated the constitution following an investigation of multimillion-dollar upgrades to his private home using state funds. He paid back some of the money.
South Africa's main opposition party, which fought for years in court to get charges reinstated against Zuma, welcomed the news.
"Now there must be no further delay in starting the trial," said Mmusi Maimane, leader of the opposition Democratic Alliance.
"The witnesses are ready, the evidence is strong, and Jacob Zuma must finally have his day in court."