A fire at a shopping mall packed with children and their parents on the first weekend of the school holidays has killed 64 people in eastern Russia.
Fire alarms had not sounded, and staff were reportedly nowhere to be seen as the blaze took hold at the Winter Cherry mall in Kemerovo, a city in Siberia, about 1,900 miles east of Moscow, according to witnesses.
The fire was extinguished by Monday morning after burning through the night. Firefighters are still recovering bodies as parts of the buildings are still smouldering. Some of the dead were found inside a cinema.
On Monday morning, Kemerovo residents brought flowers, candles and stuffed animals to a plaza outside the mall, and local hospitals reported an influx of people wanting to donate blood for the victims.
Sixty-four deaths were confirmed after the firefighters finished combing through the four floors of the mall, emergency situations minister Vladimir Puchkov told a televised briefing.
Six of the bodies have not yet been recovered. Mr Puchkov would not confirm how many of the victims were children.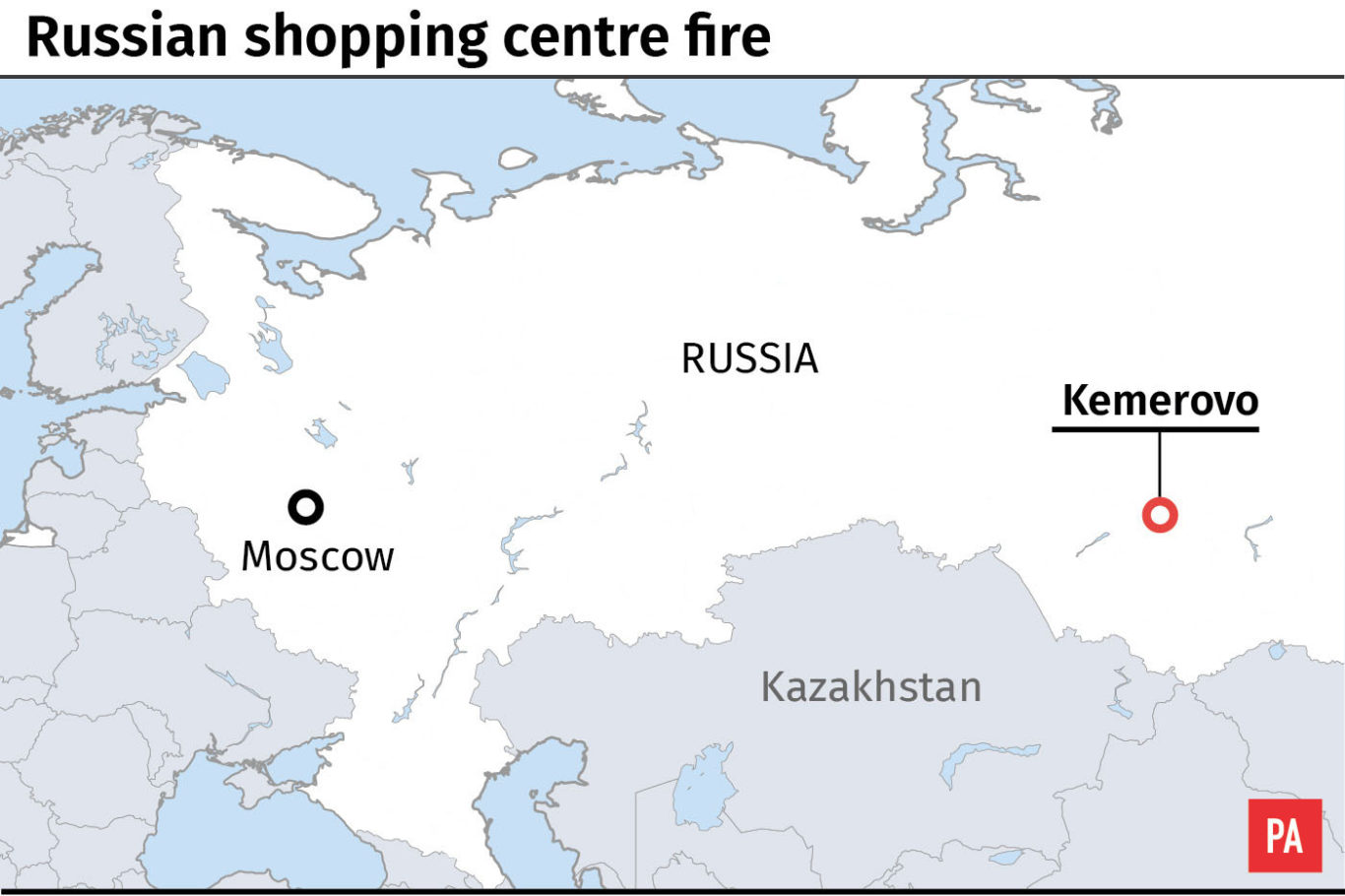 The Investigative Committee said it has detained four people for questioning, including one of the mall's tenants. There is no word yet on how the fire started, though it is known to have begun on the top floor on Sunday evening.
Investigators have launched a probe into possible negligence and violations of the fire safety rules.
Winter Cherry was one of Kemerovo's most popular entertainment centres for children, with its own indoor skating rink, petting zoo and trampolines. Kemerovo residents said the mall was packed with children and their parents.
Anna Zarechneva, who was on the top floor where the fire started, watching a movie with her husband and son, said they only found out about the fire when a man ran into the theatre shouting.
"That movie could have been the last for us, I've only just realised that."
Ms Zarechneva said her husband stayed upstairs trying to help arrange the evacuation, because the mall's security and staff were nowhere to be seen.