Malala Yousafzai has visited her hometown of Mingora for the first time since a Taliban militant shot her there in 2012 for advocating girls' education.
Amid tight security, the Nobel Peace Prize winner and her parents landed in the Swat Valley in an army helicopter.
The 20-year-old had asked authorities to allow her to go to Mingora and Shangla village in the Swat Valley, where a school has been built by her Malala Fund.
"We are grateful to the government and the army for facilitating this visit," he told The Associated Press.
In October 2012, Ms Yousafzai was shot in the head by a Taliban assassin who jumped inside her school van and yelled: "Who is Malala?"
Only 14 when she was shot, Ms Yousafzai has since delighted in telling the Taliban that instead of silencing her, they have amplified her voice.
She has also written a book, spoken at the United Nations and met with refugees.
On Friday, Ms Yousafzai praised the Pakistan army in an interview on the independent Geo news channel for providing her timely medical treatment, saying her surgery was done by an army surgeon at the "right time".
She later received post-trauma treatment in Britain.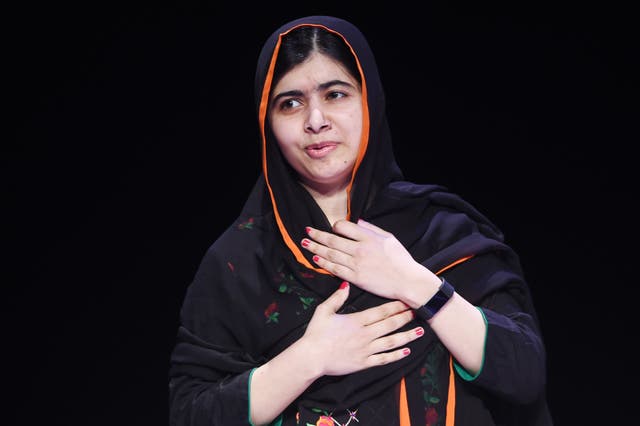 Schoolgirls in Ms Yousafzai's hometown were already jubilant over her arrival.
On Thursday, she met with Pakistan's Prime Minister Shahid Khaqan Abbasi at his office, where she also attended a gathering and made an emotional speech in which she said it was one of the happiest days of her life to be back in her country.
Ms Yousafzai has won praise from across Pakistan on her return home, but some critics on social media have tried to undermine her efforts to promote girls' education.
She said she failed to understand why educated people opposed her, although she could expect criticism from militants, who had a particular mindset.
"Those who do criticise have absurd kind of criticism that doesn't make any sense," she said in an interview with Pakistan's The News English-language newspaper published Saturday.
"What I want is people support my purpose of education and think about the daughters of Pakistan who need an education. Don't think about me. I don't want any favour or I don't want everyone to accept me. All I care about is that they accept education as an issue," she said.
Since her attack and recovery, Ms Yousafzai has led the Malala Fund in which she said has invested 6 million dollars (£4.3m) for schools and books and uniforms for schoolchildren.
Ms Yousafzai became the youngest person to be awarded the Nobel Peace Prize in 2014.
She said her trip to Pakistan was her college break as well. "That was also one of the reasons because I could not miss my school. So this just finally happened. To be honest, I can't believe it that I am here in Pakistan. It still feels like a dream," she said.
Yousafzai landed in Pakistan just before dawn on Thursday, flanked by heavy security and plans to return to Britain on Monday.