The father of a woman who opened fire at YouTube headquarters had warned police she was upset with the company and might be planning to go to its offices, he has claimed.
He said he gave the warning the day before the attack where Nasim Aghdam wounded three people before killing herself.
Police disputed the father's statement, saying officers who talked to Aghdam before the attack said her family gave no warning she might commit violence.
Investigators do not believe the 39-year-old targeted anyone in particular.
She had told family members that she believed the company was suppressing her videos, which included segments about veganism, animal cruelty and exercise, along with glamour shots of herself.
She got into the building through a parking garage.
Investigators are conducting searches at two properties, San Bruno Police Chief Ed Barberini said.
A police source said Aghdam had a long-standing dispute with YouTube. The official said Aghdam used the name "Nasime Sabz" online.
A website in that name condemned YouTube's policies and said the company was trying to "suppress" content creators.
"Youtube filtered my channels to keep them from getting views!" one of the messages on the site said.
"There is no equal growth opportunity on YOUTUBE or any other video sharing site, your channel will grow if they want to!!!!!"
People who post on YouTube can receive money from advertisements that accompany their videos, but the company "de-monetises" some channels for reasons including inappropriate material or having fewer than 1,000 subscribers.
Aghdam "hated" YouTube and was angry that the company stopped paying her for videos she posted, her father, Ismail Aghdam, told the Bay Area News Group.
On Monday, he called police to report his daughter missing after she did not answer the phone for two days and told officers she might go to YouTube, he said.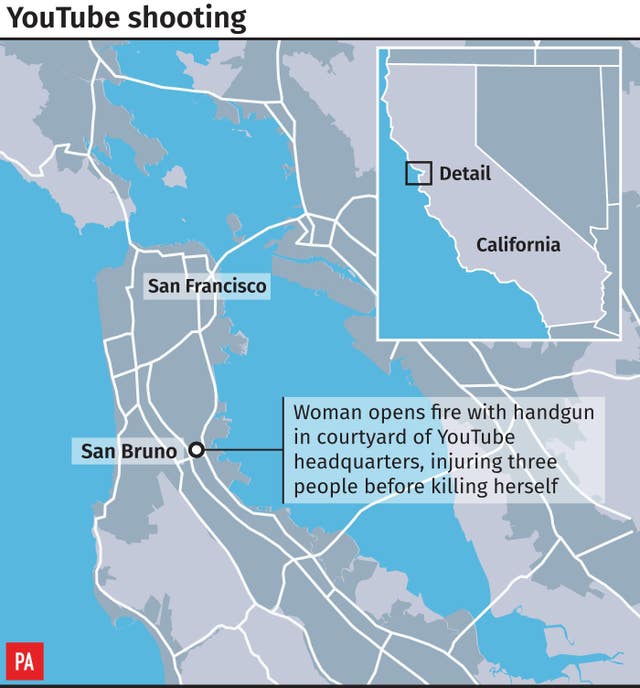 Aghdam did not appear to be a threat to herself or others, police spokeswoman Katie Nelson said.
Two women wounded in the attack were released on Wednesday from a San Francisco hospital. The third victim, a 36-year-old man, remained in serious condition.