Fourteen people were killed and 15 others injured when a lorry collided with a bus carrying a junior hockey team to a playoff game in western Canada, authorities have said.
The bus driving the Humboldt Broncos had 29 people on board, including the driver, when it crashed at about 5pm local time on Friday on Highway 35 in Saskatchewan, Canadian police said.
Head coach Darcy Haugan and team captain Logan Schatz are among the 14 dead, relatives said.
Three people are in critical condition.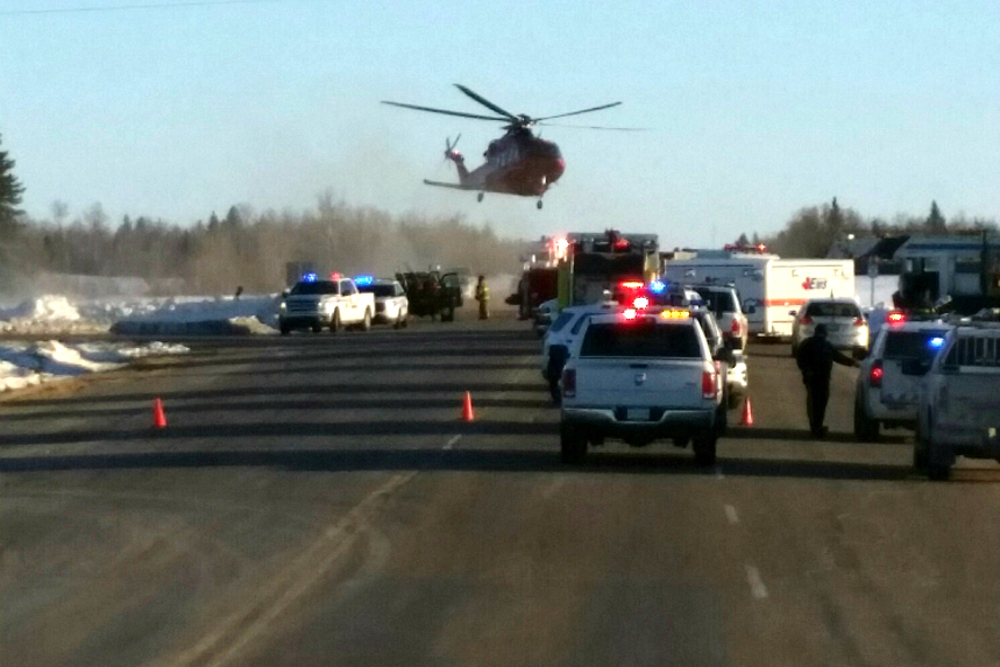 "It's hard," Mr Schatz said.
Christina George-Haugan confirmed that her husband Darcy is among the dead.
Tributes poured in online for the father of two, who was described as an amazing mentor to young players.
"I cannot imagine what these parents are going through, and my heart goes out to everyone affected by this terrible tragedy, in the Humboldt community and beyond," Canadian Prime Minister Justin Trudeau tweeted.
Darren Opp, president of the Nipawin Hawks, who the Broncos were set to play against, said: "It's a horrible accident, my God."
STARS air ambulance said it sent three helicopters to the scene.
The Broncos are a close-knit team from the small city of Humboldt, Saskatchewan, which has a population of about 6,000.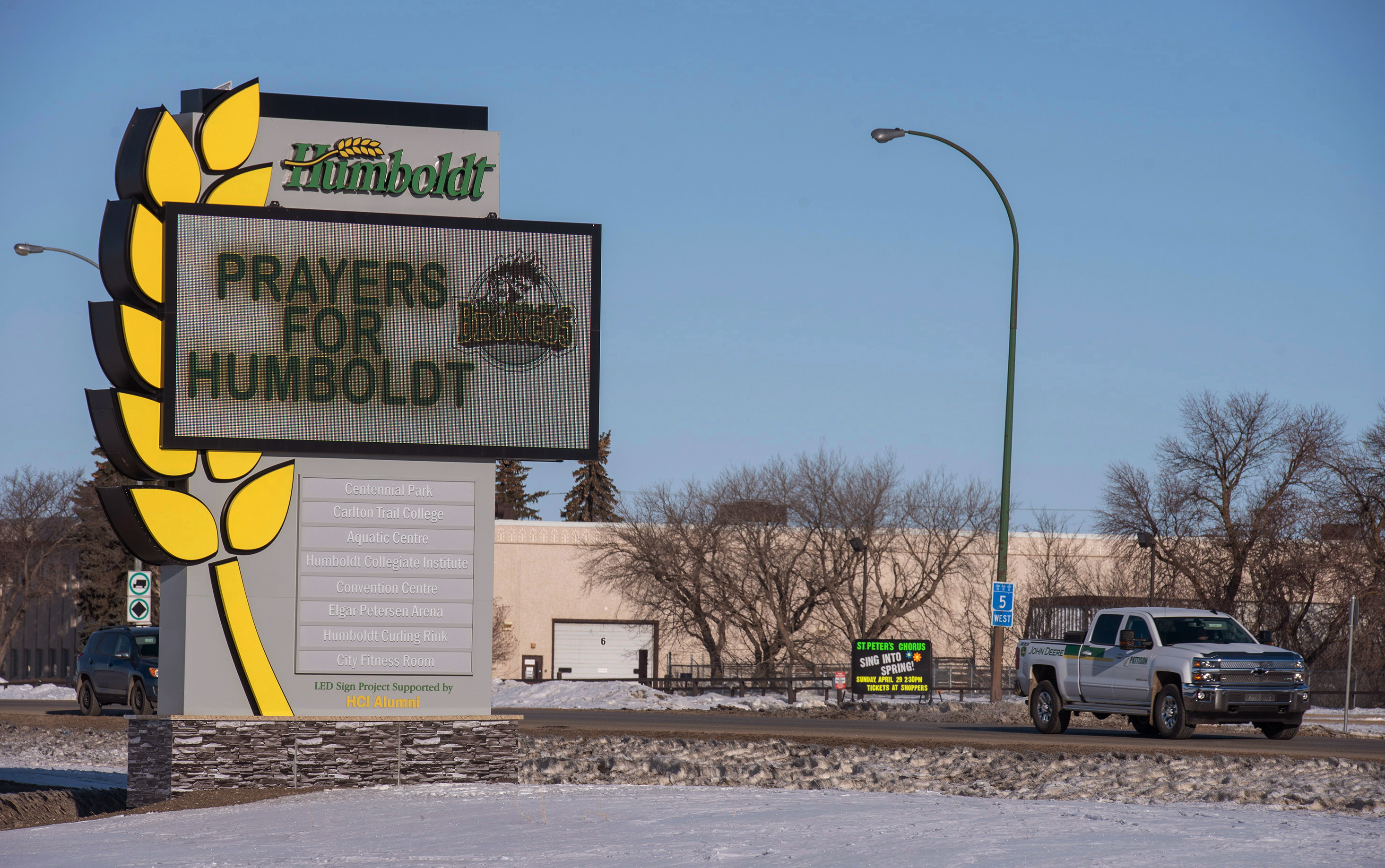 "It's overwhelming. It's been tough on everybody," Humboldt mayor Rob Muench said.
"We're a small community, some of those kids have been on the team for a number of years. A lot grew up in the community and everybody knows each other."
The team was on its way to play in game five of a semi-final against the Hawks.
"Hockey was what brought us all together and we had two communities that were rivals in the rink. To find out that it was their first responders that aided our boys just warms your heart," the mayor said as his voice cracked.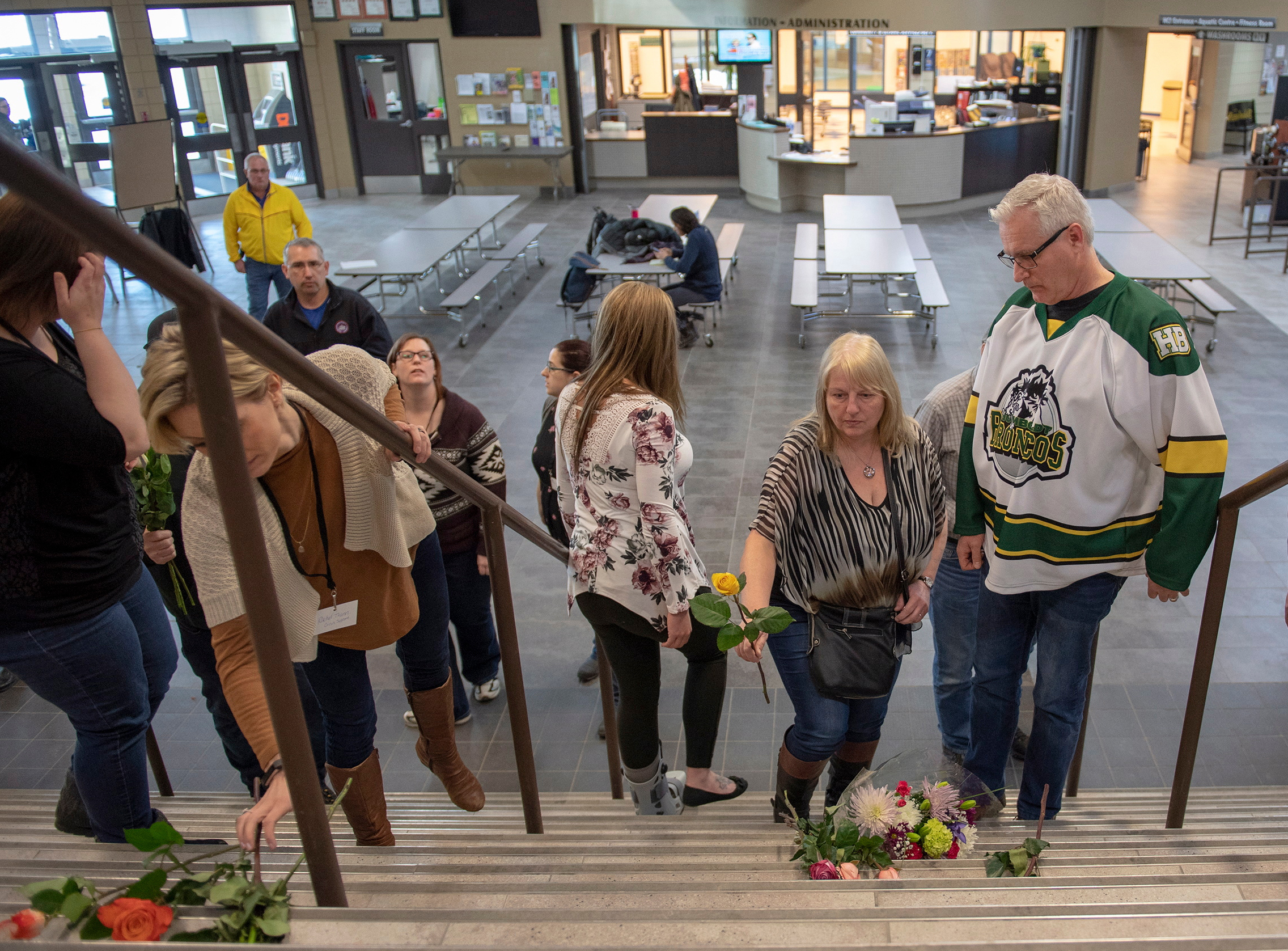 "Everybody is just so devastated. These poor young boys," Ms Lee said.
The Saskatchewan Junior Hockey League is a junior A hockey league under Hockey Canada, which is part of the Canadian Junior Hockey League. It is open to North American-born players between the ages of 16 and 20.
Team president Kevin Garinger said parents from across western Canada were struggling to cope with the tragedy and were rushing to the scene.
"It's one of the hardest days of my life," he said. "Our whole community is in shock, we are grieving and we will continue to grieve throughout this ordeal as we try to work towards supporting each other."
Michelle Straschnitzki, who lives in Airdrie, said her 18-year-old son Ryan was transported to hospital in Saskatoon, Saskatchewan.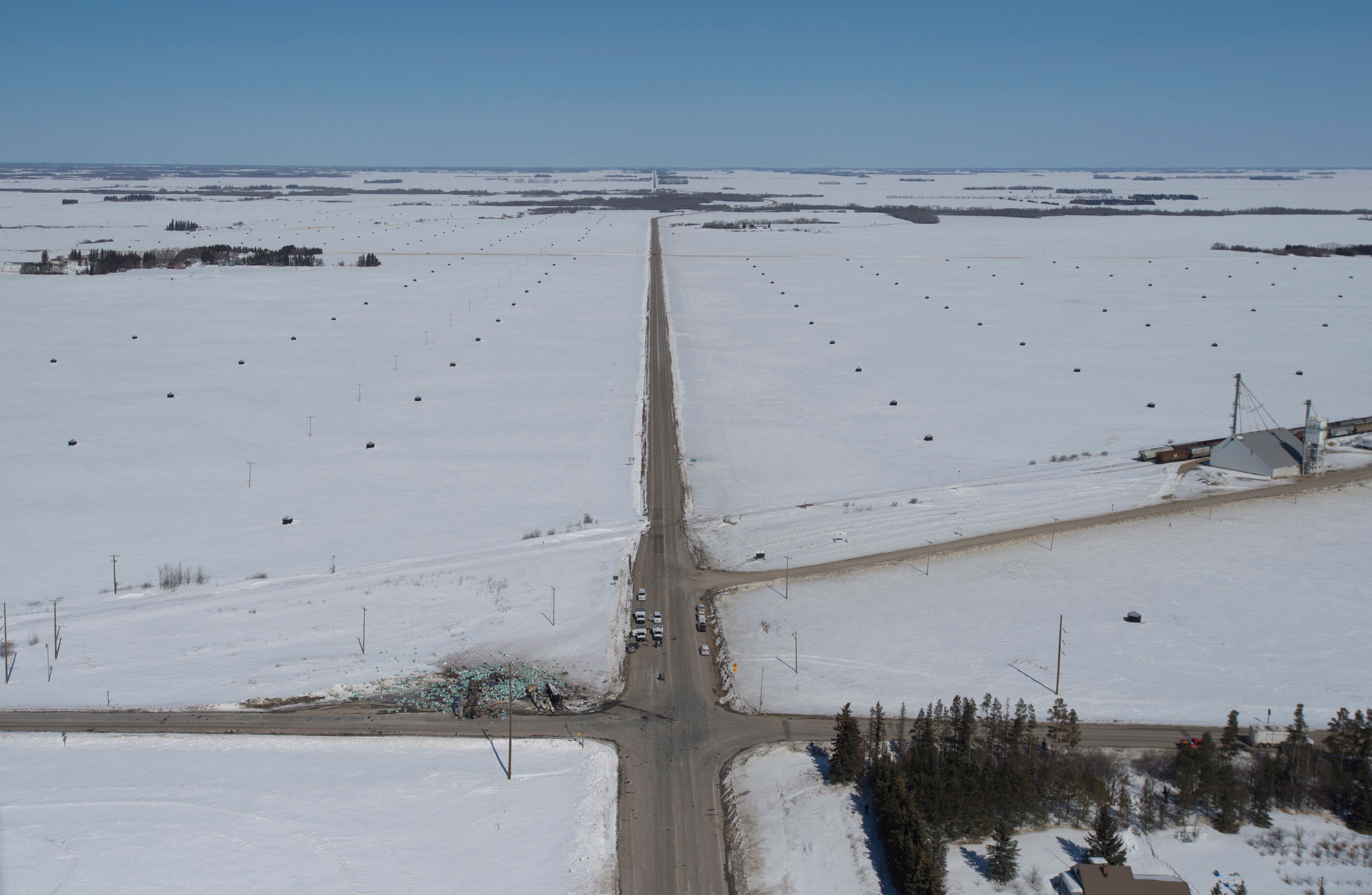 Mr Opp said the coaching staff and players from their team were waiting to help.
"They are sitting in the church just waiting to hear any good news," he said.
Pastor Jordan Gadsby, at the Apostolic Church in Nipawin, said more than 100 people had gathered at the church, including parents and grandparents of the players who were on the bus.
"Lots of them are waiting for information," he said.
Mr Garinger said he still did not know the fate of one of the players living in his home.
"We don't know who has passed and we don't expect to know right away," he said. "We know that the coroner and their office needs to do their work and let families know."
Mr Garinger said all the team can do now is help the players and their families however they can.
"We just need to try to support each other as we deal with this incredible loss to our community, to our province, to our hockey world."
Kevin Henry, a coach who runs a hockey school in Prince Albert, said he knows players on the team.
"This is I would think one of the darkest days in the history of Saskatchewan, especially because hockey is so ingrained in how we grow up here," he said.
Much of the hockey world issued messages of condolences, including National Hockey League commissioner Gary Bettman.
"The NHL mourns the passing of those who perished and offers strength and comfort to those injured while travelling to play and be part of a game they all love," Mr Bettman said in a statement.