Bill Cosby's lawyer has launched a blistering courtroom attack on the comedian's accuser, portraying her as a con artist whose goal was "money, money and lots more money".
Lawyer Tom Mesereau told jurors in his opening statement at the former TV star's sex assault trial that Andrea Constand was not attracted to Cosby but was "madly in love" with his fame and money and made up the accusations to score a big payday.
He told the court in Pennsylvania that she "hit the jackpot" when Cosby paid her 3.4 million dollars (£2.4 million) to settle a lawsuit over allegations he drugged and molested her in 2004.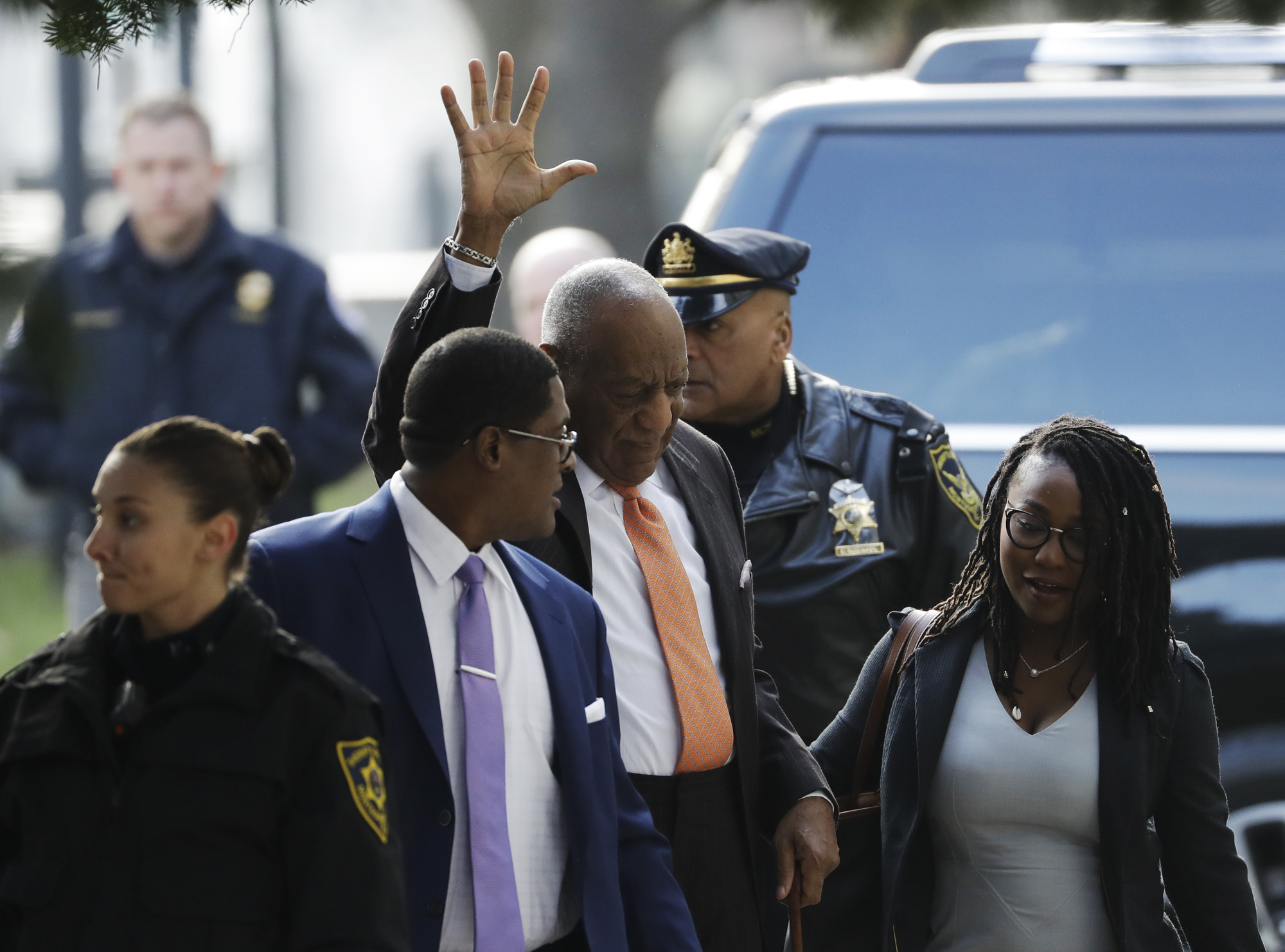 Cosby, 80, faces three counts of aggravated indecent assault, each punishable by up to 10 years in prison.
A jury was deadlocked at his first trial last spring, setting the stage for a retrial.
District attorney Kevin Steele had revealed the previously secret settlement amount in his opening statement on Monday, in an apparent attempt to suggest Cosby would not have paid out so much money if the accusations against him were false.
Mr Mesereau, who won an acquittal in Michael Jackson's 2005 child molestation case, told jurors that Ms Constand was in deep financial trouble and attached all of her hopes to what she could milk from her relationship with Cosby.
He said she cheated roommates on utility bills, racked up big credit card bills and operated a Ponzi scheme while running women's basketball operations at Temple University.
"A con artist is what you get, ladies and gentlemen of the jury," Mr Mesereau said. "A con artist. And we'll prove it."
The comedian arrived at the courthouse on Tuesday amid heightened security after a topless protester who appeared on several episodes of The Cosby Show as a child jumped a barricade on Monday and got within a few feet of Cosby as the comedian entered the courthouse.
He was surrounded by five sheriff's deputies as he walked inside on Tuesday.
Cosby was an alumnus and trustee at Temple University, Mr Mesereau said.
He said Ms Constand went to Cosby's home at least half a dozen times and sneaked into bed with him at a Connecticut casino.
"You're going to be wondering: What did she want from Bill Cosby?" Mr Mesereau said. "You already know the answer: money, money and lots more money."
He said Ms Constand outlined her scheme to a Temple University colleague, Marguerite Jackson.
The defence plans to call Ms Jackson as a witness, and Mr Mesereau said she will testify that Ms Constand – inspired by a story they saw on the news – mused about setting up a celebrity so she could sue and get money.
Cosby's legal team at his first trial was not nearly as aggressive in attacking Ms Constand, focusing instead on inconsistencies in her statements to police and arguing the pair had a romantic relationship.
The jury that time was not permitted to hear about the settlement, nor was Ms Jackson allowed to give evidence.
Under no such constraints this time, the defence let loose on Ms Constand.
If Ms Constand was not interested in Cosby's advances, Mr Mesereau said, "Why do you keep going back and back and back and back? Because there's something that you want. I wonder what it is. She's now a multi-millionaire because she pulled it off."
Some 60 women have come forward with allegations against Cosby dating to the 1960s. In a deposition he gave as part of Ms Constand's lawsuit, the long-married comedian acknowledged giving quaaludes to women he wanted to have sex with.
In the deposition, Cosby said he gave Ms Constand three half-tablets of the cold and allergy medicine Benadryl.
Prosecutors have suggested he gave her something stronger – perhaps quaaludes, a popular party drug in the 1970s that was banned in the US in 1982.
They have lined up five additional accusers to make the case that the entertainer once revered as "America's Dad" lived a double life as one of Hollywood's biggest predators. Only one additional accuser gave evidence at the first trial.
Mr Mesereau urged jurors to ignore the other accusers, calling them irrelevant to this case.
He also urged them to set aside any sympathy they might have for the #MeToo movement against sexual misconduct that has toppled movie mogul Harvey Weinstein and other powerful men in recent months.