US President Donald Trump has welcomed home three Americans freed by North Korea and declared their release a sign of promise towards his goal of denuclearising the Korean Peninsula.
Speaking early on Thursday at an air base, Mr Trump called it a "great honour" to welcome the men to the US, but said "the true honour is going to be if we have a victory in getting rid of nuclear weapons".
"I really think he wants to do something," the president said.
First lady Melania Trump, vice president Mike Pence, secretary of state Mike Pompeo and other top officials joined Mr Trump to celebrate the occasion at Joint Base Andrews near Washington.
The men – Kim Dong Chul, Kim Hak Song and Tony Kim – had been released on Wednesday amid a warming of relations between the longtime adversaries.
Shortly before 3am, the president and first lady boarded the medical plane on which the men had travelled and spent several minutes meeting with them privately.
The group then emerged at top of the plane's stairs, where the men held up their arms in an exuberant display.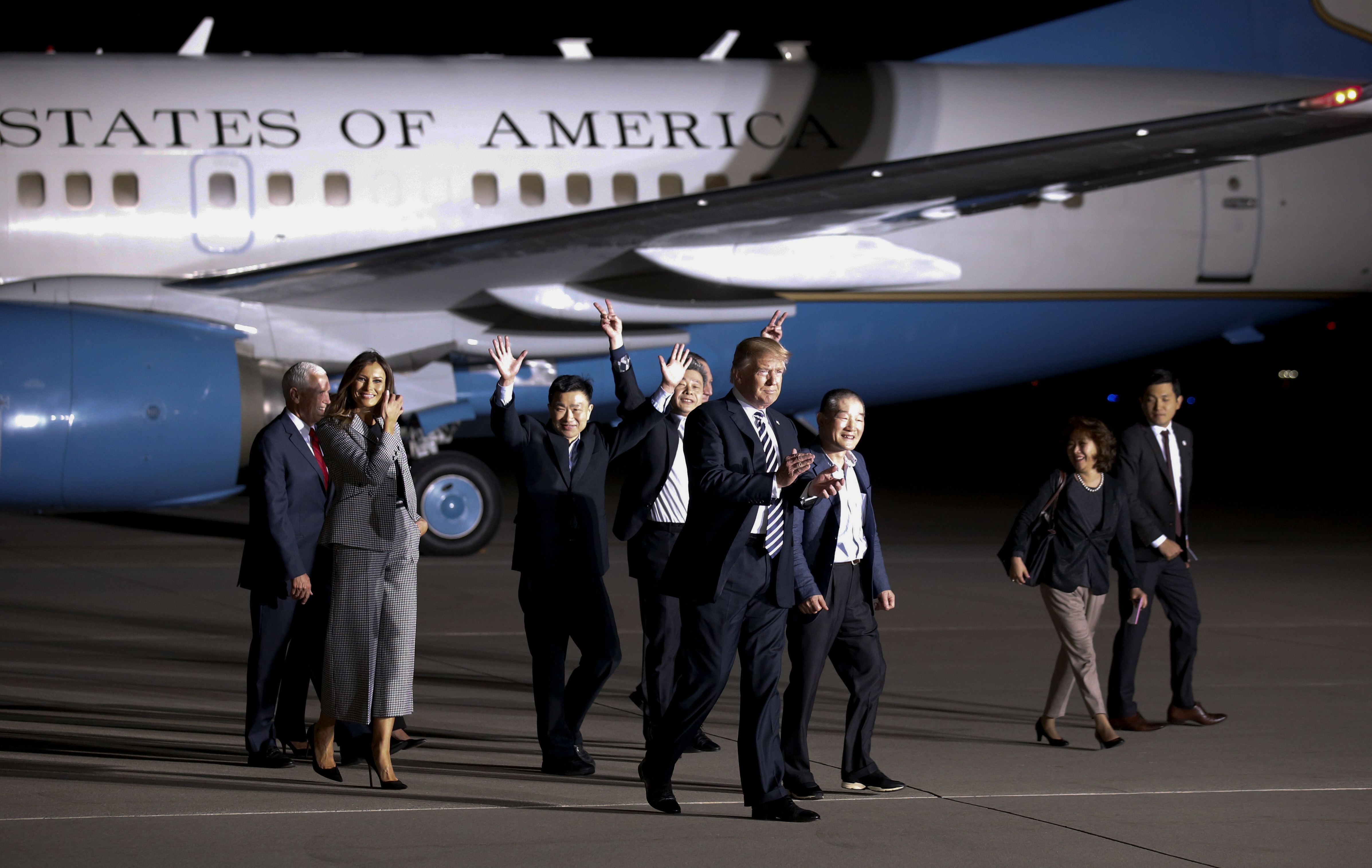 "This is a special night for these three really great people," Mr Trump told reporters.
On the US relationship with North Korea, Mr Trump declared: "We're starting off on a new footing."
The freed prisoners appeared tired but in excellent spirits, flashing peace signs and waving their arms as they emerged from the aircraft.
When asked by reporters how it felt to be home, one of the men answered through a translator: "It's like a dream; we are very, very happy."
They later gave the president a round of applause.
After Mr Trump's remarks, the three men boarded a bus for Walter Reed National Military Medical Centre, where they are to be evaluated and receive medical treatment before being reunited with their families.
The White House carefully choreographed the event, hoisting a giant American flag between two fire engines on the ground and inviting reporters to witness the return.
The image-conscious president told reporters: "I think you probably broke the all-time-in-history television rating for 3 o'clock in the morning."
Hours later, Mr Trump tweeted: "On behalf of the American people, WELCOME HOME!"
The highly public and politically tinged display stood in stark contrast to the low-key and very private reception that the State Department had envisioned and carried out from the moment it took custody of the men, in keeping with a tradition of trying to protect potentially traumatised victims from being thrust into the spotlight so soon after their ordeal.
Department officials took great pains on the prisoners' release in North Korea, as well as on their flights to Japan and Alaska, to keep them sequestered not only from the two journalists travelling with Mr Pompeo but also from staffers not immediately involved in their cases.
State Department officials refused to discuss anything but the most basic details of their conditions, citing privacy concerns in keeping with the minimal amount of information they had released since the men were imprisoned.
Mr Pompeo had secured their release in Pyongyang after meeting with Mr Kim on final plans for the Trump-Kim summit.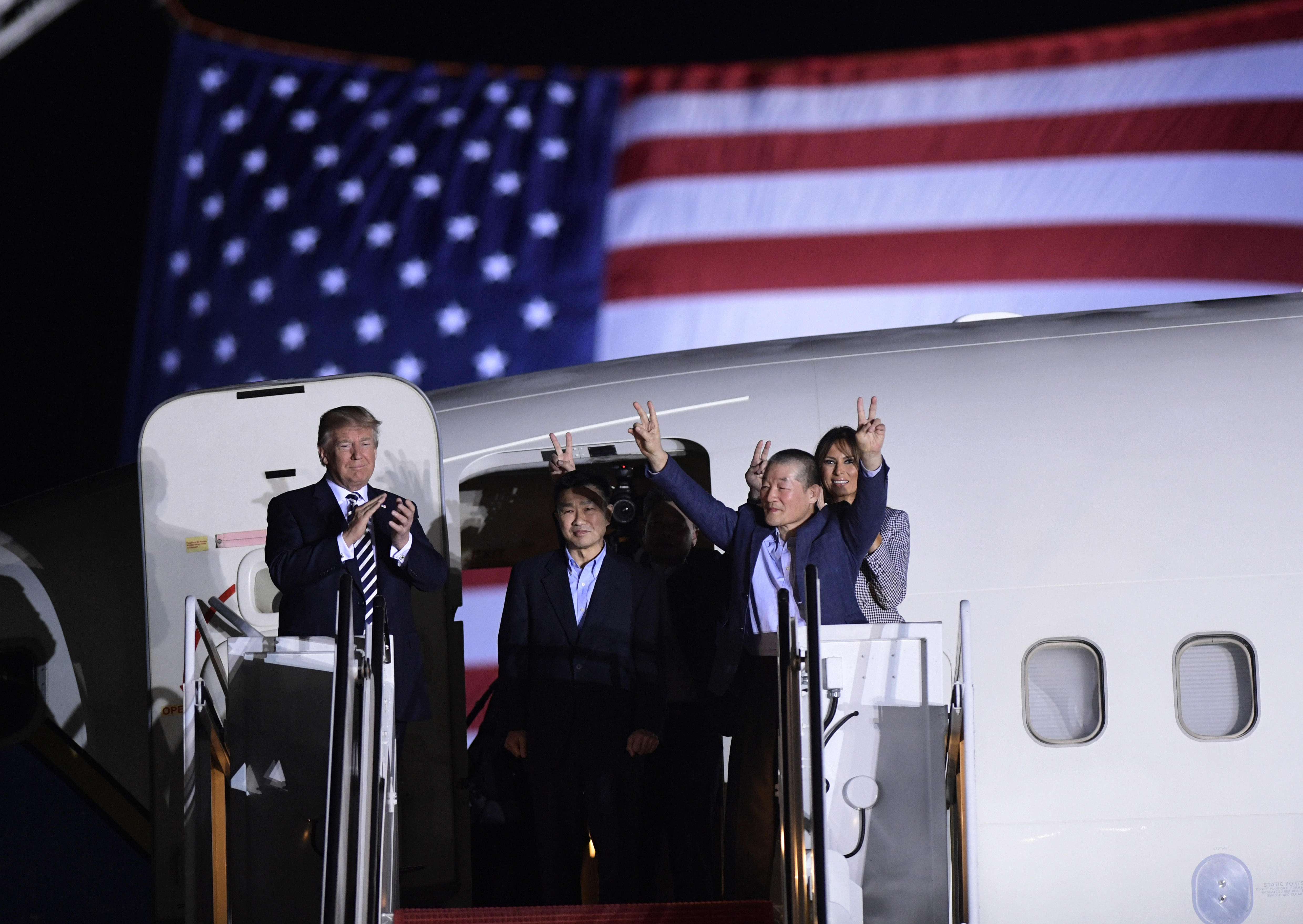 Mr Trump made a point of publicly thanking North Korea's leader for the prisoners' release – "We want to thank Kim Jong Un" – and hailed it as a sign of cooling tensions and growing opportunity on the Korean peninsula.
Mr Kim decided to grant amnesty to the three Americans at the "official suggestion" of the US president, said North Korea's official news agency KCNA.
North Korea had accused the three Korean-Americans of anti-state activities. Their arrests were widely seen as politically motivated and had compounded the dire state of relations over the isolated nation's nuclear weapons.
Mr Trump entered office as an emboldened North Korea developed new generations of nuclear weapons and ballistic missiles capable of hitting the continental US.
Those advances were the subject of President Barack Obama's starkest warning shortly before Mr Trump took office, and this is a crisis he is convinced his negotiating skills can resolve.
Crediting himself for recent progress, Mr Trump has pointed to Mr Kim's willingness to come to the negotiating table as validating US moves to tighten sanctions – branded "maximum pressure" by the president.