Donald Trump Jr has told the US senate judiciary committee he could not remember whether he had discussed the Russian collusion investigation with his father.
The US president's son also said he did not think there was anything wrong with meeting a Russian lawyer at Trump Tower ahead of the 2016 presidential election, according to transcripts of his interview with the panel from last year.
The committee released more than 1,800 pages of transcripts of interviews with Mr Trump's son and others who attended a June 9 2016 meeting at which they expected to receive dirt about Mr Trump's opponent, Democrat Hillary Clinton.
Mr Trump Jr deflected multiple questions during the interview, saying he could not recall whether he discussed the Russia probe with his father and whether he spoke with Mr Trump on the day the meeting was arranged.
Asked if he thought it would be a problem to take a meeting billed to him as part of a Russian government effort to aid his father, Mr Trump Jr said no.
"I didn't think that listening to someone with information relevant to the fitness and character of a presidential candidate would be an issue, no."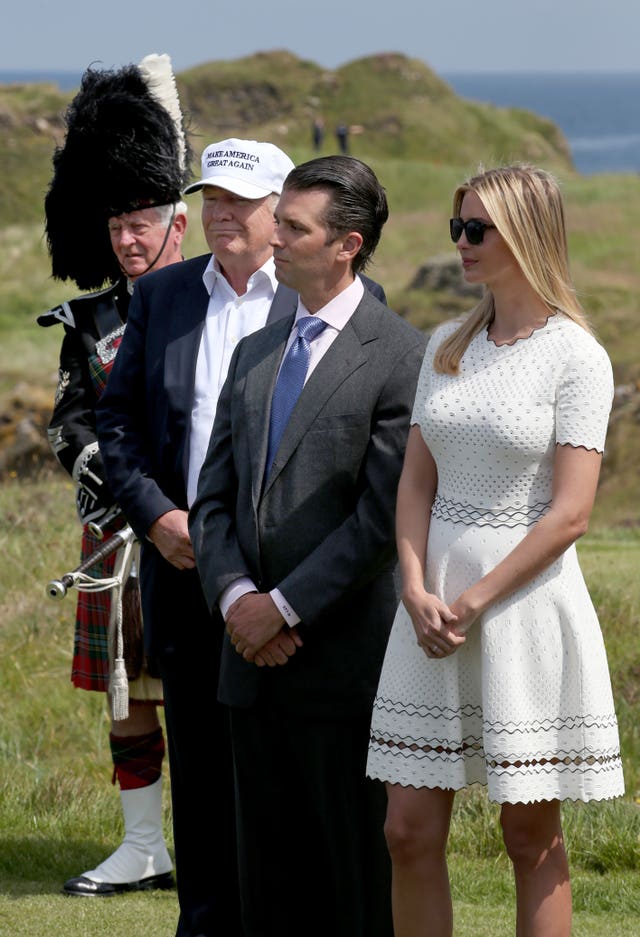 In addition to Mr Trump Jr, the committee interviewed four other people who attended the Trump Tower meeting in New York – publicist Rob Goldstone, who set up the meeting with the promise of dirt on Mrs Clinton; Rinat Akhmetshin, a prominent Russian-American lobbyist; Ike Kaveladze, a business associate of a Moscow-based developer, and a translator.
The committee did not interview Natalia Veselnitskaya, the Russian lawyer at the centre of the meeting. But the panel released her written responses to a letter that Senate judiciary chairman Chuck Grassley sent her last year.
The panel was also not able to interview Jared Kushner, Mr Trump's son-in-law, or Paul Manafort, Mr Trump's former campaign manager, even though both attended.
The committee also released one page of notes that Mr Manafort took during the meeting.
His notes mention "Russian adoption by American families" and Bill Browder, a British citizen who has spearheaded a US sanctions law – known as the Magnitsky Act – that targets Russian officials over human rights abuses. The relatively cryptic notes also contain a reference to "active sponsors of RNC", "tied into Cheney" and appear to make reference to offshore companies in Cyprus.
Mr Mueller has brought several unrelated charges against Mr Manafort, including money-laundering conspiracy, false statements and acting as an unregistered foreign agent related to Ukrainian political work.
The White House has said the president was involved in drafting an initial statement after news of the meeting broke last year. The statement said the meeting primarily concerned a Russian adoption programme, though Mr Trump Jr later released the emails showing he agreed to the sit-down after he was promised information on Mrs Clinton. The emails also show he accepted the meeting despite it being described as part of a Russian government effort to aid his father's campaign.
Asked in the interview if his father was involved in drafting the statement, Mr Trump said: "I don't know. I never spoke to my father about it."
Mr Trump Jr also said he received direct messages via Twitter from WikiLeaks asking if he would leak his father's tax return.
The president's son said he never communicated with Julian Assange, the head of WikiLeaks. He described the person who contacted him via Twitter as "a lady that appeared to work at a law firm, if I recall correctly".
He said the organisation would "reach out on a few occasions, sort of passing along news" and suggesting that he tweet it. Mr Trump Jr said he thinks the only time he responded was to say: "Hey, when (am I) going to receive the next leak"?
He said he was not aware whether anyone else on the campaign had contact with WikiLeaks.