Macedonia's parliament has comfortably ratified a deal with neighbouring Greece signed last weekend to end a decades-long dispute over Macedonia's name.
Politicians approved the bill that renames the country North Macedonia, with 69 votes in favour in the 120-member parliament.
The main opposition VMRO-DPMNE party boycotted the session.
The preliminary deal – which will require several more steps lasting months before it can be fully implemented – has angered opposition parties and hardliners in both Greece and Macedonia, who claim their respective countries have conceded too much to the other.
Prime Minister Zoran Zaev told politicians that Skopje and Athens have reached a "dignified and acceptable" agreement for both countries.
"We have not made a gift to anyone," Mr Zaev said during Wednesday's debate.
"Our language and identity is Macedonian."
The dispute dates from shortly after Macedonia declared independence from Yugoslavia in 1991.
Greece argued the name Macedonia implied territorial aspirations on its own northern province of the same name, birthplace of the ancient warrior king Alexander the Great, and on ancient Greek heritage.
Mr Zaev told politicians the agreement gains Macedonia "one more strategic partner" in its southern neighbour, and boosts his country's security and stability.
It will also allow Macedonia to pursue its dream of joining Nato and the European Union.
Until now, Greece, which is a member of both organisations, had been blocking that prospect pending a deal on the name change.
But the deal has also caused a major rift between Mr Zaev's left-led government and the country's conservative president Gjorge Ivanov, who has said he will not sign off on the parliamentary ratification, which he strongly opposes.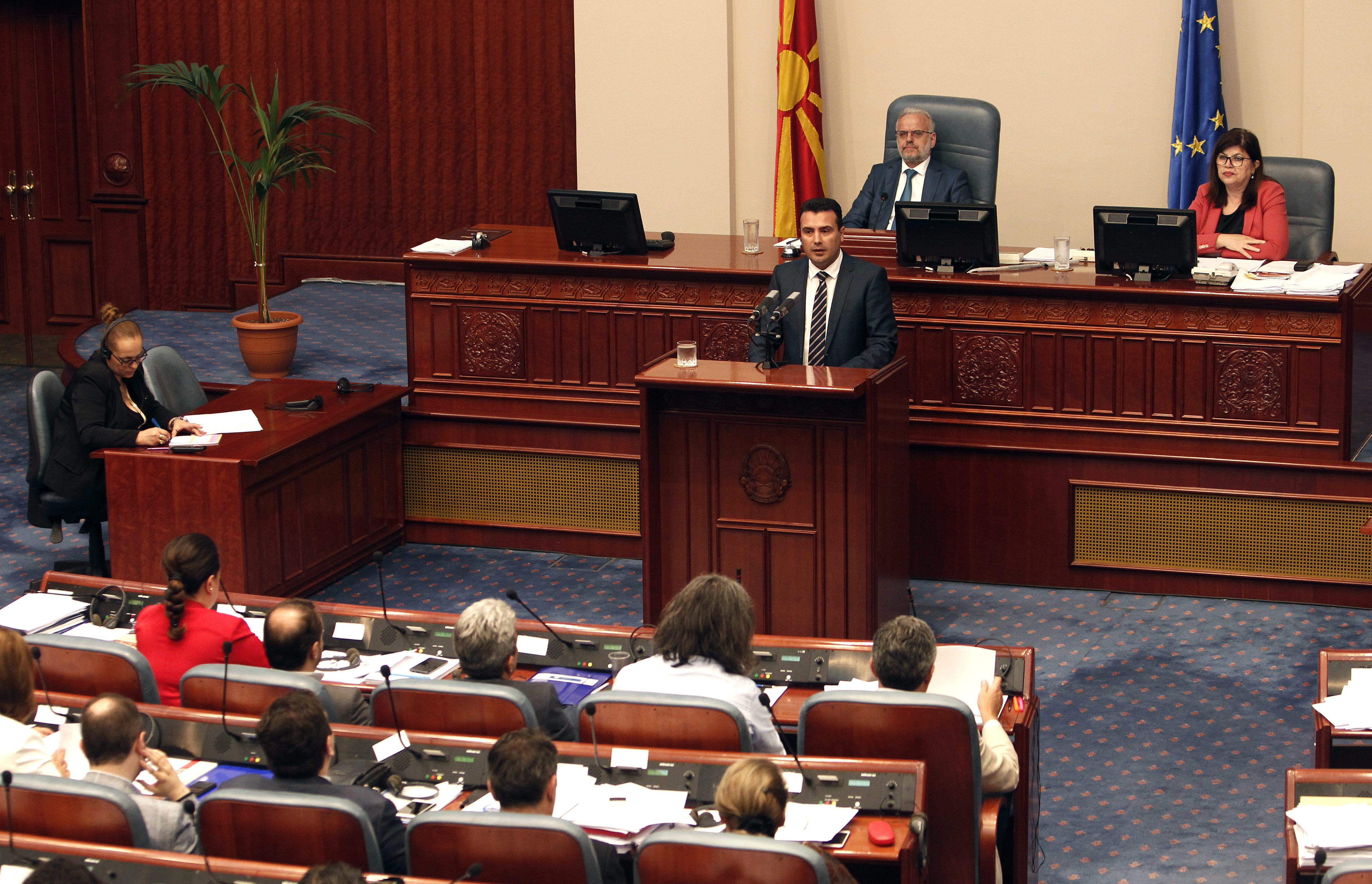 Mr Zaev indicated in a TV interview late on Tuesday that he will go one step further and try to use parliament's power to remove the president from office.
That would force presidential elections within months.
According to Macedonia's constitution, a two-thirds majority of 81 votes in parliament are needed for that, which Mr Zaev would have trouble raising.
Mr Ivanov on Wednesday dared Mr Zaev to go ahead with his removal.
"I call on Zaev … to immediately initiate (the) procedure", he said in a written statement to the media.
Macedonians will be called on in the autumn to vote on the deal through a referendum.
If that backs the agreement, politicians will have to amend the constitution to formalise the name change.
Once that is done, the deal will have to be ratified by Greece's parliament.