A man with a long grudge against a newspaper in Maryland has been ordered held in jail on five counts of first-degree murder after police said he blasted his way into the newsroom with a pump-action shotgun, killing five people.
Jarrod W Ramos, 38, was swiftly arrested as he tried to hide under a desk on Thursday afternoon at the Capital Gazette in Annapolis, police said.
"The fellow was there to kill as many people as he could," Anne Arundel County chief Timothy Altomare said after one of the deadliest attacks on journalists in US history.
Ramos was "unco-operative" with his interrogators, police said, and in court papers authorities described him as "recalcitrant".
Appearing by video before he was denied bail, he appeared to watch attentively but never spoke.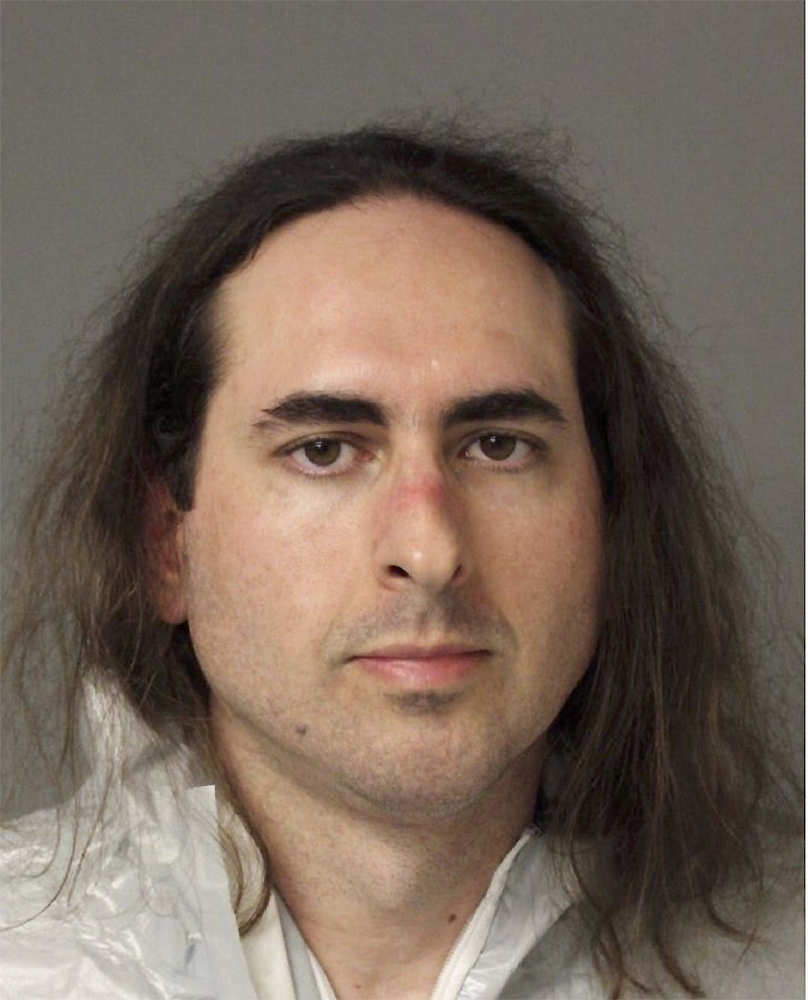 Ramos had a well-documented history of harassing the paper's journalists, a feud that apparently began over a column about him pleading guilty to harassing a woman.
He filed a defamation suit against the paper in 2012 that was thrown out as groundless, and he often railed against its staff members in profanity-laced tweets.
Police said surveillance video recorded the attack, which began with a shotgun blast that shattered the glass entrance to the open newsroom.
Journalists crawled under desks and sought other hiding places, describing agonising minutes of terror as they heard his footsteps and the repeated blasts of the weapon.
They recovered a gun and said he also carried smoke grenades.
Some 300 local, state and federal officers converged on the scene, Mr Altomare said.
The "bad guy" was identified with the help of facial recognition technology from the Maryland image repository system, Mr Altomare said, refusing to give him the satisfaction of identifying him by name.
He also confirmed that the weapon was a pump-action shotgun, legally purchased about a year ago.
The rampage immediately stirred fears that the recent political attacks on the "fake news media" and the branding of reporters as "enemies of the people" had finally exploded into violence.
But by all accounts, Ramos had a longstanding, specific grievance against the paper.
"Strongly condemn the evil act of senseless violence in Annapolis, MD," White House press secretary Sarah Sanders tweeted.
"A violent attack on innocent journalists doing their job is an attack on every American."
Ramos so routinely sent profanity-laced tweets about the paper and its writers that retired publisher Tom Marquardt said he called police in 2013, telling his wife at the time: "This guy could really hurt us."
The chief said police were told at the time that the newspaper did not want to further inflame him by pressing charges.
In 2015, Ramos tweeted that he would like to see the paper stop publishing, but "it would be nicer" to see two of its journalists "cease breathing".
Investigators were reviewing his social media postings and searching his apartment in Laurel, Maryland, for clues to the violence.
"We had the instances in 2013, and then it went dark, and my understanding is that shortly before the incident, there were some posts," Mr Altomare said.
Those killed included Rob Hiaasen, 59, the paper's assistant managing editor and brother of novelist Carl Hiaasen.
Carl Hiaasen said he was "devastated and heartsick" at losing his brother, "one of the most gentle and funny people I've ever known".
Also killed were Gerald Fischman, editorial page editor; features reporter Wendi Winters; reporter John McNamara; and sales assistant Rebecca Smith.
The newspaper said two other employees were treated for non-life threatening injuries.
"There is nothing more terrifying than hearing multiple people get shot while you're under your desk and then hear the gunman reload," tweeted Phil Davis, the paper's courts and crime reporter.
In a later interview appearing on the paper's online site, Mr Davis likened the newspaper office to a "war zone".
"I'm a police reporter. I write about this stuff – not necessarily to this extent, but shootings and death – all the time," he said.
"But as much as I'm going to try to articulate how traumatising it is to be hiding under your desk, you don't know until you're there and you feel helpless."
Reporter Selene San Felice told CNN she was at her desk but ran after hearing shots, only to find a back door locked.
She then watched as a colleague was shot, adding she did not glimpse the gunman.
"I was breathing really loud and was trying not to, but I couldn't be quiet," she said.
"I'm going to need more than 'thoughts and prayers'."
The city of Annapolis announced a vigil for the victims at a public square near the Capitol.
Annapolis mayor Gavin Buckley said the community is grieving.
"These are the guys that come to city council meetings, have to listen to boring politicians and sit there," Mr Buckley said.
"They don't make a lot of money. It's just immoral that their lives should be in danger."
US President Donald Trump said: "Journalists, like all Americans, should be free from the fear of being violently attacked while doing their jobs."
Mr Trump routinely calls the reporters who cover him "fake news" and "liars" and labels them "enemies of the people".
Mr Trump said he is thinking of the survivors and the families of the "horrific, horrible" murders.