Twelve boys and their football coach who had been missing for more than a week in a cave in northern Thailand have been found alive, officials have said.
The boys, aged 11 to 16, and their 25-year-old coach disappeared when flooding trapped them after they entered Tham Luang Nang Non cave on June 23.
Navy divers and rescue workers entered a narrow passageway early on Monday after passing through a key chamber on Sunday whose high, murky waters had previously blocked their progress.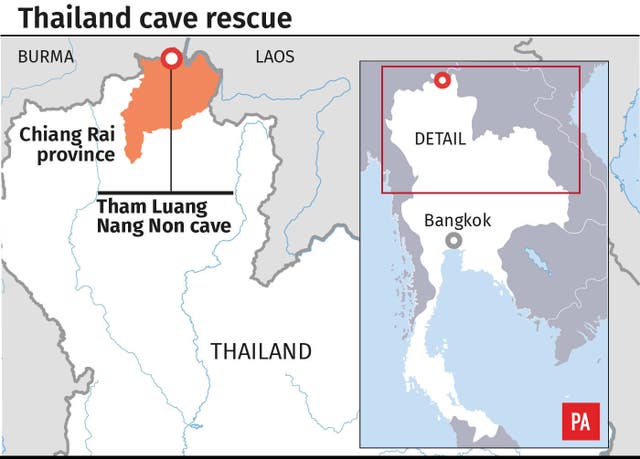 Mr Narongsak said the passageway the divers were making their way through goes upwards in some places and downwards in others and is extremely narrow, making it difficult for divers to fit through with all their gear.
They were repeatedly blocked by rising water that has filled sections of the cave and forced them to withdraw for safety reasons.
He said it was expected that in their condition, the boys would at first not be able to move their limbs, but medical teams would initially treat them in place. He said the diving teams included doctors.
Prime minister Prayuth Chan-ocha thanked international experts and rescuers who helped the search.
His office said the PM "wishes to thank the tremendous efforts of all international units that have come to assist the Thai authorities in rescuing the youth football team that was stuck in the caves in Chiang Rai. The Royal Thai Government and the Thai people are grateful for this support and co-operation, and we all wish the team a safe and speedy recovery".
Anmar Mirza, the US National Cave Rescue Commission co-ordinator, said the primary decision is one of whether to try to evacuate them or to supply them in place.
He said supplying them on site "may face challenges depending on how difficult the dives are. Trying to take non-divers through a cave is one of the most dangerous situations possible, even if the dives are relatively easy".
He added: "If the dives are difficult then supply will be difficult, but the risk of trying to dive them out is also exponentially greater."