A third rescue operation to bring out the remaining four boys and their football coach from a flooded cave in Thailand has begun.
He said a medic and three Seals in the cave, who have been looking after those trapped, will also come out.
Mr Narongsak said: "We expect that if there is no unusual condition … the four boys, one coach, the doctor, and three Seals who have been with the boys since first day will come out today."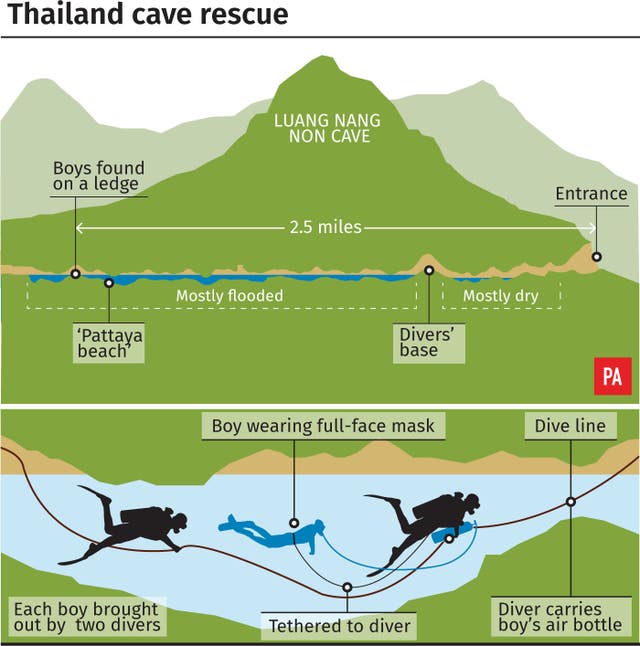 Jedsada Chokdumrongsuk, permanent secretary at the Public Health Ministry, said the first four boys rescued, aged 12 to 16, are now able to eat normal food.
Two of them possibly have a lung infection but all eight are generally "healthy and smiling," he said.
"The kids are footballers so they have high immune systems," Mr Jedsada said. "Everyone is in high spirits and are happy to get out. But we will have a psychiatrist to evaluate them."
Seven divers in the rescue team are from the UK, including Rick Stanton and John Volanthen who were the first to reach the group last week. The British Cave Rescue Council has been posting updates throughout the operation.
Family members have seen at least some of the boys from behind a glass isolation barrier, and Mr Jedsada said doctors may let the boys walk around their beds on Tuesday.
Mr Jedsada said they were uncertain what type of infections the boys could face "because we have never experienced this kind of issue from a deep cave."
The second group of four rescued on Monday are aged 12 to 14.
Monday's rescue effort took about nine hours, two fewer than the day before, in a sign of growing confidence and expertise.
Each of the rescued boys has been guided through the dark winding cave by two pairs of divers.