US president Donald Trump has arrived at Finland's presidential palace for talks with Russian leader Vladimir Putin.
Mr Putin arrived minutes earlier at the palace in Helsinki for the summit, which consists of a one-on-one meeting and a larger working lunch, and will conclude with a joint news conference.
Mr Trump said he hopes for better relations with the Russian leader. He faces bipartisan scepticism in Washington that his desire for warming ties is displacing concerns over Russia's annexation of Crimea and other destabilising actions.
Earlier, the American president blamed the United States, not Russian election meddling, for the current low point in US-Russia relations.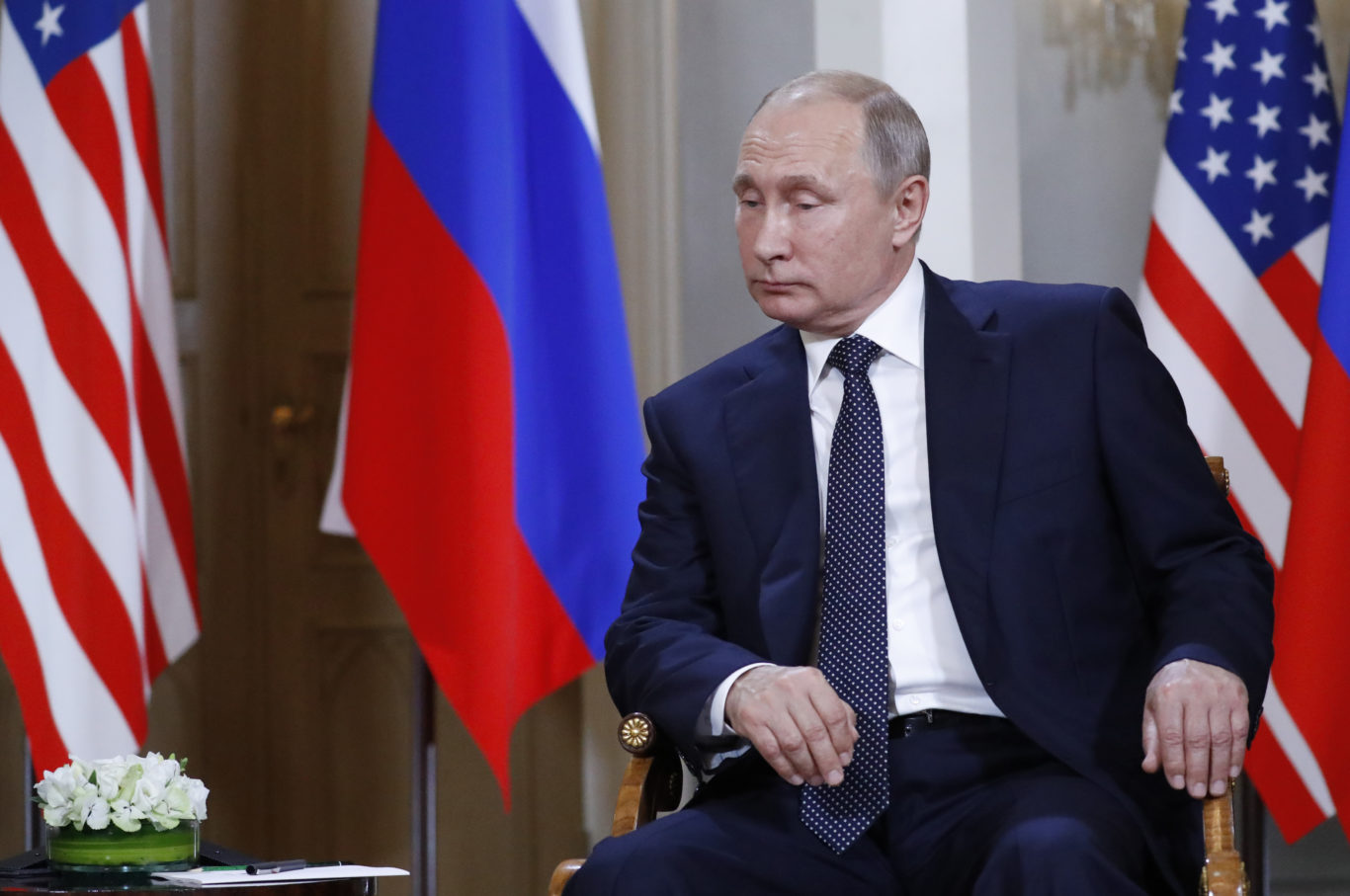 The summit was condemned in advance by members of congress from both parties after the US indictment last week of 12 Russian military intelligence officers accused of hacking Democrats in the 2016 election to help Trump's presidential campaign. Undeterred, the American president is set to go face to face with Mr Putin, the authoritarian leader for whom he has expressed admiration.
The summit is expected to start later than scheduled after Mr Putin arrived in Helsinki about a half hour late in another display of the Russian president's famous lack of punctuality. He has been late for past meetings with Queen and the Pope, among many others.
Mr Trump, who has sought to lower expectations about what will be achieved, told reporters during a breakfast with Finland's president Sauli Niinisto that he thought the summit would go "fine".
The meeting comes as questions swirl about whether Mr Trump will sharply and publicly rebuke his Russian counterpart for the election meddling that prompted a special counsel probe which the US leader has repeatedly labelled a "witch hunt".
In his tweets, Mr Trump continued to undermine the investigation and blamed his predecessor, Barack Obama, for failing to stop Russia's efforts to sway the 2016 election in Trump's favour. He claimed Mr Obama "was informed by the FBI about Russian Meddling, he said it couldn't happen, was no big deal, & did NOTHING about it".
The Obama administration did, in fact, take action, including confronting Mr Putin in person as well as expelling nearly three dozen Russian diplomats the US said were actually intelligence operatives and imposing new sanctions.
While Mr Trump is eager for a made-for-TV moment that will dominate headlines like his sit-down with North Korean leader Kim Jong Un last month, the Kremlin's primary mission was simply to have the summit take place.
Mr Putin hopes the meeting, mere hours after he presided over the World Cup final in Moscow, will help him forge good personal ties with Mr Trump and focus on areas where Moscow and Washington may be able to find common ground, such as in Syria.
Ahead of his sit-down with with Mr Putin, who has cracked down on the free press, Mr Trump has continued to unleash a series of attacks on the media, even as Air Force One descended into Helsinki.
"Unfortunately, no matter how well I do at the Summit, if I was given the great city of Moscow as retribution for all of the sins and evils committed by Russia over the years, I would return to criticism that it wasn't good enough – that I should have gotten Saint Petersburg in addition!" Mr Trump tweeted.
"Much of our news media is indeed the enemy of the people and all the Dems know how to do is resist and obstruct!"