Wildfires have raged through seaside resorts near the Greek capital, killing at least 50 people and causing tourists to flee, authorities said.
Rescuers battling the through the blazes which destroyed homes and forests near Athens discovered 26 bodies huddled together at one holiday compound, all believed to be family members. Some of them were hugging.
Many tourists and residents fled towards the coastline to escape the flames and choking smoke.
The two largest wildfires – one 20 miles north-east of Athens near Rafina, the other 30 miles west of the capital in Kineta – broke out on Monday during hot, dry summer conditions.
Fanned by gale-force winds that frequently changed direction, the flames spread rapidly into populated seaside towns – too fast for many who were in their cars or homes to flee, fire department spokeswoman Stavroula Malliri said.
Greece's prime minister Alexis Tsipras has declared a three-day period of national mourning for the victims of the fires.
Andreaas Passios, who lives next to the compound, said: "Everything happened in seconds.
"I grabbed a beach towel. It saved my life. I soaked it, grabbed my wife and we ran to the sea."
Mr Passios said he and his wife stayed by the sea for two hours.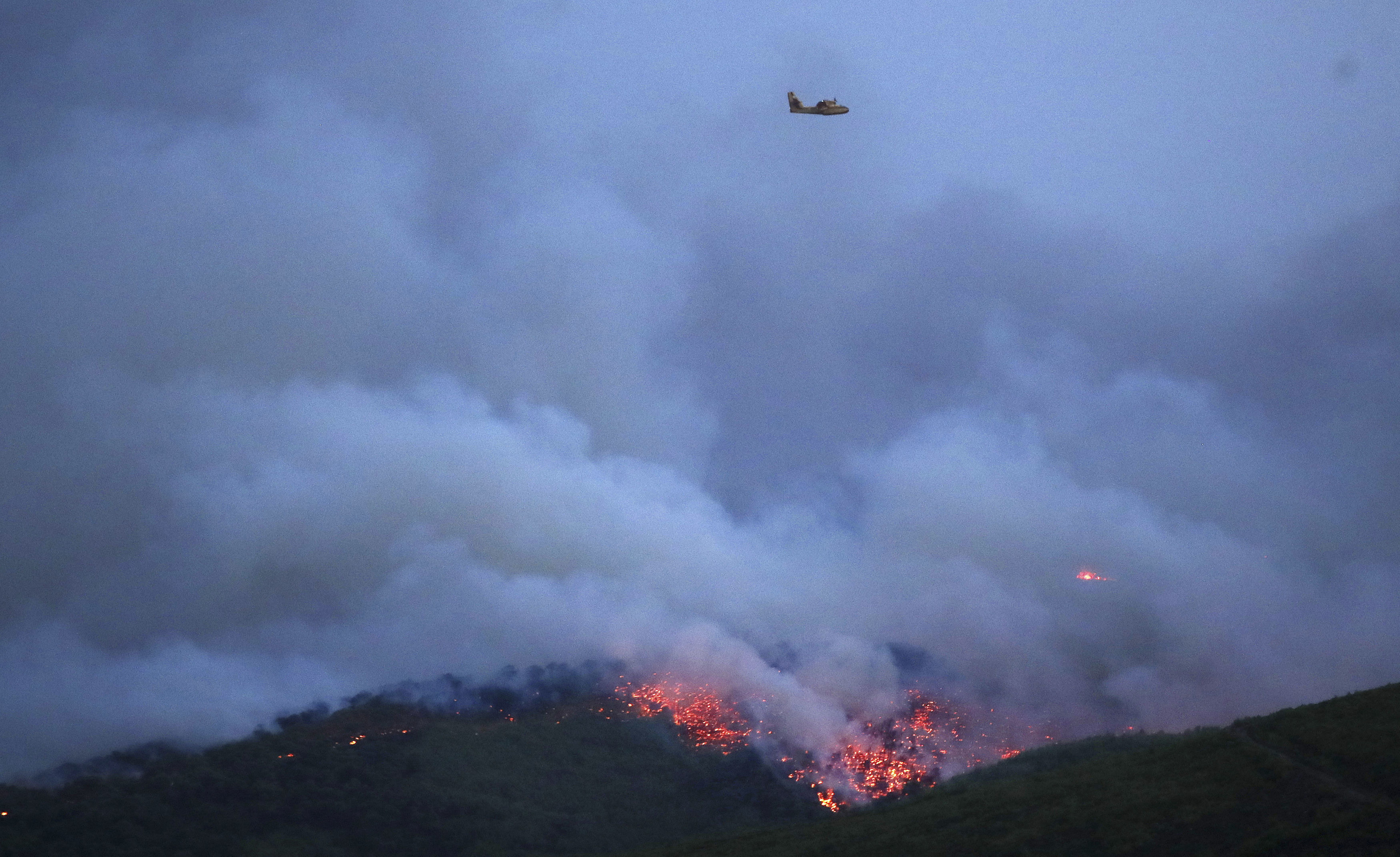 When the flames died down, Spyros Hadjiandreou came searching for loved ones.
"My niece and cousin were staying here on holiday," he said. "I don't know if they made it out.
A Polish woman and her son were among 10 people who drowned when their boat capsized during evacuation from the wildfires.
The two had been on holiday Mati, according to Janusz Smigielski, deputy head of the Poznan-based Grecos office.
He said that Greek water police and other forces were evacuating 45 people from a Mati hotel in boats when one of them capsized. Details over the incident, including how many other people were on board the boat, have yet to be confirmed by Greek authorities, Mr Smigielski added.
Aleka Papariga, a former Greek Communist Party leader who lives near Rafina, said: "The police tried to direct us away from the fire, but we couldn't escape it.
"We got stuck in traffic and the flames were on top of us. We managed to find a small gap and we made it out."
"We were unlucky," he said. "The wind changed and it came at us with such force that it razed the coastal area in minutes."
Mr Tzanakopoulos said 715 people were evacuated from beaches and the coastline by navy vessels, yachts and fishing boats. The coast guard said 19 people were rescued at sea, some of whom had swum out to escape the flames.
Rafina's dock became a makeshift hospital during the night as paramedics checked survivors, some of them clad in only their bathing suits, emerging from coast guard vessels and private boats.
The fire department said 156 adults and 16 children were taken to hospital with injuries. Eleven of the adults are in a serious condition.
More than 400 firefighters and volunteer firefighters were battling the two fires near Athens, supported by seven water-dropping helicopters and three aircraft.
Greece sought international help through the European Union. Spain was sending two firefighting aircraft while Cyprus was sending in 60 firefighters. Israel and Turkey have both also offered assistance.
Prime Minister Alexis Tsipras, who cut short a trip to Bosnia in order to return to Athens, said: "It's a difficult night for Greece."
Showers that passed over the Greek capital on Monday missed the two big fires, but heavy rain is forecast across southern Greece on Wednesday.
Forest fires are common in Greece during the hot, dry summers, and temperatures recently hit highs of up to 40C.