Pyongyang has called on the United States to reciprocate its "goodwill measures" by easing sanctions and stopping demands that the North denuclearise first.
The call comes as the rival Koreas plan to hold high-level talks on Monday to prepare for a third summit between their leaders and as Washington and Pyongyang try to follow through on nuclear disarmament vows made at a US-North Korea summit.
In the most recent sign of growing frustration between Washington and Pyongyang, North Korea criticised senior American officials for insisting that North Korea give up its nuclear weapons first before easing sanctions.
Notably, the statement did not directly criticise President Donald Trump, who met North Korean leader Kim Jong Un in June.
North Korea said in a statement on Thursday that "some high-level officials within the US administration" were making "desperate attempts at intensifying the international sanctions and pressure".
"We hoped that these goodwill measures would contribute to breaking down the high barrier of mistrust" between Pyongyang and Washington, the North's Foreign Ministry spokesperson said.
"However, the US responded to our expectation by inciting international sanctions and pressure."
Those American officials are "going against the intention of President Trump to advance the DPRK-US relations, who is expressing gratitude to our goodwill measures for implementing the DPRK-US joint statement," it said referring to the North by its official name, the Democratic People's Republic of Korea.
Washington has said that sanctions will not be lifted until Pyongyang fully and finally dismantles its nuclear weapons.
Some experts say that North Korea does not want to denuclearise first or maybe denuclearise at all because it wants a long, drawn-out process that sees external aid shipped in in return for abandoning nuclear weapons.
Pyongyang has also stepped up its calls for a formal end to the Korean War, which some analysts believe is meant to be the first step in the North's effort to eventually see all 28,500 US troops leave the Korean Peninsula.
A South Korean official at the Unification Ministry said the two Koreas will also discuss on Monday ways to push through tension-reducing agreements made during an earlier summit between Mr Kim and South Korean President Moon Jae-in.
Among the agreements was holding another inter-Korean summit in the fall in Pyongyang.
Pyongyang insisted that the US should reciprocate to the North's suspension of missile launches and nuclear tests and other goodwill gestures such as the return of remains of American troops killed in the Korean War.
The United States cancelled a joint war exercise with South Korea that was due to take place this month while dismissing calls to ease sanctions until the North delivers on its commitments to fully denuclearise.
The inter-Korean meeting on Monday will be held at Tongilgak, a North Korean-controlled building in the border village of Panmunjom.
South Korea's unification minister will lead the delegation from Seoul but North Korea, which proposed the Monday meeting first, did not confirm the makeup of its delegation.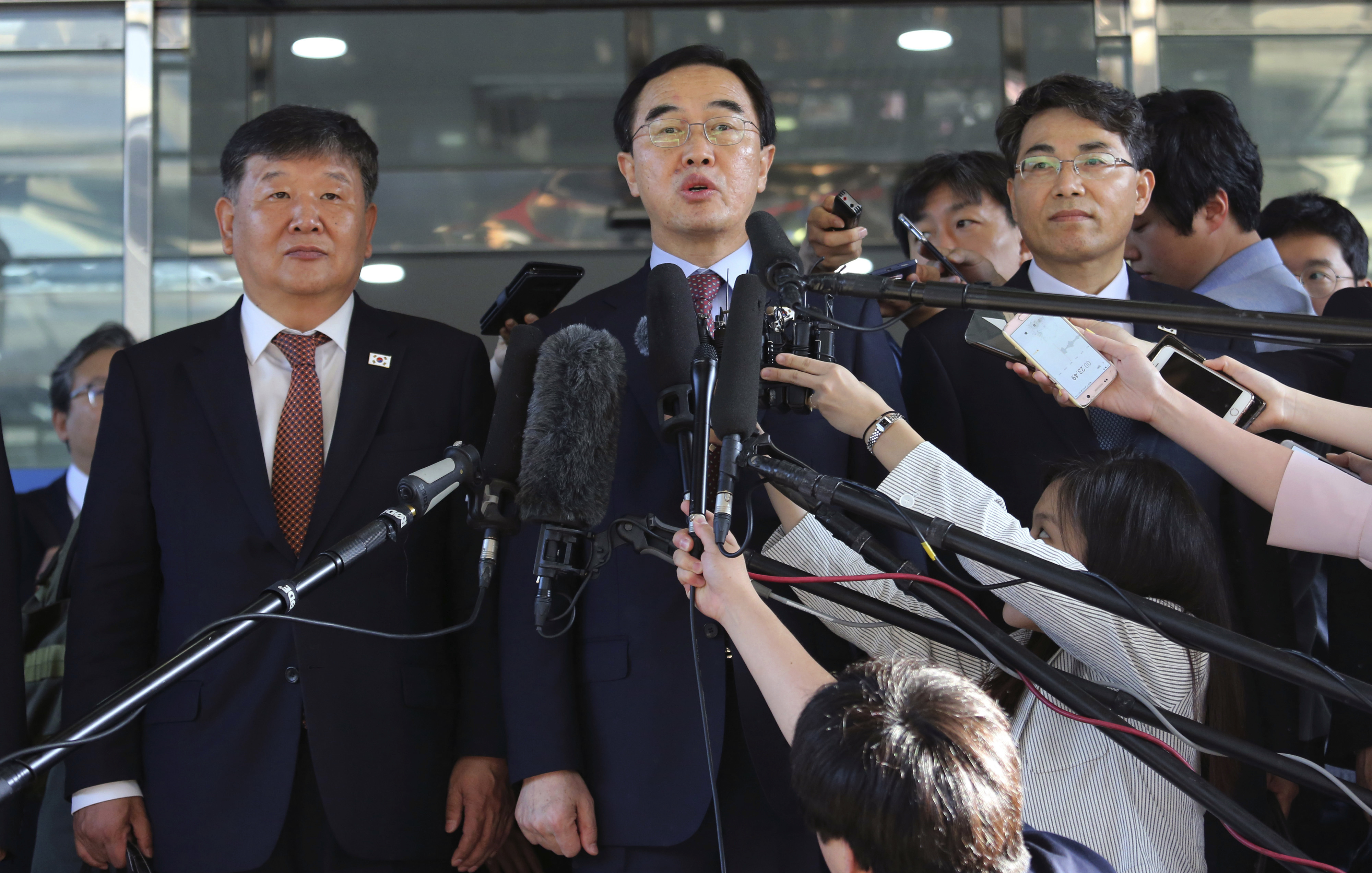 In the meantime, both Koreas are seeking an end of the Korean War.
South Korea's presidential spokesman said last month that Seoul wants a declaration of the end of the 1950-53 war sooner than later.
The Korean Peninsula is still technically in a state of war because the fighting ended with a ceasefire, not a peace treaty.
Earlier on Thursday, North Korea's Rodong Sinmun said in a commentary that ending the Korean War is "the first process for ensuring peace and security not only in the Korean peninsula but also in the region and the world".
Mr Kim and Mr Moon met in April at a highly publicised summit that saw the leaders hold hands and walk together across the border, and then again in a more informal summit in May, just weeks before Mr Kim met Mr Trump in Singapore.