Four more bodies have been found in the rubble of the Genoa bridge collapse, raising the death toll to 42, according to Italian media.
Genoa's prefect's office could not confirm the reports by the Ansa news agency and other Italian news media that the bodies were found by recovery workers overnight.
It said they were three family members, including a nine-year-old girl, who had been travelling for a holiday when their car, with about 30 other vehicles, plunged when the bridge gave way.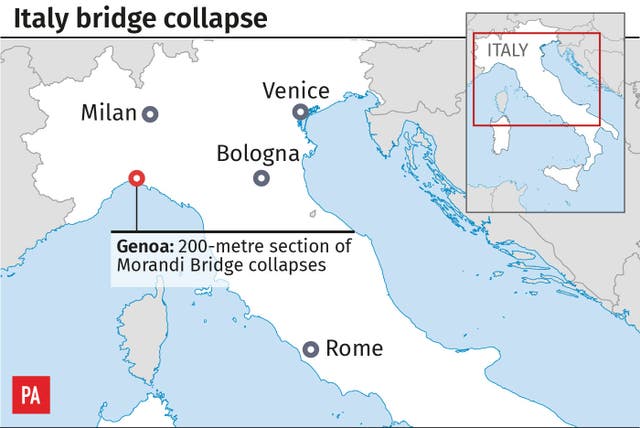 The report added that recovery workers believe all those previously thought missing might have been accounted for, after an elderly German man called local authorities to say he was OK and not involved in Tuesday's tragedy.
Meanwhile, mourners filled a fairground pavilion for a state funeral for many of the victims killed when a section of the Morandi Bridge crashed 150ft into a dry riverbed and nearby areas.
Mourners applauded firefighters and others involved in search-and-rescue efforts as they arrived for a day of national mourning.
Before the state funeral, President Sergio Mattarella, head bowed, paused in silence before the coffins, then spoke briefly with each group of families.
On each coffin were names of the dead. Photographs of those who died, flowers, and on at least one coffin, a signed football shirt, a small sports trophy and a stuffed animal added personal touches.
Players and managers of Genoa's two football teams were among those attending the funeral. Sampdoria and Genoa had already announced they would not play their scheduled matches this weekend.
Others opted for private funerals, including one on Friday for four friends, young men in their 20s, from the southern town of Torre del Greco.
At that service, relatives angrily denounced authorities for what they claimed was a failure to keep the bridge safe.
The cause of the collapse is under investigation. Prosecutors have said they are focusing either on possible design flaws or inadequate maintenance.