Fifa has banned the head of Palestinian football from attending matches for a year for inciting hatred and violence towards Lionel Messi as part of a campaign to stop Argentina's national team playing in Israel.
The disciplinary case against Jibril Rajoub centred on statements he made to the media before Argentina abruptly abandoned the trip to Jerusalem for a game against Israel in June.
Mr Rajoub "incited hatred and violence" by calling on fans "to target the Argentinian football association and burn jerseys and pictures of Lionel Messi", the world governing body said.
Justifying cancelling the game, Argentinian foreign minister Jorge Faurie said the players felt "totally attacked, violated" after images emerged of Argentina's white and sky-blue striped shirts stained with red paint that resembled blood following Mr Rajoub's comments.
Mr Rajoub, who is also the head of the Palestinian Olympic Committee, was fined 20,000 Swiss francs (£15,000).
The ban will apply for the 2019 Asian Cup in the United Arab Emirates, which kicks off in January, and is likely to include the start of the 2022 World Cup qualifying programme.
Mr Rajoub can continue his day-to-day work running the federation and attend Fifa meetings. He has been a constant thorn in the side of football's governing body as he tries to get sanctions imposed on Israel.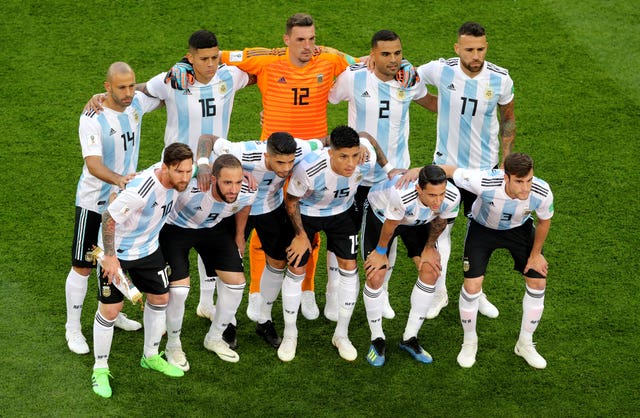 Israel has rejected the Palestinian campaign as an attempt to politicise sports and has cited security concerns as the reason behind the occasional restrictions placed on Palestinian players, particularly in the Hamas-ruled Gaza Strip.
Israel's plan to stage the Argentina game in Jerusalem also incensed Mr Rajoub because Palestinians claim the eastern sector of the city as their capital. Israel considers the entire city to be its capital after capturing east Jerusalem in the 1967 Arab-Israeli War.
Israeli defence minister Avigdor Lieberman said after Argentina cancelled the World Cup warm-up match that the team gave in to pressure from "Israeli-hating inciters".