The Vatican's retired ambassador to the United States has penned a letter accusing senior Vatican officials of knowing about the actions of a disgraced former cardinal.
The 11-page letter claims that as early as 2000, the former archbishop of Washington – ex-Cardinal Theodore McCarrick – regularly invited young Catholic scholars into his bed, but the Vatican hierarchy still promoted him to cardinal.
The letter also accuses Pope Francis of having initially rehabilitated McCarrick despite being informed of his attitudes to young seminarians in 2013, soon after he was elected pope.
The National Catholic Register and another conservative site, LifeSiteNews, published the letter attributed to Archbishop Carlo Maria Vigano on Sunday as the pope was wrapping up a two-day visit to Ireland.
Mr Vigano, 77, a conservative whose hardline anti-gay views are well known, also urged the reformist pope to resign over the issue.
He and the pope have long been on opposite ideological sides, with the pope seen more as a pastor and Mr Vigano more a cultural warrior.
The Vatican did not immediately comment on the letter or confirm its authenticity.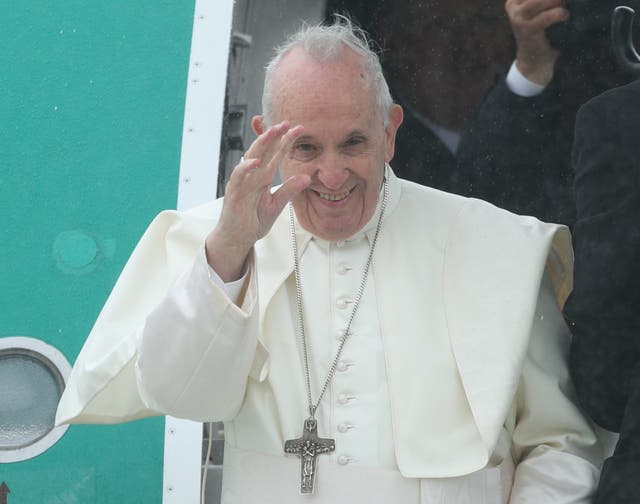 He said Pope Benedict XVI eventually sanctioned McCarrick in 2009 or 2010 to a lifetime of penance and prayer, but that Francis subsequently rehabilitated him.
Francis accepted McCarrick's resignation as cardinal last month, after a US church investigation determined that an accusation he had sexually abused a minor was credible.
Since then, another man has come forward saying McCarrick began molesting him starting when he was 11, and several former seminarians have said McCarrick abused and harassed them when they were in seminary.
The accusations have led to a crisis in confidence in the US hierarchy, because it was apparently an open secret that McCarrick regularly invited seminarians to his New Jersey beach house, and into his bed.
Mr Vigano apparently sought to answer some of those questions. His letter identifies by name the Vatican cardinals and archbishops who were informed about the McCarrick affair, an unthinkable expose for a Vatican diplomat to make. He said documents backing up his version of events are in Vatican archives.
Mr Vigano, the Vatican's ambassador to the US from 2011-2016, said his two immediate predecessors "did not fail" to inform the Holy See about accusations against McCarrick, starting in 2000.
He said Francis asked him about McCarrick when they met on June 23, 2013, at the Vatican's Santa Marta hotel where the pope lives, three months after Francis was elected pope.
Mr Vigano wrote that he told Francis: "Holy Father, I don't know if you know Cardinal McCarrick, but if you ask the Congregation of Bishops, there is a dossier this thick about him. He corrupted generations of seminarians and priests and Pope Benedict ordered him to withdraw to a life of prayer and penance."
The pope declined to confirm or deny the claims.
Francis said the 11-page text by Mr Vigano, which reads as a homophobic manifesto and attack on Francis allies in parts, "speaks for itself".
Francis was asked during an airborne press conference on Sunday if Mr Vigano's claims that the two discussed McCarrick in 2013 were true.
The pope was also asked about Mr Vigano's claims that McCarrick was already under sanction at the time, but that Francis rehabilitated him.
Francis said he had read Mr Vigano's document and trusted journalists to judge for themselves and said: "I won't say a word about it."